The Walking Dead: Saints & Sinners free Aftershocks DLC is the perfect excuse to revisit zombie-infested New Orleans
Let the good times roll.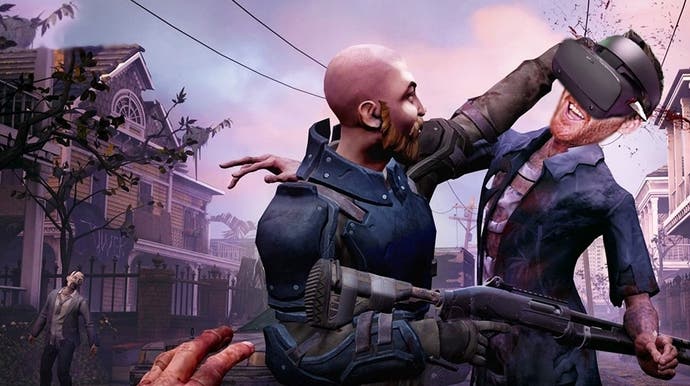 No game pulls off the feeling of stabbing a zombie in the head quite as well as The Walking Dead: Saints & Sinners. Somehow developers Skydance have managed to conjure up an incredibly real sense of impact, literally out of thin air.
You can really feel the zombie's head crack as you plunge your blade into it, and the way the skull clamps onto the knife blade after the fact requiring you to tear it free with all your might? Well that creates a sense of immersion that's pretty much absent from any other VR game I've played.
This is just one of the many reasons why I proclaimed The Walking Dead: Saints and Sinners to be the best PSVR game released in 2020, but with last week's release of the free Aftershocks expansion there's never been a better time to give it a try. Or in my case, return to the game after a fair few months away.
You can watch me play through the first hour of the DLC on Oculus Rift S in the episode of Ian's VR Corner below, where I accidentally resurrect my faux Walking Dead spinoff, The Walk-Ian Dead.
Aftershocks is pure endgame content so, while it is free for everyone across all platforms, you will need to have completed the main Saints & Sinners storyline in order to access it.
Just like the base game, Aftershocks mainly revolves around scavenging your way through small zombie (and human) infested sandbox maps. This time around however, the difficulty has been increased, the routes around the maps have been changed and traps have been placed in order to keep you on your toes.
The open world nature of these sandboxes delivers a delicious sense of freedom that's lacking in other big name VR games and the way you can choose your own approach to situations just increases the immersion. There's no handholding here, it's up to you to make up your own story and the unpredictability of the environments coupled with the multiple choices you need to make to reach your goals often leads to exciting (and terrifying) moments.
If you're yet to try out The Walking Dead: Saints & Sinners for yourself, there's never been a better time than now. The Aftershocks DLC adds a fair few hours to an already substantial campaign length so you know you'll be getting your monies worth and I can almost guarantee that the first time you experience stabbing a zombie in the head, you'll never look back.
If you enjoyed this episode of Ian's VR Corner, you can catch up with my previous adventures over on YouTube in our VR playlist, where I've covered Valheim VR's motion controls mod, Doom 3 VR Edition and everything we know about PSVR 2 so far. You can also read our list of the best VR games.