The FarmVille Diaries
Can 85 million people be wrong?
So we come to the present day. I'm level 19 now, with just 705 XP required to reach level 20. I've got 45,138 Farm Coins in the bank and a field full of Chilli. I've got 13 chickens, brown, white and pink cows, a goat, three sheep, two ducks, a swan and a penguin. No, I don't understand what the penguin's doing there either.
But I do have a greater understanding of what FarmVille's about. With games like Harvest Moon, no one cares how your farm's doing except you. You might tell everyone in the pub you've got all the gold medals in Farm Frenzy, but they won't care. I know from experience that most people in the pub won't care how many yellow ribbons you've got in FarmVille either, but one or two might, and then you can talk to them about it until everyone else threatens to switch tables.
The social networking aspect takes the reward mechanic which makes farming games so satisfying and throws in the ability to show off. You get the same feeling of power and control as with a real-time strategy game, but everyone can see how you wield that power, and instead of launching air strikes you get to breed pink cows.
"Basically I love it AND I hate it," wrote Kim, in one of her more lucid emails. "It gives you that pleasure of changing something around and making something pretty and prosperous, when you might not have that sort of control over your day-to-day life."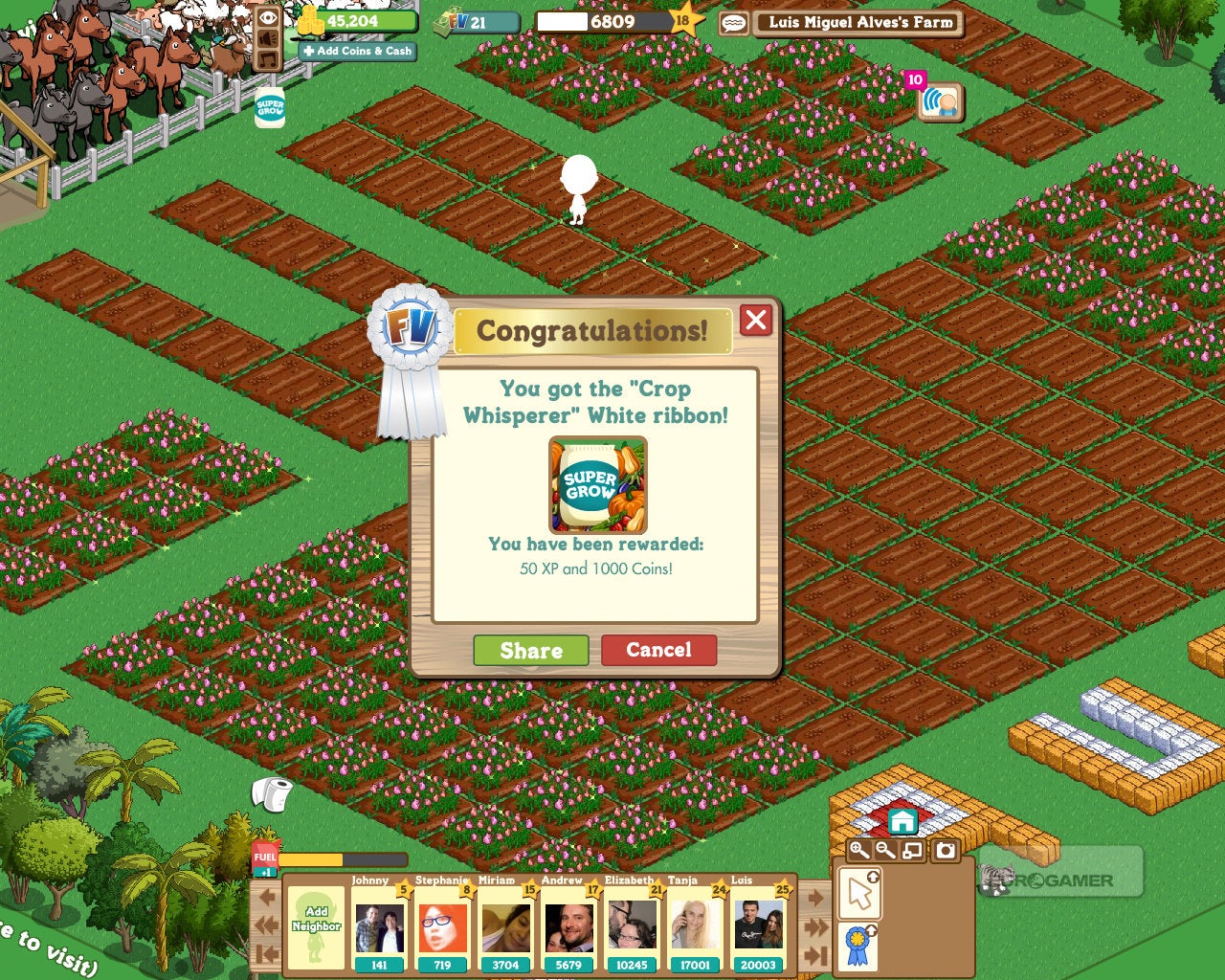 Then there are the clever tricks Zynga has built into the game. The brilliantly designed mechanics which don't just keep you playing, but get you to get other people to keep playing. I've got Kim, Miriam and Johnny to either start playing FarmVille or go back to playing on a regular basis. If each of those people got three people to play, and each of those people got three people to play, and each of those people... Well, you'd be at 85 million in no time.
On top of all that, FarmVille exploits the desire to be seen as generous. Giving stuff to your friends feels good, even if it is only fictional petroleum or virtual fertiliser. There's pressure to keep playing so you can keep sharing the wealth, even though doing so means infuriating non-FarmVille players with the endless updates. (By the way: if you're one of the infuriated, you can change your Facebook settings to block FarmVille messages, for the record.)
I'll probably keep playing FarmVille, at least for a bit. Not on the iPad - Calacanis was indeed having a laugh, it turned out. But that doesn't mean Apple and dozens, perhaps hundreds of other companies aren't sitting up and taking notice of what Zynga's achieved.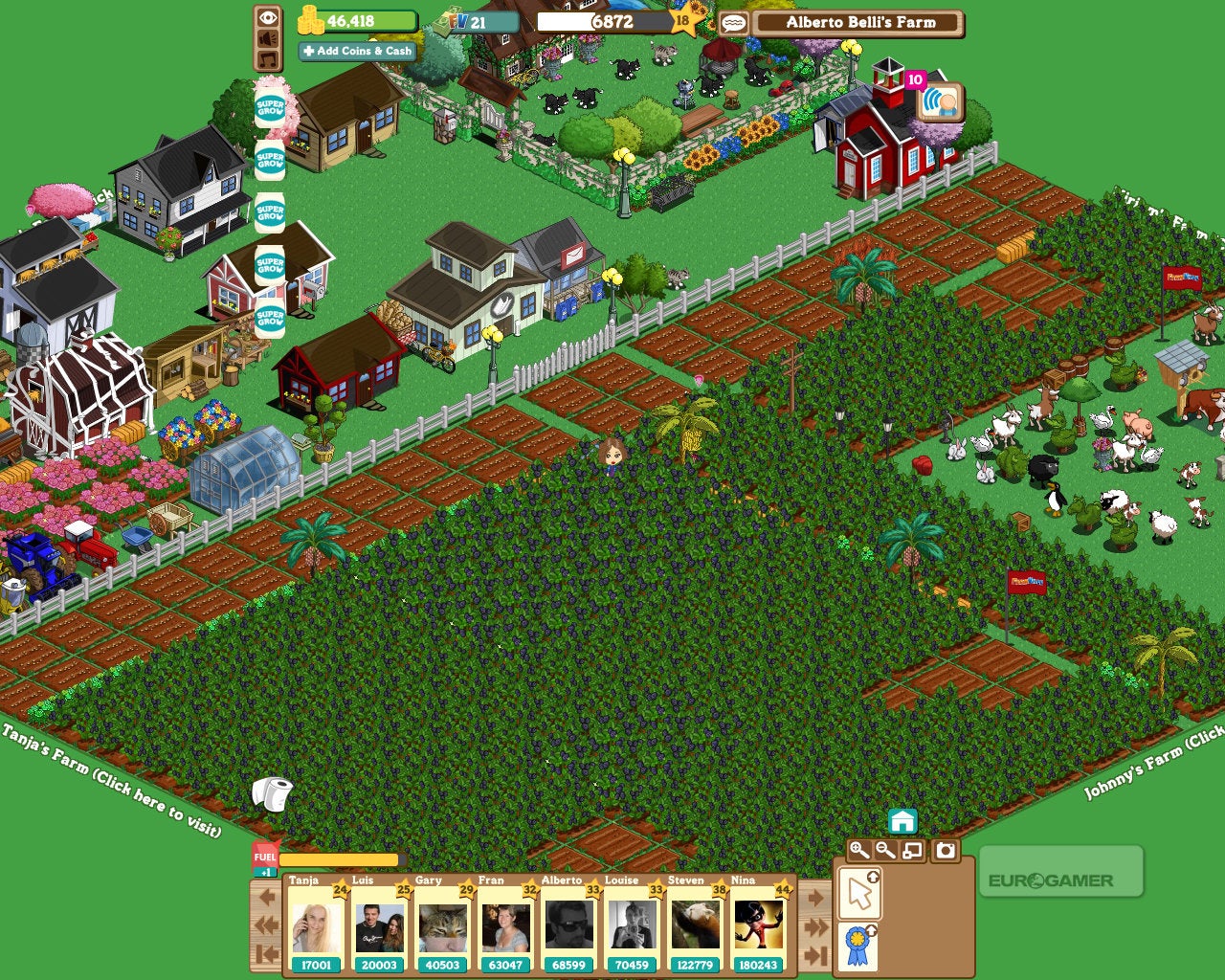 There was evidence of this at the Game Developers Conference in March. Stand in the bar where all the developers hang out and you'd hear the words "FarmVille" and "Facebook" mentioned over and over again. The general consensus seemed to be that FarmVille was a flash in the pan, that Zynga was just out to make a quick buck, that it couldn't be generating much profit anyway. No one would admit to playing FarmVille, that's for sure.
On the first day, Zynga's Amitt Mahajan delivered a speech titled "Rapidly Developing FarmVille: How We Created and Scaled a No. 1 Facebook Game in Five Weeks". Before getting stuck into his technical talk, Mahajan mentioned that with no advertising, FarmVille had 18,000 users a day 24 hours after launch and one million users a day after four days.
The room was packed. People stood against the wall and sat on the floor. Outside stewards turned dozens more of them away, blaming health and safety regulations. It seemed that despite all that anti-FarmVille sentiment, everyone wanted to know the secret to Zynga's success.
Here's the thing: whether they're right or wrong, you can't ignore 85 million people.
Become a Eurogamer subscriber and get your first month for £1
Get your first month for £1 (normally £3.99) when you buy a Standard Eurogamer subscription. Enjoy ad-free browsing, merch discounts, our monthly letter from the editor, and show your support with a supporter-exclusive comment flair!