The aim of Southern Rail Tycoon is to cancel all trains
Just like the real thing.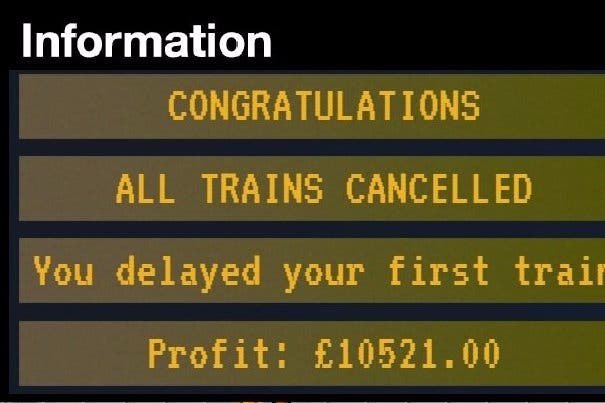 Feel free to ignore this paragraph if you knew this already, but Eurogamer is based in Brighton, a mostly-lovely seaside city in England plagued only by hungry seagulls and an awful train service connecting us with London.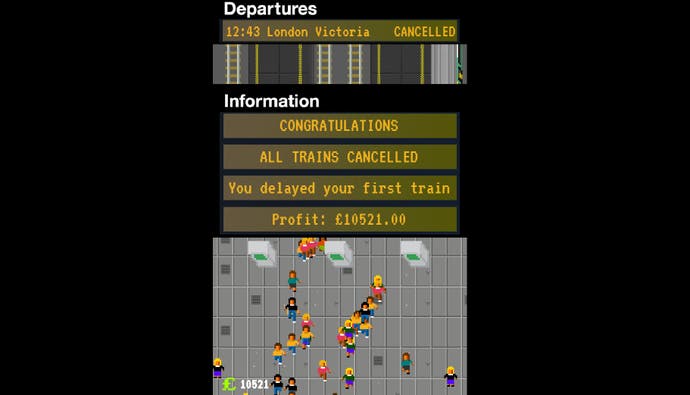 This is important as I can personally testify how bad Southern Trains' "service" is. I use it every day, and it's why when I saw Southern Rail Tycoon pop up on this afternoon, I had to give it a try.
The aim of browser game Southern Rail Tycoon is to cancel all trains, avoid guards boarding and to charge passengers for a non-existent service. Many Southern Rail customers might suggest that the real company also shares these values.
A bit of real-life backstory - Southern Rail is owned by a company named Govia which, it is fair to say, does not run it very well. Only 20 per cent of Southern trains arrived on time between April 2015 and March 2016, and one particular train - the 7.29 service from Brighton to London Victoria - did not arrive on time once the entire year.
Widely hated by commuters, Southern Rail management have also become toxic to the company's staff, who walked out twice this year over plans to run trains without guards - hence the task of stopping them getting on trains in today's game.
Southern Rail has said removing guards will improve driver visibility, which is a bit like British Airways saying its pilots should serve drinks and complimentary peanuts just so you can say hello. In actual fact, it means guards won't be there to check the train is safe to leave each station, and if anyone sets off the safety alarm there would be no one else but the driver to go investigate.
After the strikes, Southern cancelled trains and told commuters the cancelled services were due to high levels of "staff sickness", according to evidence presented by the rail worker's union. It sounds too Machiavellian to be true. The company is now running a reduced service to deal with "uncertainty", which means most of its routes have fewer trains per hour - while prices stay the same.
So yeah, Southern Rail Tycoon. It's developed by indie studio Ramjam and, as spoofs go, it's pretty lifelike. Play it now and you can experience my own morning commute.