Sony sues Kevin Butler actor for advertising the Wii
Really.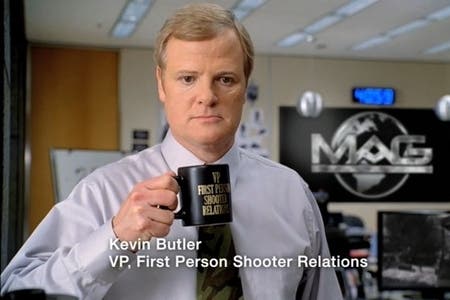 Sony is suing the man who plays Kevin Butler for advertising the Wii.
Sony caught Jerry Lambert in an advert for tyre maker Bridgestone's Game On promotion playing with the Wii and acting in a fashion similar to Kevin Butler, the fictional PlayStation executive who has fronted the brand in the US for years.
Now, it has launched a lawsuit against Bridgestone and Lambert's production company Wildcat Creek Inc. claiming intellectual property and trademark infringement.
"The claims are based on violations of the Lanham Act, misappropriation, breach of contract and tortious interference with a contractual relationship," Sony said in a statement issued to Kotaku.
"We invested significant resources in bringing the Kevin Butler character to life and he's become an iconic personality directly associated with PlayStation products over the years.
"Use of the Kevin Butler character to sell products other than those from PlayStation misappropriates Sony's intellectual property, creates confusion in the market and causes damage to Sony."
Bridgestone's promotion meant those who bought four of their tyres could receive a $70 American Express reward card or a Nintendo Wii.
In the original ad, hosted by GoNintendo after Bridgestone issued takedown notices to YouTube, Lambert is seen playing Mario Kart on Wii, yelling: "Yes! First place!" Lambert was then edited out of the ad, which was reissued (this new video is below). Clearly, this action didn't go far enough to appease Sony's lawyers, and now Bridgestone finds itself in hot water.
On 26th September the Northern District of California court was told by Sony's attorney that both parties were close to revolving the issue. Sony now has until 12th October to either withdraw its motion or see it through at a hearing.