Sid Meier's Starships announced for PC, Mac, iPad
UPDATE: First screens revealed, plus Meier talks endgame.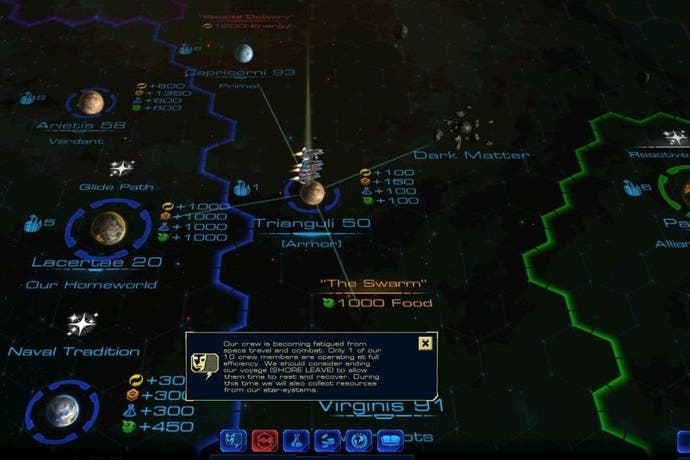 UPDATE 19/1/15 4.45pm: Sid Meier has spoken to Eurogamer.de about his new project and revealed a number of new gameplay details - namely that you'll be playing as the admiral of a federation of planets.
Familiar faces from Civilization: Beyond Earth will also appear.
"The key elements are designing and building your own starships," Meier explained. "Develop different kinds of weapons, stealth abilities, armour and shields. Put all the different pieces of a ship together in different ways, to get different kinds of ships. Some will be fast, others will be powerful, some are used for stealth, and your role will to be the admiral of this fleet.
"Build a fleet of a few very powerful ships or one of many smaller ships, there a lot of variations. Then you take this fleet into the galaxy and in each star system you visit, there will be some sort of mission, a problem to solve, some way that you can help the people living there. After solving these missions, they become part of your federation. Eventually you run into other civilisations doing the same thing and you will recognise some of the leaders from Civilization: Beyond Earth.
"[Then] there is a galaxy layer, where you decide where to send your fleet and when you get to the planets thee will be actual tactical missions, where you send your starships to either fight bad guys or escort somebody for example. There will a whole variety of different kinds of missions that will appear on the different planets. So it is a combination of a tactical starship combat game and a strategy fleet game."
Finally, Meier discussed the scenarios for winning the game:
"There is what we call the population victory, which is to control more than half of the galaxy," he explained. "For this, you travel form one system to another, helping them out with their problems and let them join your federation. So, by doing good throughout the galaxy, you expand your federation.
"There is a science victory, where yours will be the leading civilisation in terms of technology and science. Then there is the classic Civilization domination victory, in which you eliminate your opponents. There is also a wonders victory, if you want to focus on wonders. So, there are various ways to win."
ORIGINAL STORY 19/1/15 2pm: Firaxis and Civilization creator Sid Meier have revealed their next project - Sid Meier's Starships.

A turn-based sci-fi strategy title for PC, Mac and iPad, Starships is due to launch in "early 2015".
The game will focus on controlling a fleet of space vessels as you journey across the galaxy, protecting plants while amassing an army for your growing galactic federation (thanks, Gamespot).
You'll be able to expand your forces with new technologies and customisable spaceships, then do battle in "dynamically generated tactical combat" across numerous spacey maps.
Owners of the recent Civilization: Beyond Earth will be treated to cross-connectivity between games, although the specifics of this have yet to be revealed.
Watch a scene setting concept video below.