Sega's arcade redemption
Sega's arcade department is alive and kicking - even if it's not making the games you're necessarily expecting.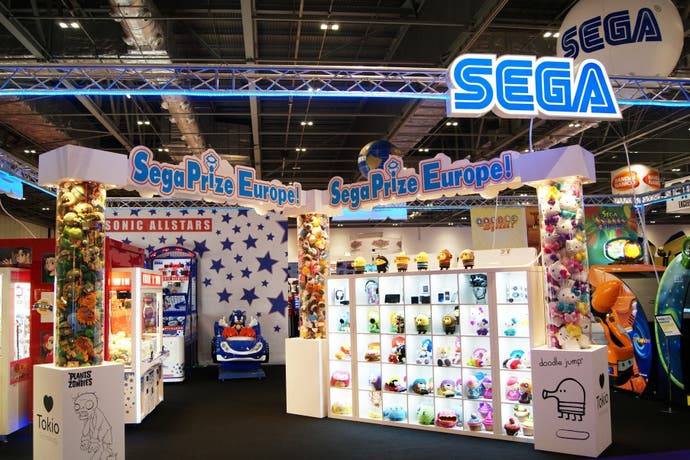 The arcade is dead. It's not even a statement to be contended any more. The London Trocadero's Funland pulled its shutters down two years ago, and late last January, Goodge Street's Casino, a yellowing warren that once housed an eclectic and exciting array of cabinets, gave up on arcade gaming altogether. It's not a phenomenon exclusive to the UK capital, either: in Tokyo, the 50 yen arcades synonymous with the rose-tinted view many have for the Japanese scene are dwindling in number, with Shibuya's finest example shutting its doors for good last year. There are the occasional havens - Acton's Heart of Gaming is a destination as thrilling as any arcade that's gone before for the real aficionado - but they're museums, preserving a moment of time and tenderly suspending it in stasis.
Arcade games, though, are doing great. At least that's what a Tuesday afternoon stroll around the amusement and leisure show EAG International would suggest, where you're met by a large hall within London's Excel Centre buzzing with the noisy energy of slot machines, toy catchers and over-sized video games. It's an odd event, where the trashy flotsam of seaside resorts is polished up and presented under the stark light of an exhibition centre, and where kids' kart manufacturers go head to head with their knock-off Ronolt and Bull Dog F1 cars.
Yet despite the end-of-pier atmosphere, it's still the biggest names commanding some of the biggest floor space. Bandai Namco bosses the centre of the hall, spearheading this year's renewed focus on its most recognisable mascot with a dizzying array of Pac-Man products: there's Pac-Man Ghostly Bowling, Pac-Man Ticket Mania and Pac-Man Basket, as well as a genuinely brilliant branded air hockey game Pac-Man Smash, which floods the play space with dozens of pucks at set points during a match.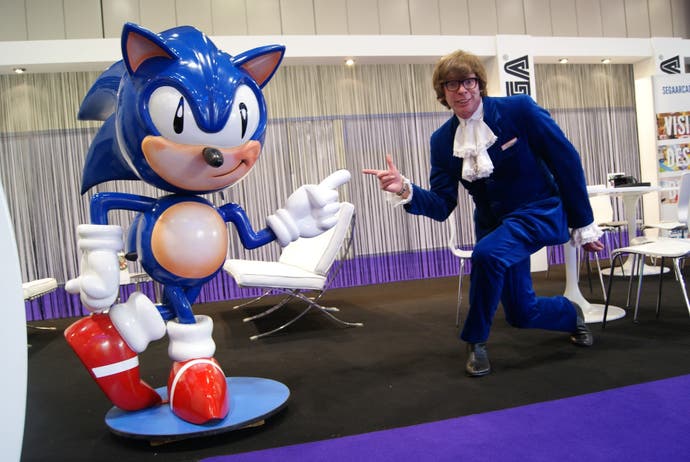 There are more traditional games, too. New, brasher and bolder configurations for Dead Storm Pirates, an on-rails shooter on the grandest imaginable scale that's a distant successor of 1991's Starblade, or a four cabinet set-up for Mario Kart Arcade GPDX. There are new games, too, such as Raw Thrill's Batman, a punchy romp around an open world Gotham City in the Batmobile that's housed in an exquisitely showy cabinet, or Super Alpine Racer, a towering remake of the original complete with a 55-inch vertically mounted screen.
Towards the far corner of the hall, Sega Amusements has set up camp. It's an odd outfit itself, or at least one that's not widely understood; originally set up as a local distributor for Sega Japan, it soon became a wholly-owned subsidiary that would import over cabinets or components for assembly from its Cardiff base. Over time Sega Amusements has become much more, though, branching out to develop its own games as the global appeal of the arcade waned.
"I think it's really because in Japan the core demographics changed for amusements," Patrick Michael, Sega Amusements' head of local R&D, tells us of the shift in arcade appetites. "The arcade market in Japan is to a certain extent a lot older - there's a lot more repeat business, and it's a much more social thing where people go after work to play a game for maybe an hour. They're more expensive games that require a lot of commitment, or a save game with an IC card - they're big, expensive things. Like World Club Champion Football, which is a football management title - that 8-player cabinet is £80-90,000, and that's a big investment for a European operator who has a more casual player-base who perhaps go to a location once a month."
A trip to any popular Japanese arcade would bear that out, where salary men recline in expensive multiplayer set-ups for sports management games, while elsewhere younger players flock around mech battlers spun out from Mobile Suit Gundam, or Sega's own Border Break. They're titles alien and most likely impenetrable to western audiences, making translation for local audiences improbable or even impossible.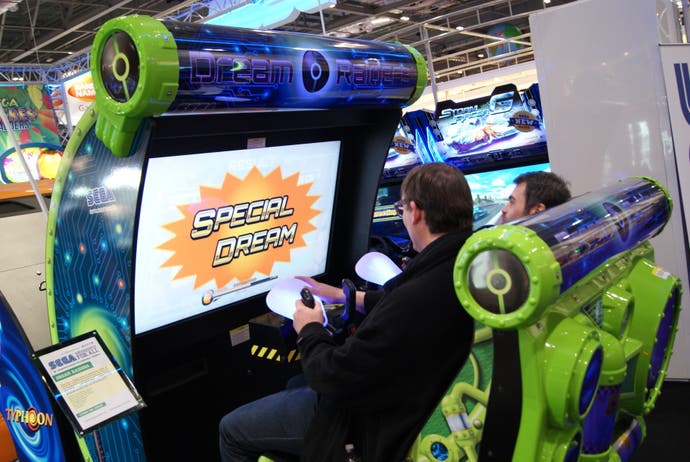 It's a problem Sega Amusements has faced in recent history. "A lot of titles have been tried," says Michael. "Games like Initial D, which is a fantastic driving game but it's a one-on-one race where you're either in first place or last place. In Japan it's very popular, but in Europe no-one wants to be in last place, really - you want a much more open road, more AI cars and more of a feeling of achievement. You're seeing, certainly for us, games becoming much more casual in the western market, whereas in Japan they're perhaps becoming more core."
Sega Amusements' first ploy was to work with local developers to create games with a more local appeal - and so, instead of the niche driving of Initial D, it worked alongside Sega's racing specialists in Birmingham during the studio's sadly brief existence to work on Sega Rally 3, a re-tooling of the console revival of the series, Sega Rally Revo. The partnership worked, too, with the game managing a 60hz refresh rate which evaded the console versions, and it was received well in arcades.
"It was phenomenally successful for us," says Michael. "We had a full motion cabinet to start with, and then lower specification cabinets after that. That was a game which we had back-orders on with our distributors. And there are licences like that that would be good for us - but it's weighing up how far we could push those. Rally did phenomenally well in Europe, but not so well in the US. We need to temper that."
There were hopes to leverage some of Sega's other IP using the talent from the Racing Studio, with plans for a new Daytona scuppered when the developer was shuttered, leaving Sega Amusements to look elsewhere for new products. An arcade version of Grid, developed in collaboration with Codemasters, was put into production with the hope that its muscle cars and city streets would find it an audience in America. Beyond a dedicated following in hardcore places like Dave & Busters, though, it never found that audience - although the fact the cabinet still sells over here some three years after its initial release ensures that no-one at Sega Amusements is particularly upset.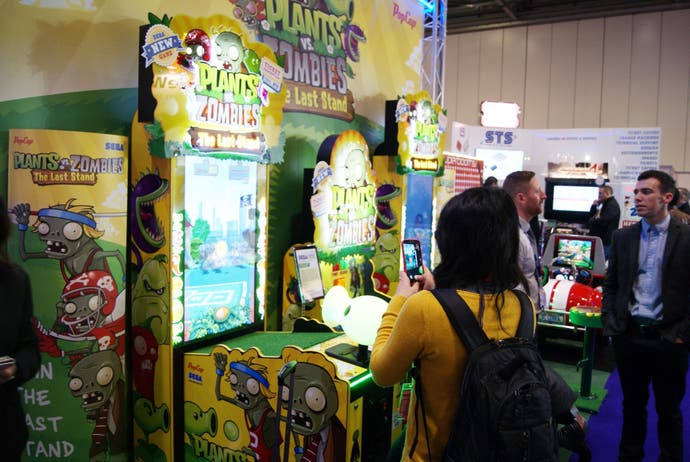 In recent years, as traditional arcades have dwindled, Sega Amusements has found success by reacting to the rapidly evolving arcade market. "It's changed along with the changes in the locations themselves," explains Michael. "Historically you had a lot of amusement arcades, and they still exist in coastal and holiday resorts. But now you'll find machines in other locations, the ones you're going to visit where you're not going to play games. A cinema complex, bowling centre - games are not necessarily your prime reason for visiting the location, but they're a good ancillary. In the case of bowling it's something to keep you occupied while you're waiting.
"What you do see is people expecting a more casual play style. There are still core players - they're still out there - and you do need to have something for them to enjoy. Looking back to the great days of the arcade, you were probably looking at 50 per cent of your income coming from 10 per cent of your players. Now you're probably looking at a few per cent coming from less than one per cent of your players."
Sega Amusements' answer has been to appropriate licences from elsewhere, and popular apps from the world of iOS. Doodle Jump has been given the big-screen treatment, and the big new attraction for EAG International is Plants vs. Zombies, an original shooter set in PopCap's colourful universe that's housed in an elaborate cabinet. It's a ticket redemption game, too, whereby players are rewarded with vouchers that can be traded in for prizes (and a sideline of Sega Amusements' business is acquiring and providing the merchandise, which runs from licensed plushies through to cut-price Android tablets).
This isn't the Sega you know, and in all truth it's likely far removed from the Sega you once loved, but if you look hard enough you'll find glimpses of the same spirit there. It's boisterous, broad and with a neat sense of showmanship running through its range. On top of that, it has something that's often evaded its console-dwelling cousin: success.
"It is a difficult market, but even in the depths of recession we've performed well," says Michael. "Most parents will give their kids a pound to play an arcade game, but not necessarily buy them an Xbox One. We're expanding every year, we're taking on more people, and there are not enough working hours in the day. I spend most of my year travelling the world talking to developers about products, we have a number of very big projects in development. I'd say we were busier than ever."