Scourgebringer is Dead Cells meets Celeste, and it's fantastic
Out next year in Early Access.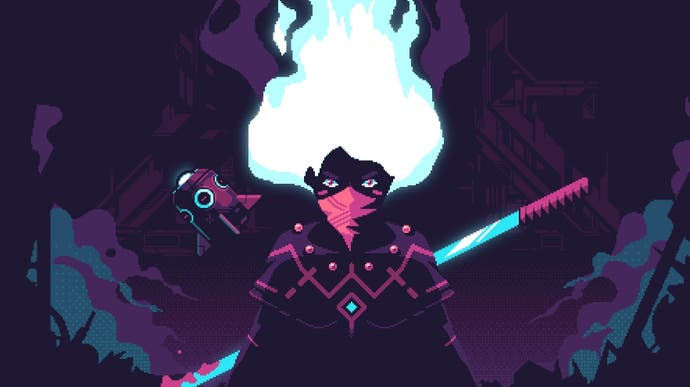 Scourgebringer's Gamescom demo is about twenty minutes long. This doesn't explain why I've put about five hours into it so far. I'm intoxicated. This game is intoxicating. And it's so simple. And so direct. I love it already. I want more.
How simple is it? Scourgebringer is movement and connection. You zip around pixelly 2D dungeons, moving from one procedurally scrambled room to the next, waiting for the doors to lock you in and the enemies to spawn. Some enemies stick to the walls and fire bullets as they race back and forth. Others hover and take their time before striking. Some are swarms of bees. Some are pink slugs with teeth. It's all very unfriendly.
But you may be the unfriendliest of the lot. Light attack, heavy attack, gun that recharges as you do melee damage: it's quite a lot to take in at first. But there's also a dash attack that combines with wall-running and a generous in-air time to make movement as much a part of your arsenal as the weapons you're using. And there's a screen-finishing mega attack for when you're really screwed.
It feels like too much at first, but listen! Beneath the carnage and the chaos there is that multiplier waiting to be fed with combos. Switch weapons and mix things up and you get more blood from your enemies to spend at the store. Learn the rooms and you start to anticipate the waves. There's a mini-boss, which I think unlocks the mega-boss. They're both brilliant fun. And the whole thing promises a final game of truly thrilling proportions. A dungeon dive that will leave you breathless.
I'm a bit breathless already, to be honest. When I'm in the zone I can just move and move and move through this world, zipping around and dealing damage, never taking a shot in return. When I'm not in the zone I at least get to enjoy some gloriously applied screenshake. Scourgebringer hits Early Access early next year. The developers suggest it's a bit like Celeste and a bit like Dead Cells. It is, I guess. But what it's really like is Scourgebringer. I cannot wait to play more.