PSP Roundup
MGS Portable Ops +, Ultimate Board Game Collection, Riviera, Off Road.
Off Road
Forty minutes into Off Road and the PSP's battery dies. It's a coincidence rather than a game design decision, we presume, but still, it's a situation that begs the question: were we not playing this game for money, would we bother plugging the machine back in and making up the lost ground? The answer's probably no, which is probably the answer you were expecting, which will probably tell you everything you need to know about this, the handheld's only Ford-branded 4x4 off-road racing game.
It's not that Off Road's a particularly bad experience, because that would imply this is a game to inspire strong feelings. It's rather that, despite the heavy in-game Ford presence, the gentle service to Land Rover fetishists and the perfectly functional racing, this is a characterless experience. Not every new racing game in 2008 needs a clever design conceit (although, after a fortnight stuck in Codemasters' excellent GRID we did find ourselves reaching for the rewind button every time we struck a boulder). But those that don't have one (other than a car manufacture's badge) do require style and pizzazz to stand any chance of getting noticed.
Off Road relies almost exclusively on its licence to stand out. With eighteen models of car available in the game (only four are available from the start) this is a game that's narrow in focus and purpose: no drift or stock car excursions to be had here. For a game designed to appeal specifically to one type of car fan there's not much in the way of in-depth stats or tweaking. You accrue money with which to buy off-roaders, each of which is graded simply on Acceleration, Speed and Handling. Enthusiasts hoping for officially-licensed car porn will find little here to titillate.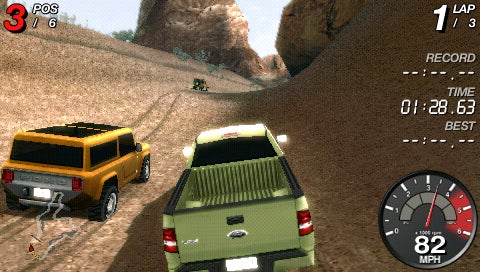 However, PSP owners just looking for a straightforward, off-road racing game will be better off. The car models are solid and realistic-looking, and terrain is interesting and surprisingly accomplished, with shortcuts and other points of interest. The way the cars handle also makes for an enjoyable if unremarkable experience. Inside your speedometer there's a gauge which shows how much damage you've incurred and, in a shy hop away from realism, medikits can picked up to restore your vehicle to its former self.
The main 'campaign' mode is structured a little like a super-simplified version of Ridge Racer 6's event-based map. Race types, in addition to straight racing, include 'Gold Rush' in which you have to win the race and collect gold coins along the way and 'Damage Challenges' in which victory can only be had if you manage to keep damage below a certain level. With 12 tracks, each of which can be raced in reverse, it's a relatively small package that, other than its licence, is lacking in any sort of interesting game design to mark it out. With a budget price tag it's an inoffensive proposition but, don't expect to return to it when your battery runs out.
5/10
Will you support Eurogamer?
We want to make Eurogamer better, and that means better for our readers - not for algorithms. You can help! Become a supporter of Eurogamer and you can view the site completely ad-free, as well as gaining exclusive access to articles, podcasts and conversations that will bring you closer to the team, the stories, and the games we all love. Subscriptions start at £3.99 / $4.99 per month.