PSP: 12 Games of Christmas
Sleigh with me.
If in doubt, buy your parents something you want and reclaim at a later date - a useful mantra handed down from generation to generation. I once bought my sister a CD that will remain nameless for shame purposes, even though she had no flashy machinery to play it on. But I did. So, when I suggested she hand the disc to me and keep the cassette recording I had selflessly made for herself, I was expecting nothing but cooperation. Bloody witch didn't see it like that though, did she? Threw a right strop. Ungrateful. But looking back at my foolish youth of yester-year I can see how much I have changed. She lives in China for a start, so no need to get her anything. Present for sister: tick.
Which all leads us rather nicely into our list of what to buy on PSP this Christmas (yes it does), as feverish shoppers brush up against you, busily bustling for elusive stocking fillers. A strong year the sleek Sony handheld has had, too, bolstered by early match-winning performances by Valkyrie Profile: Lenneth, Every Extend Extra and Crush. However, the biggest change in the last twelve months was the introduction of a re-designed SKU making it both slimmer, lighter, and mysteriously more alluring. Its insides also had a bit of a fiddling with so it can now output video to tellies, while removing the spring-loaded disc tray in favour of manual control.
Unlike its rival this is a very busy time for the PSP, as it gets swamped underneath a heavy release schedule with an alarming amount of variety. Gone, it seems, are the days of racing favouritism, with WipEout Pulse the solo representative in our list. In, instead, are cocky swaggers from gems like Final Fantasy Tactics and Disgaea: Afternoon of Darkness, carefully remastered classics that fit handheld gaming like music suits alcohol.
Away we go.
Final Fantasy Tactics: The War of the Lions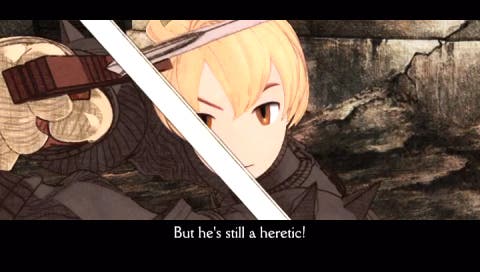 Unfortunately there have been some rather dreary rehashes of old Final Fantasy favourites, which for one reason or another were better left buried in their genre-building past. Useful, then, that Square Enix ignored criticism and decided to revitalise Tactics, because it is absolutely bloody marvellous. At its heart is a timeless and infinitely complex strategical blend of statistical know-how and battlefield panache, prompting evening-long discussions on the best way forward with bearded friends. You could take your PSP to the pub and play together if you like, pitting your best quintet against your so called real-life chums.
Better still is the care and attention it has been revitalised with, lavished with fresh cut-scenes for crucial points in the story and with much better translation than the PSone original. Its timeless hand-drawn sprites are as bright as ever and the Sakimoto and Iwata score is one rarely matched. But beware: it is rather daunting on first approach, but the rewards for persistence are endless. "Gorgeous, complex, well-written and beautifully presented, Final Fantasy Tactics: The War of the Lions has been polished and refined to make it into the best version of one of the best games of the 1990s," said Rob Fahey in our review. Well, forget 1990s, this is among the best on offer in 2008.
Off you go: tactics are what England should have used to get through to Euro 2008.
Syphon Filter: Logan's Shadow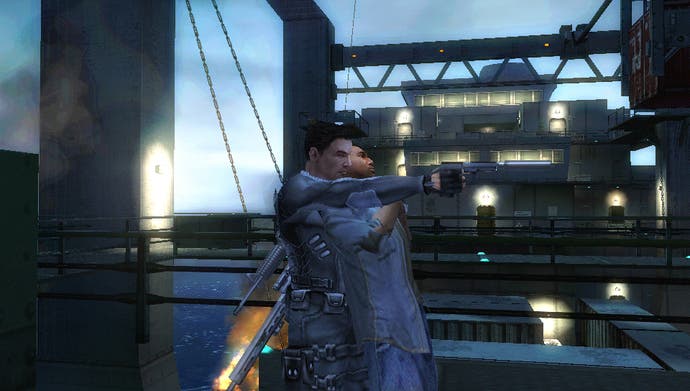 Syphon Filter waved some smelling salts under our noses last year with Dark Mirror and showed us the PSP was far more than handbag filler for Paris Hilton. It did things a shooter should, then crammed it all mystifyingly onto the limited array of PSP buttons without descending the whole package into a finger-dancing mosh pit. Thankfully, not content with its first outing, Sony Bend has crammed even more into Logan's Shadow, proving not all follow-ups have to be absolute rubbish.
It looks more impressive than the first, sounds better, and brings with it a fresh bag of tricks for protagonist Gabe to surprise naughty terrorists with. Going to blow a bus up? Bang, he'll use you as a human shield and take down your entire operation. Think you can put that nuclear bomb in the water? Nope, he'll fight you and maybe some sharks if they're asking for it. Jack Bauer would be proud, like a father. Shooters work on PSP, Syphon Filter: Logan's Shadow proves it. An absolute must for those with a gun hankering, and one you may even see the ageing PS2 glaring enviously at.
Stark raving: shadow people are beings said to exist without physical form, much like ghosts. Shadow of the Colossus and ICO both explore the idea, as has Dungeons & Dragons and Fatal Frame III.
Football Manager Handheld 2008
Release date: 30th November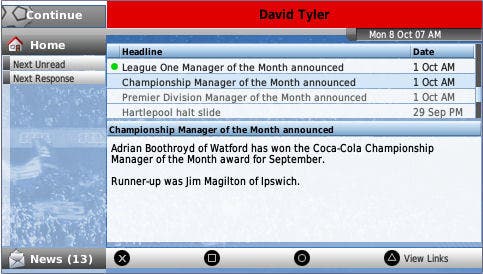 "For those who think they can do better," it should read on the tin. Come on, every football fan has an input at half-time on what changes need to be made or where the current game plan is going wrong. We all fancy we could put a team together to be as attractive as Arsenal and as successful as Arsenal and as good as Arsenal. You probably reckon McClaren was a smarmy hangover from the Sven days and we are better off without him. And you would be spot on.
Football Manager is well known to you lot, then, because it is the most in-depth and best management simulation around. Squeezing all of it onto PSP was always going to be a challenging and thoroughly alluring prospect - who wouldn't want to tinker with formations while relaxing in the lavatory? Two years Sports Interactive has tried and twice succeeded, honing its efforts effectively with each instalment. Football Manager 2008 should be no different, promising shorter loading times as a result of a better match engine as well as a scrubbed up and better looking navigation system. As sure as a sure thing gets, then, and the perfect train or toilet companion the whole year round.
Not you: Football Manager 2008 is exactly what Steve McClaren will not be. Sorry.