Project Gotham Racing 4
Try the rain. It's really good.
Right, does anyone remember where we got to with "the promise of the next generation"? I recall J Allard wearing a hoodie under a suit jacket to tell us about high definition graphics, largely because my Mum was round when I watched the video and said "what a trussed-up yobbo" (harsh). So there was definitely some promising of the next generation there. Then it was having 1000 units on-screen, because that's all anyone was talking about for most of 2005. And then, more recently, Ubisoft refined that to "crowd gameplay", which doesn't really mean anything, although we tried not to point that out in case Jade Raymond got offended and refused to marry us. And meanwhile, over in sunny Liverpool, Bizarre Creations have come up with a quintessentially British alternative. Ladies and gentlemen, I give you the promise of the next generation: puddles.
You'll love the puddles in Project Gotham Racing 4. Not only do they look very pretty, but they have a dramatic impact on the way you approach the tracks you already know. In a game that offers ten locations (PGR3 had five), all carved up into a number of specific tracks, it's another splash of variety. Ho ho. And it's one of many, because PGR4's vaunted weather system also promises rain (in varying amounts), snow, fog, and all your other favourites. Conditions even change mid-race: one track in Macau begins in clinging fog, before ascending into the blinding glare of the sun-smacked hills around. Visually it's a wonderful effect (and we'll get to that in a bit), but in terms of driving it affects your braking distances, the range of stunts and slides you can attempt, and the general balance of the race. Fall behind in the wet and you might be able to make it up in the dry.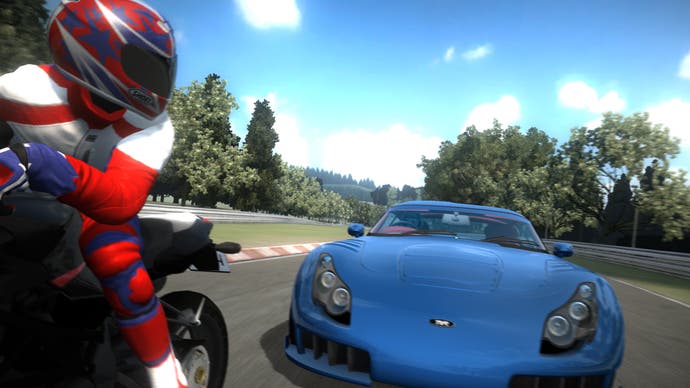 This being PGR, it's all in the name of fun. There's no aquaplaning, so you won't be dreading the puddles; they're just another thing to master. The same goes for the motorbikes. They don't signal a shift to greater degrees of realism. All the cars and bikes handle differently, and are built to impressively authentic standard, so you'll have no trouble telling a Ducati from a Suzuki, but this isn't MotoGP; it takes a pretty spectacular cock-up to send your rider over the handlebars into a puddle. Although it's funny to see it happen. Particularly in the over-the-handlebar view.
The gameplay ramifications are more general and easier to grasp: bikes are better on straights, and cars are better at cornering. Fans of Kudos, PGR's scoring system, which unlocks new cars and bikes, will discover that the bigger change is the bikes' "stunt" button, which lets you stand on the seat, perch on a foot-pedal and taunt your rivals. Endos and wheelies are in, too, and easy to hold, although the Kudos rewards in the demo we play are handed down relative to skill and execution rather than longevity. One of the things that speaks best to PGR4's sensible, gameplay-orientated introduction of bikes is their inability to crash and then accelerate to top-speed again in a jiffy; take a big hit and they'll wiggle awkwardly if you push too hard to regain speed immediately. Push off sensibly and all's well.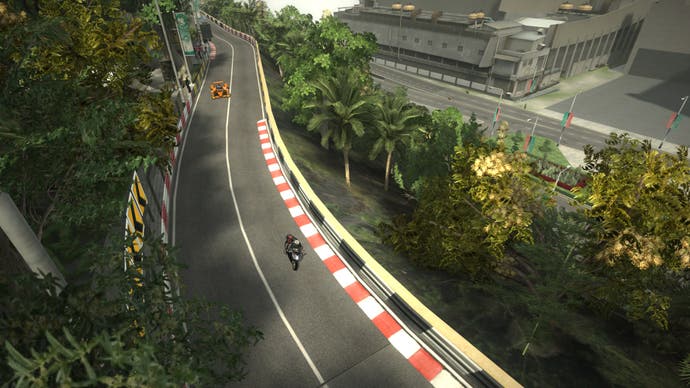 Speaking of balance, Bizarre's Brian Woodhouse admits that PGR3 wasn't quite what it could have been in that area when we bump into him at E3. "We just ran out of time," he told us, as you may have read elsewhere. "It looked great, but we struggled a little bit to commit time at the end to really balance the game properly. This one, we're not letting go 'til it's done." Attention to detail's already apparent. The bikes, though a lot of fun, are seemingly optional. You can do the whole of the Career or Arcade mode in your favourite vehicles, with a range of medals to gun for, and you simply don't have to mount the crotch-rockets if you're disinclined (or, for that matter, the cars). But, to get back to the water, surely "puddle density" is the best debug-mode variable ever?