Microsoft winds down adding new Xbox 360 back compatible games today
To focus on ensuring Project Scarlett plays 3000 Xbox One games, current back catalogue.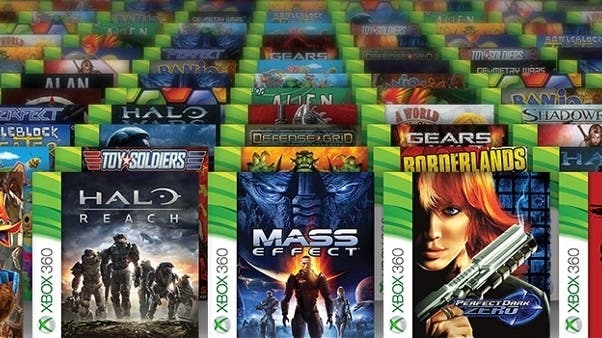 Microsoft has discussed Project Scarlett's backwards compatibility - and said it will be able to play the 3000-strong Xbox One library, as well as all 360 and OG Xbox games currently in the Xbox One's backwards compatible catalogue.
It's a feature first hinted to Eurogamer this time last year, during an E3 2018 chat with Microsoft's gaming boss Phil Spencer.
But Microsoft will also now move on from adding more Xbox 360 and original Xbox games to its hugely popular back-compat program. Announced to huge cheers during Microsoft's E3 2015 press conference, the service now supports more than 600 games.
A final few back compat games become available on Xbox One today - more on those below - but the team behind it all has told Eurogamer it will now "go dark" to focus on ensuring this entire library - including some 3000 Xbox One games - will be compatible with future Xbox consoles.
This includes work on any more Xbox One X-enhanced ports - although again, a final few have been added today.
Speaking to Eurogamer ahead of E3 2019, Xbox platform exec Jason Ronald said Microsoft's back compat team was now "shifting focus" to ensure the next generation of Xbox backwards-compatibility worked just as well.
Looking to the future, the "choice" of redeeming backwards-compatible games digitally or via a physical disc was also something Microsoft is keen to keep for next-gen, the company added (something Xbox gaming chief Matt Booty also confirmed to me at E3 2019 yesterday).
"We now have a lot of hard work ahead of us to make sure these games run on our future hardware platforms," Ronald said. "Right now we don't have any plans to add more titles to the programme, but at the same time, I'll never say never. We do continue to listen to the fans and we do still want to hear from them."
I asked Microsoft whether Scarlett would support all of the Xbox One, Xbox 360 and OG Xbox titles at launch or if support would be rolled out over time, but there was no firm answer yet either way.
One aspect Microsoft touched on was the work it had undertaken not just technically to get Xbox 360 games up and running on Xbox One, but the discussions it had gone through with the publishers of games to ensure they were happy with the idea.
"The industry has been evolving over the course of the program, and I attribute that mostly to the fan reaction," fellow Microsoft exec Bill Stillwell added. "There's always scepticism about these things - the industry knows how to run on a consistent basis and whenever you change something or be disruptive there will always be people who say 'Woah, what are you doing? Don't mess with what we have.'
"But what we saw was, when we released Red Dead Redemption, or Mass Effect, publishers realised these games had effectively been shelved the past few years. New fans joined their franchises, old fans got to relive their classics. People weren't just playing old games now, they are using them to get familiar with franchises and branch out. There's a net benefit, and it's become something expected. It's taken some time, but the rising tide lifts all boats and you're seeing that become relevant industry-wide."
A final, farewell serving of 22 games join Microsoft's backwards compatible catalogue today.
Eight of these are original Xbox games, including all four Splinter Cell titles. This means every Splinter Cell game in the series is now playable on Xbox One. What's nice here, although a shame it's just happening now, is the DLC for the original Xbox games will also be available - a first for the program.
The other 14 Xbox 360 games include fan-requested favourites such as Enslaved, Asura's Wrath, King Kong, Skate, Syndicate, Infinite Undiscovery, Enchanted Arms, and Star Ocean.
Too Human is another - and as a gift to Xbox owners, it is currently free.
Eight final Xbox One X-enhanced games round out Microsoft's additions. These are the Xbox 360 games from the Rare Replay collection such as Kameo, Viva Pinata and Perfect Dark Zero, and are available both separately or if you have the compilation's disc.
Here are the final additions in list form:
OG Xbox:
Armed and Dangerous
Indiana Jones and the Emperor's Tomb
Sphinx and the Cursed Mummy
Tom Clancy's Splinter Cell
Tom Clancy's Splinter Cell Pandora Tomorrow
Tom Clancy's Splinter Cell Chaos Theory
Tom Clancy's Splinter Cell Double Agent
Unreal Championship 2: The Liandri Conflict
Xbox 360:
Asura's Wrath
Battlefield 2: Modern Combat
Enchanted Arms
Enslaved: Odyssey to the West
Far Cry Classic
Far Cry Instincts Predator
Infinite Undiscovery
Peter Jackson's King Kong: The Official Game of the Movie
Prince of Persia The Forgotten Sands
Skate
Star Ocean: The Last Hope
Super Puzzle Fighter 2 Turbo
Syndicate
Too Human
Unreal Tournament 3
Xbox One X enhanced games:
Banjo-Kazooie
Banjo-Kazooie Nuts & Bolts
Banjo-Tooie
Kameo Elements of Power
Perfect Dark
Perfect Dark Zero
Viva Piñata
Viva Piñata: Trouble in Paradise