Microsoft reveals Xbox One, due worldwide this year
That's its name. (Update: photo of back confirms HDMI in.)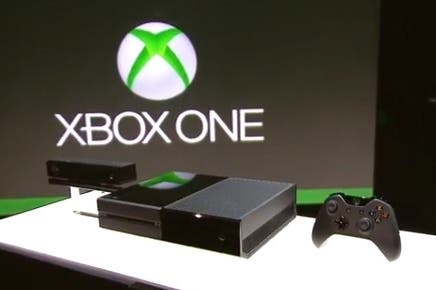 Update #2: Tom Bramwell, our man on the ground at Microsoft HQ, has published his hands-on impressions of Xbox One.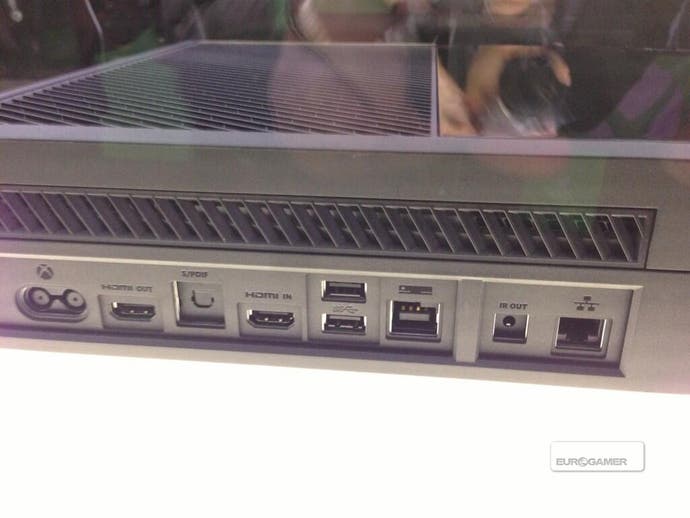 Update: Eurogamer's Tom Bramwell has snapped a photo of the back of the Xbox One:
Note the presence of an HDMI input, as reported. Also present are the usual suspects: HDMI out, two USB ports, Kinect and digital audio connectors, ethernet and power.
Original story: Microsoft has finally revealed its next generation games machine, named Xbox One. It'll launch worldwide "later this year".
The company showed off the box at the start of its still-ongoing conference - it's a horizontal, rectangular black machine and more angular than the Xbox 360 Slim.
The front of the Xbox One holds the machine's disc slot and power button. Its new Kinect 2.0 camera comes included in the box and is also more angular. The peripheral can now capture 1080p video at 30FPS.
The console's controller is wider and more ergonomically-shaped, Microsoft claimed. The pad will also have force feedback in its trigger buttons.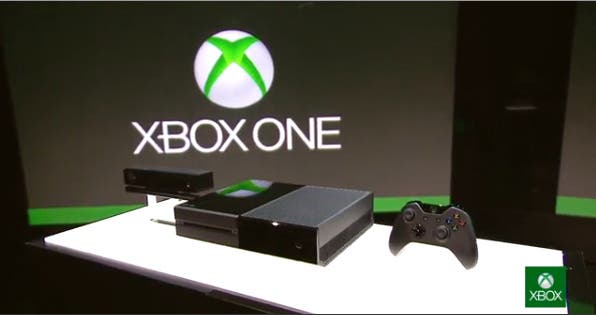 Inside the box, Microsoft boasted that the machine would contain a 500GB hard drive and 8GB of RAM.
A quick demo of the console's dashboard showed a tiled interface similar to the existing Xbox 360 menus, again with voice controls via Kinect and SmartGlass compatibility.
Switching between games and television happens near-instantly, and is powered by voice control. Spread your hands and grab the screen and you're back at the console's home screen.
Snap Mode allows you to run multiple programmes at once, such as Skype and a TV show on Netflix. Again, powered by voice.
"We believe we can evolve what you love and make it decidedly better," Microsoft exec Don Mattress explained during today's press conference.
Watch on YouTube