Mario Strikers: Charged Football
Picket up next week.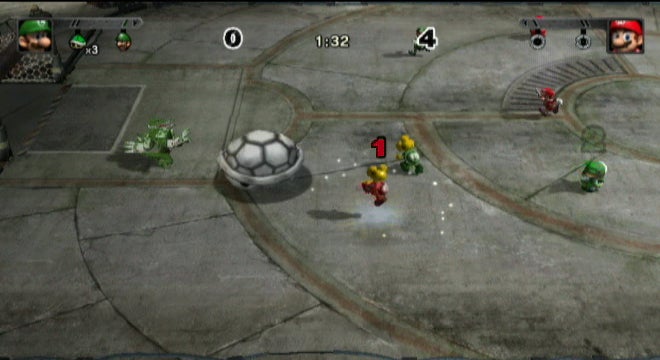 This is where the remote comes in - the screen rotates and lets you see approaching shots through the eyes of the keeper. You direct the on screen hands and press A to make a save. It's great fun and ironically, more realistic than the simplistic hit and miss penalty shoot-outs in Pro Evolution Soccer. If you fail to make a single save, that's a possible five goal difference you've conceded making the score line read like a game of basketball. And that's what Mario Strikers is all about - the speed, points and pushing and shoving of basketball. The ball probably stays in the air for a similar amount of time, too. The D Pad is used for tackling and 'takedowns' are frequent, given the small size of each pitch. There's no ref, no red cards - just red homing shells. Tactical use of power ups are key to winning a match and as a brief concession to reality (sort of), clever passing and build up play is rewarded. Link several quick passes and the ball begins to glow, making the eventual shot on goal travel faster. Keepers rarely catch these and it's up to you to get a second striker (sorry, 'playmaker') in line to either assault the keeper or shoot while he's recovering.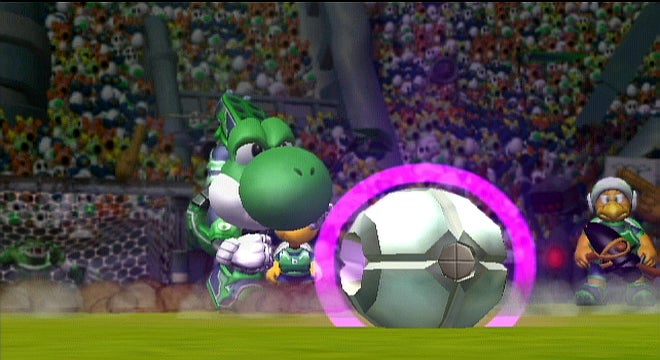 The guts of the game centres around the Road To The Striker Cup mode which asks you to play different cups, naturally divided into different skill levels like the flower, mushroom and star cups in Mario Kart. There's an entertaining 10 stage boot camp training mode and a selection of Mario history based challenges - like Mario playing Bowser with a three goal deficit. It's nothing radically new, but there's something about the structure that makes you want to beat every challenge and unlock everything. This is a Mario game, after all - even if Nintendo isn't directly involved. There's a traditional Nintendo charm too - it's hard not to smile when the crowd chant 'Yo-shi, Yo-shi' or when Toad straps on his twee body armour style kit and begins to breakdance, spinning on his giant head to a 70's funk medley when he scores. For us, that's the most eye opening victory celebration since Robbie Fowler decided to snort the touch lines off the pitch. Forget premiership show-offs and coke snorting shame, watching a midget mushroom making like he's wandered into a Run DMC video is where it's at, though we're not sure FIFA officials would approve of disco fungi. And that's kind of the point. Mario Strikers is for those that don't take football that seriously and can stomach playing a game so loosely based around the sport without comparing the action to that of a recent real life cup final.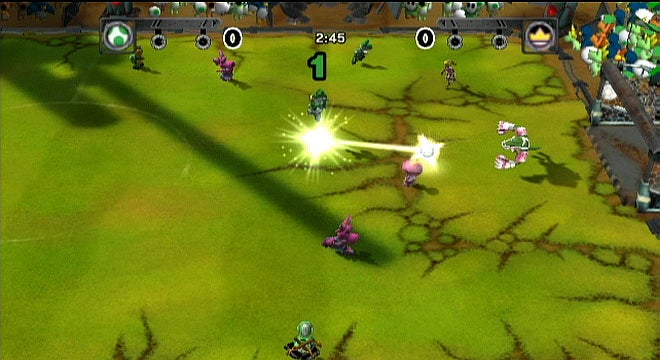 So, the sound is spot-on, traditional Mario tunes given a bizarre funk makeover. Brilliant. In terms of visuals, there's great effects but the bulk of the action could have been produced on a GameCube - in fact, the whole game could've appeared on the N64 without any hassle. The joy of Mario Strikers lies in the genius control method, which actually works perfectly. It's not a hit and miss Eye-Toy gimmick and it's refreshing to pick up the remote without already assuming that the run, shoot and pass buttons are all in the same place on the pad that they have been for countless years in PlayStation footy games.
Of course, like most sports games, Mario Strikers is best played against friends - up to four, with decent Wi-Fi options. The single player game is strong enough to warrant a purchase too, especially as Mario Strikers finally breaks the recent drought of Wii releases. As the most original, admittedly surreal, take on the sport for years, Mario Strikers is a gem of a game and manages to flawlessly meet Nintendo's brief of appealing to absolutely everybody.
Will you support Eurogamer?
We want to make Eurogamer better, and that means better for our readers - not for algorithms. You can help! Become a supporter of Eurogamer and you can view the site completely ad-free, as well as gaining exclusive access to articles, podcasts and conversations that will bring you closer to the team, the stories, and the games we all love. Subscriptions start at £3.99 / $4.99 per month.