Live: Ubisoft E3 2013 Conference
The third place. Live coverage from 11pm BST / midnight CEST.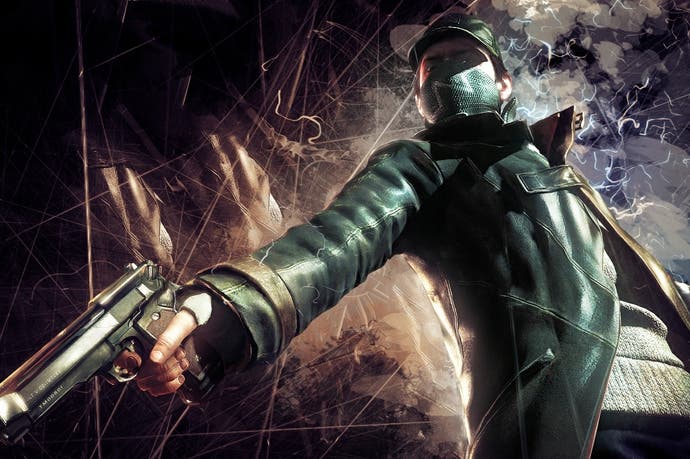 Over the last few years, Ubisoft's press conference has become the show to catch during E3: crazy presenters spout endless non-sequiturs amidst fabulous games that mess with your expectations. Perfect viewing for the middle of the night, then. It's at the Los Angeles Theater this year from 3pm PST, which is 11pm BST / midnight CEST.
If you're around, you can follow it live here with Eurogamer writers in the US and the UK, some of whom remember the first UbiDays event in the guts of the Louvre many years ago where rabbits defecated live on stage. Can they top that? Find out.
Our live coverage of this event has finished.
It's Ubisoft boss Yves Guillemot, noticing Patrice Desilet creeping up behind him.
If only there was a haystack handy for him to hide in.
Tonight we'll see more of Assassin's Creed 4: Black Flag and Watch Dogs, Ubisoft's two big open world games due out in time for Christmas.
Also look out for confirmation of The Crew, the new racing title from Driver: San Francisco developer Reflections.
There's also been rumours of a new Prince of Persia. What better time to relaunch the series than at the start of a new console generation?
As for Beyond Good & Evil fans - keep faith. Even if we hear nothing tonight.
Where do people stand on the last Prince of Persia reboot? The one that wasn't a movie tie-in. I actually quite enjoyed it.
Fingers crossed for a bit more Shaun White...
Shaun White's Half-Boarding would work. Breakfast is paid for but he has to find his own lunch.
Bon soir amigos! Let's Ubisoft!
Nought to Ubisoft in three seconds.
He may dress at J Crew, but he can still rock.
No man over 30 needs to wear a pendant on a little leather string. Even rock stars.
It's a guitar game! "OK 2007, let's ROCK!"
Just seconds into the Ubi conference and already I have no idea what's going on. A new record. Usually it takes at least eight minutes.
How could you have left Ross for the guy out of Mystery Men?
This year's Ubisoft press conference is brought to you by QVC.
I've only just realised that's Lana from Archer.
"Belly first, ass out." That's Ubisoft all over.
There is a lot of housekeeping to get out of the way up front this time.
"There are no stupid questions." Oh my friend. Oh my dear dear friend.
"As they say at Ubisoft: didn't we get rid of you already, Patrice Desilets?"
That would be amazing, wouldn't it? A shadowy figure strides through the auditorium, up onto the stage. He smashes the screens over with a breathtaking series of fierce roundhouse kicks. Raising his fists to the ceiling he throws back his head and roars, "JE... SUIS... DESILEEEEEEEETS..."
This all gives me great hope that we WILL one day see the return of Gex and Bubsy.
A hoodie? A HOODIE? Sir, you are on stage at E3! No one said black tie but good grief, make a bit of effort! Also, you are 41.
Oh wait, is he French Canadian? Makes sense.
French Canadians are born casual.
Their constitution has a zip on it.
DIGITAL CRACK. Yes, thanks to Ubisoft we'll all be living under bridges next year, begging passers by for any spare epic loot.
She just called the internet pissy! I love this woman.
Watch out for the wisps of his wife's Gitane smoke curling in from the side of the stage.
I hope he invites Tom Cruise on stage next.
Is he wearing a fleece? Good grief. This is not how wars are won.
It's Driver and this time the car's in a coma!
Will its star ever stop rising?
Sadly the car carrying all the in-game footage got caught in a pile-up.
She accidentally inhaled Yves.
Is that it from Yves then? Early flight back to Lilliput?
That is not the face that accompanies the word "fun".
And the universal hand gesture for "group up with your friends."
Is that a lanyard hanging of his trousers or is he just really unhappy to be here?
Burnout's barriers! I'm already in favour of this game.
The hallmark of any good game presentation is a variation on the line, "See that mountain? You'll be able to..."
Just like those arcades on ferries where you can both have a go! Except £58 more.
Mind you, it's easy to spend that before you're in sight of Calais if they've got a Jambo Safari machine.
This is either a segue to Watch Dogs or the recent NSA thing.
Personally I'm looking forward to Game_and_Watch_Dogs, where you have to outwit a mysterious government agency across two LCD screens while avoiding barrels.
Well I don't know. We've had one exec in a fleece, another in a hoodie, someone else dangling lanyards all over the place. I'm half expecting the next bloke to come out wearing Speedos and a beer can hat.
This is a live feed from inside Yves' head.
From the NSA to the cast of T4 in twenty seconds.
Oh my God ANY SONG YOU WANT I am digging out my Anal C*** collection
That is literally the best thing I have ever seen.
Just Dance got its start as a mini-game???!!! Impossible!
Rabbid Invasion doesn't sound very cute.
I want to invade my TV to change that shirt.
We did this with Season 3 of Engie Benjy back in the mid 2000s.
Let's just take a moment to remember Ubidays 2007, when they decided to put real live rabbits on the stage! Except they were terrified. So you saw these human hands shoving these little bundles out of the wings. And then they crapped everywhere. Happy days.
"Fun, dancing and rabbits." That's certainly what I was hoping to get out of this year's E3.
Don't you mean, you ARRRRR a pirate?
Assassins don't really blend in, do they?
I'm going to disguise myself...with this iconic hood.
"Anyone seen any assassins in here?" "Nope, not me, I'm just wearing this tea towel as a fashion statement."
I bet they'll release a patch.
I hope he said, "This will wheely hurt."
If Desilets storms the stage and shivs him, we will have all gone meta.
Oh, so now Ubisoft like pirates.
Corduroy?? Honestly. It's like Michael Foot and the donkey jacket.
Piracy is killing gaming.
Look out for Just Dance: Pirate Edition. "Stab to your left! Stab to your right!"
Quite enjoyed that pirate trailer, even if it was a bit Man from Del Monte Meets Thom Yorke.
RedLynx! And actual gameplay.
Yves! His wife has sent him out. "Ziss is your show. Go. MAINTENANT."
She slowly grinds the Gitane under a Louboutin and reaches for another. "Allez."
An MMO by people who read The New Statesmen.
How will they take all of this cutting edge material and turn it into rat punching?
There is no game. Yves is just very concerned about stuff.
Day 04: Elaine Page will cancel an appearance on Loose Women. Tesco's will run out of Hall's Soothers.
Ironic use of jaunty song.
Bronson? Mister Bronson out of Grange Hill? Now that would be the scariest video game boss ever.
Magic watch! But can it play Candy Crush?
All of this because somebody sneezed on a bank note, remember.
I bet it's Bobby Kotick's fault. "Kleenex? Pah. I'll just use this $100 bill."
Cripes! Looks lovely. Horribly lovely.
"You're all going to die! Anyway, we've been Ubisoft..."
They are showering the audience with money. Covered in snot. Oh, youbisoft.
Not a classic conference by laser-taggin' Ubi standards, but that last game looks pretty special.
No BG&E, but there's always Gamescom.
Please join us for Sony at 2! Unless you have work tomorrow or that sort of thing.
See you at 2am for Sony's conference. Here's hoping they've finally finished sticking all the bits on that machine.