Latest Lands of Dream entry, A Postcard From Afthonia, is out now
A free fantasy adventure from the co-writer of The Talos Principle.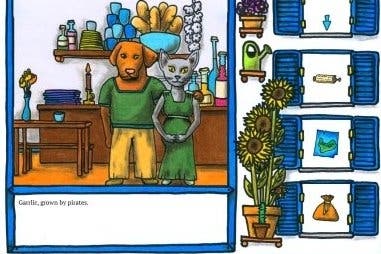 Game developer Jonas Kyratzes has had a small but dedicated following for a number of years now with his Lands of Dream series of storybook-esque point-and-click adventures. Games like The Book of Living Magic, The Fabulous Screech, and The Sea Will Claim Everything are probably his most well known entires in the Lands of Dream saga, but Kyratzes has recently made waves by co-writing the critically acclaimed puzzle adventure The Talos Principle with Tom Jubert (FTL, The Swapper).
Now Kyratzes and company have released their latest Lands of Dream entry with A Postcard From Afthonia. Set after The Sea Will Claim Everything, but accessible to newcomers, A Postcard From Afthonia tasks players with helping out an anthropomorphic dog and his pregnant cat girlfriend. You see, different species can still mate with one another in this fantastical world, but society doesn't look kindly upon it - especially not during wartime, when the game is set.
Unlike the pricier commercial release of The Sea Will Claim Everything, A Postcard From Afthonia is a free download on Windows, while a Special Edition costs a mere $3.33 (so about £2). It includes "an audio commentary that is actually a video," some short stories by character Henry Trollweather, and a "traditional Afthonian moussaka recipe."