Kickstarter for Suikoden spiritual successor Eiyuden Chronicle ends with £3.4m raised
Companion game confirmed.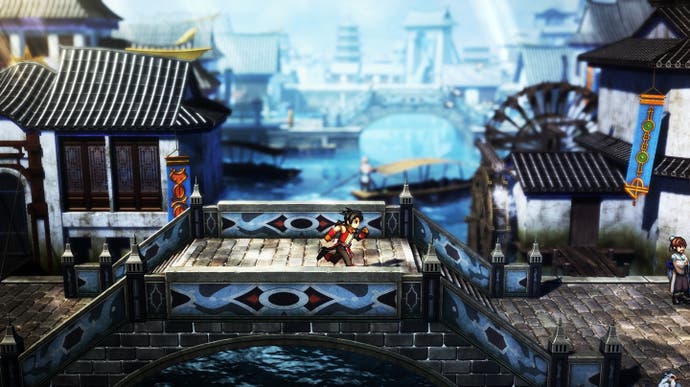 The Kickstarter for Suikoden spiritual successor Eiyuden Chronicle has ended with an impressive £3.4m raised.
Eiyuden Chronicle, a new Japanese role-playing game from some of the key creators of beloved 90s JRPG Suikoden, launched a Kickstarter on 27th July 2020 asking for $500,000. The crowdfunding drive quickly smashed that target, and settled on ¥481,621,841 from 46,307 backers.
Eiyuden Chronicle will now get a companion game, a town creation RPG co-developed with Natsume-Atari. According to a blog post, this companion game will release before the main game ("which will hopefully hold you over during the excruciatingly long two-and-a-half year wait"), and includes different lifestyle mini-games that let you gather different materials to build up your house. The idea is these materials will transfer over to Eiyuden Chronicle, "allowing you a head-start at crafting some of the different items/armor/etc in the game." A few of the characters in Eiyuden Chronicle will be in this companion game.
Rabbit & Bear Studios, the new developer making Eiyuden Chronicle, said it's forced to charge for this companion game, as opposed to giving it out for free, because console platform holders will charge it 30 per cent of the base price of the game to buy download codes to dish out to backers. "That means we'd be out a HUGE amount of money if we didn't charge something to at least cover that cost," Rabbit & Bear said.
"Based on the content of the game, we are expecting whatever publisher we end up working with to charge around $15-20 for this title. 30 per cent of that would be between $5-7. It's a cost we can't do anything about, so we are asking backers to up their pledge by $7 if you want this companion title.
"It's a hard decision to make but making the world of Eiyuden Chronicle bigger and providing people with an early taste is our last dream. It will still be much, much cheaper than the retail price, so thank you for understanding.
"If you are interested in this content, please add $7 to your pledge. Due to the nature of this and the fact it is a final goal, we know it's a bit last minute so we will try to allow backers the chance to purchase this game even after the campaign ends."
Eiyuden Chronicle, which is set for PlayStation 5, Xbox Series X, PlayStation 4, Xbox One, and PC at some point in 2022, is described as an ode to the classic JRPG genre from the PlayStation era that will feature classic JRPG exploration and battles in high-resolution 2.5D graphics, pixel-based characters, a story of war and friendship, a diverse cast of 100 unique heroes to join the protagonist's endeavour, and a fortress-building system to grow their army.
Eiyuden Chronicle's story will be handled by Suikoden 1 and 2 veteran scenario writer Murayama, with character design by Kawano (Suikoden 1, 4, Arca Last), system design and direction by Komuta (Suikoden Tierkreis, Suikoden Tactics, Arca Last), and art direction and production by Murakami (Castlevania: Aria of Sorrow, OZ). The game's soundtrack will feature compositions by famed RPG composers Michiko Naruke (Wild Arms series), Motoi Sakuraba (Tales series), and others.