Horror phenomenon Five Nights at Freddy's is getting a "AAA" game, console ports progressing
But the movie is delayed again.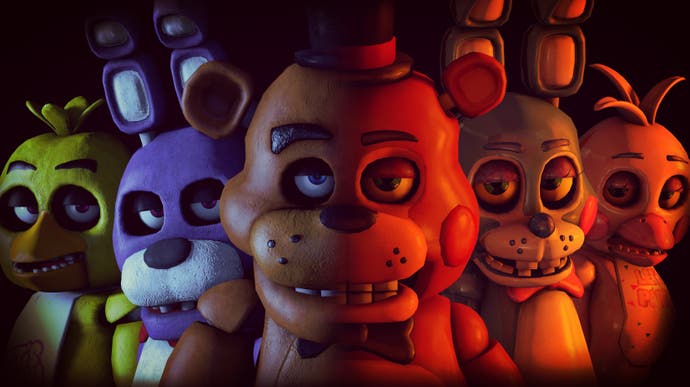 Scott Cawthon, creator of the phenomenally popular Five Nights at Freddy's series of horror games (and novels!) has unleashed a veritable heap of new updates on the franchise, including early details of a new "triple-A" game, further news on console ports, and more.
First things first (as outlined in a very busy blog update over on Steam), Cawthon confirmed that the Five Nights at Freddy's console ports, as unveiled in August, are still in the works. Cawthon originally announced console versions of the series back in 2016, only to later cancel them "due to concerns about the deal", so their continued existence this time is encouraging.
These newly announced HD ports of the original Five Nights at Freddy's games are being handled by developer Clickteam and are currently, according to Cawthon, about 20% complete. The finished versions will be heading to Switch, Xbox One, and PS4, and will also be getting an airing, in their improved high-definition guise, on iOS and Android.
Even with six mainline games and two spin-offs under his belt, it seems that Cawthon still has a few ideas left for his supremely popular series. The designer also revealed that his next potential Five Nights at Freddy's game will be Into Madness, "a compilation of several previous gameplay ideas", and will likely be released for free. Cawthon did warn, however, that its release isn't guaranteed; "I'm still recovering from the first four years!", he joked.
Elsewhere, the series' AR and VR entries (the latter being worked on by developer Steel Wool) are 10% and 40% complete respectively, and there's also early word of a new "AAA" game. "There is a BIG deal in the works to create an incredible big-budget game," explained Cawthon, "I can't reveal any details yet as this project is still in its planning stages, but I'm working closely with the studio involved to ensure that it delivers what (I think) FNAF fans will want to see!"
Lastly for Five Nights at Freddy's news (a new five-book horror series aside) is word on the long-in-development movie. This, in case you forgot, is being helmed by Home Alone and Harry Potter director Chris Columbus, and will take place within the universe of the first three games.
Don't expect to see the movie any time soon, however; Cawthon has now revealed that he's "tossed" his initial script because "I had a different idea for it, one that I liked better". As Cawthon explains it, "It's been a real challenge for everyone, including myself, to come up with a good screenplay for this. But I'm determined to find the right story. I'm sticking to what I've always said, either the right movie gets made or no movie gets made."
"I hate delaying a project that's already seen so many delays, but I have to go with my instincts on what I think will be exciting and interesting, and what I think the fanbase will really want to see," Cawthon explained of his decision, "If that means that I have to start over ten more times, then that's what I'm going to do."