HMV store advertises 3DS XL with second Circle Pad using internet mock-up
"Just one particular store being a little over-enthusiastic," HMV explains.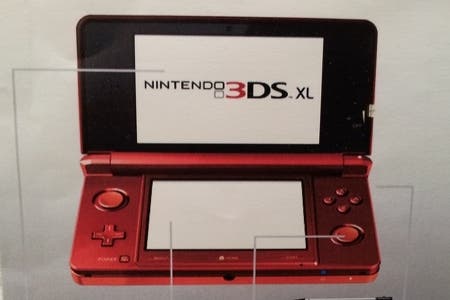 HMV has advertised the Nintendo 3DS XL with a second Circle Pad using an internet mock-up.
Promotional posters in one HMV store (snapped by GoNintendo) were spotted showing a fake image of the 3DS XL. The mock-up, spotted online before the handheld was even announced, features a second Circle Pad not found in the real model.
Accompanying text even highlights the feature. The second Circle Pad is labelled as being "ideal for left-handed players" and promises "better precision during gameplay".
The devices' screens are described as being 82 per cent bigger (the correct figure is 90 per cent) and the stylus is said to be extendable (it's not).
"It's apparent this was just one particular store being a little over-enthusiastic - and the poster has been removed," an HMV spokesperson told Eurogamer.
"If it's caused anyone any issues then we're sorry, but I'd say it doesn't take much to work out this doesn't represent the company's retail offer for this release."
Some shoppers have accused HMV of falsely advertising the 3DS XL by displaying erroneous marketing for the device, but the shop said this was an "over the top" reaction.