GDC: PlayStation 3 - the next level
Home, LittleBigPlanet and PlayStation Edge.
Sony hasn't had the easiest ride of late. Giant enemy crabs. Riiiiiidge Racer. The price. The European delay. The backward compatibility issue. Executives saying daft things. It all adds up to massive damage to its reputation.
It seems like Sony's in a bit of a predicament right now, and the next few weeks and months are going to be crucial. Now's the time to show us exactly what the PlayStation 3 can do, and why we ought to hand over £425 for one.
Well, judging by Phil Harrison's GDC keynote, they've got the message. His conference speech begins at 10.30am PST (6.30pm GMT) today, but he delivered a full preview at a special event for selected press last night. There he unveiled a new vision for PlayStation 3 - what Sony's calling 'Game 3.0'.
It's about user-generated content, in short. Sony wants gamers to create and customise their own PS3 experience. According to Harrison, the focus is on "leveraging the convergence of technologies, from broadband and video chat to supercomputer-speed processors, to make gaming more interactive and dynamic than ever before".
In other words, perhaps, MySpace and YouTube are hugely popular, everyone loves the Internet, the PS3 runs quite fast and they've got some new ideas for how to exploit all this so people stop slagging it off.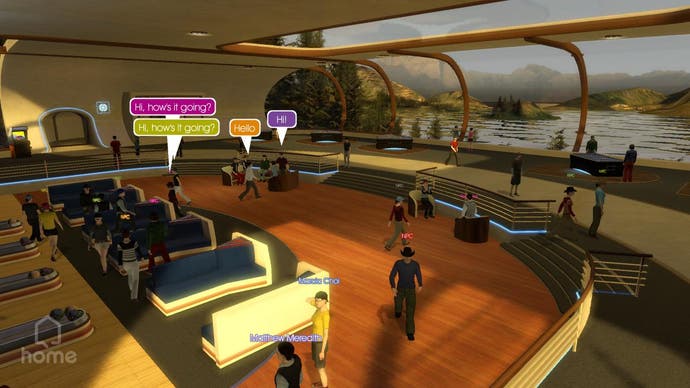 At the heart of this vision, as previously revealed by our old friend Internet Reports and confirmed by Harrison last night, is PlayStation Home. It's a new real-time, networked 3D community where you can interact with other PS3 owners, play online games and generally muck about to your heart's content.
Available as a free download from the PlayStation Store, Home lets you create a 3D avatar, choosing from a wide range of body types, skin tones, ages, clothes and accessories. Evidently drawing inspiration from Nintendo's Mii system, but with a much bigger array of options to choose from.
You also get a virtual living space in the shape of a sleek, modern apartment, which you can also customise. As demonstrated by Harrison, you can use any of the content stored on your hard drive. For example, you can hang dodgy photos on the wall, play game trailers on your virtual TV, and listen to MP3s on your Home stereo. You can also download special content, such as Resistance: Fall of Man wallpaper.
"It's your place, so it's your rules," Harrison explained.
Then there's the Hall of Fame, a room where you can display 3D trophies that you've won by completing in-game objectives. These aren't necessarily trophies in the traditional sense. The Hall of Fame in Harrison's demo featured large Loco Roco and Killzone characters in glass cases, for example.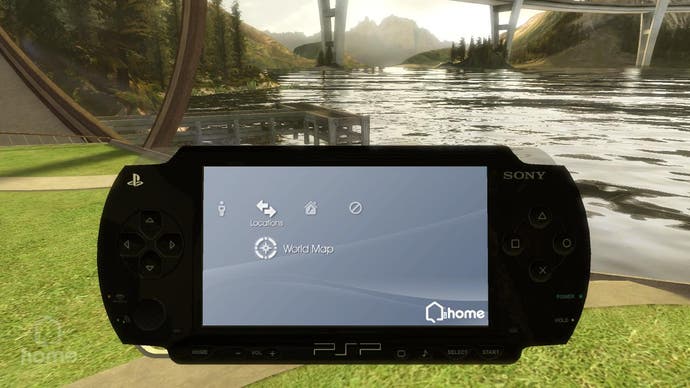 You can also view the awards for games you don't yet own. These are shown lined up as far as they eye can see in a huge virtual room. If you're a Star Wars fan, picture the senate featured in the prequels.
You can invite friends to your Home to see your trophies, explore your apartment, share your content and join online games. Communication is done through text, audio and video chat, and avatars express their emotions through animations.
There are other areas to explore outside your apartment, accessible via the World Map. The version of this shown by Harrison featured icons which represented virtual spaces belonging to developers, publishers or specific games - but there are bigger plans for the future.
"We expect it will be not just about Sony content, not just about game content, but a much wider network," Harrison said. "Over time we expect it to expand to non-game brands as well, so you could imagine going to visit a space that might be provided by a famous beverage company or a cool clothing company or a record company, or even a retailer, or a magazine or a website.
"So we think this is a very powerful way to bring community not just to games, but to other forms of lifestyle and entertainment - all built around PlayStation 3."
Harrison concluded the first section of his speech by revealing that Home is currently in the closed beta phase, with a public beta due to begin in April. It's down for a global launch in the Autumn.
Then it was time for a look at Singstar. Not much new to report here, but the Americans aren't as familiar with the series as us Europeans so it must have seemed like a good opportunity for Harrison to show off the PS3 game.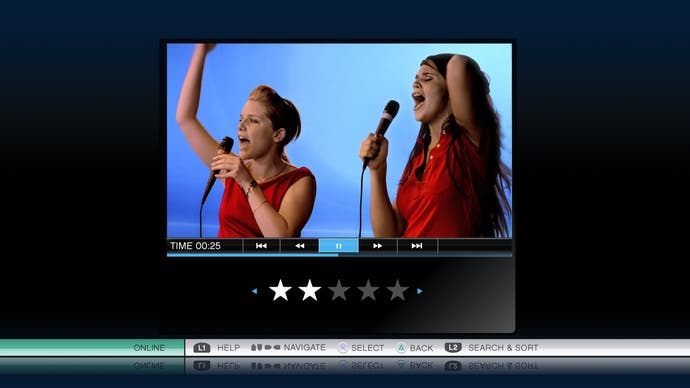 It's "all about extending the experience online in two directions - downloading content and uploading content", according to Harrison. You can download songs in the Singstore, and watch video previews streaming off the server before you buy.
You can upload videos of your performances filmed with EyeToy to the My Singstar network, receive ratings from other users and compete in contests. There will also be downloadable content such as wallpapers for your favourite bands and artists.
Harrison declined to show off the game by singing himself, opting instead to observe that the demo "gives you a sense of where we're going with the integrated community and commerce, blended together in a very compelling experience for PlayStation 3".
Singstar PS3 launches in Europe in early June, with a US release due to follow in the 'Fall', as the Yanks call it. Harrison didn't say how many tracks will be available at launch, but said that Sony is "working very closely with the music industry to get a very wide selection of music available day one on the network".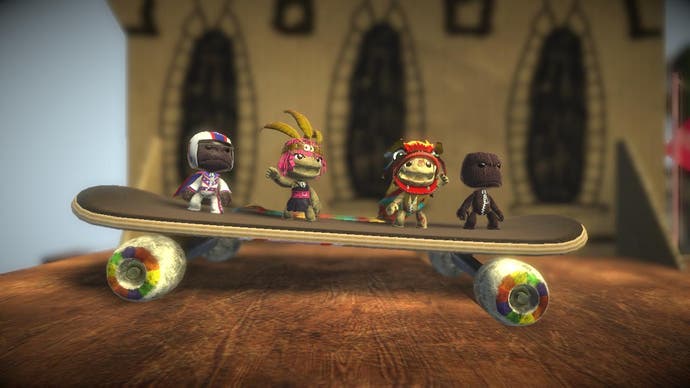 With the Singstar section out of the way, it was time for what was undoubtedly the highlight of Harrison's keynote - the first ever public showing of a new game titled LittleBigPlanet. "It's probably the fun and creative embodiment of the Game 3.0 concept," he said.
LittleBigPlanet is being developed by Media Molecule, the studio set up by former Lionhead developer Mark Healy. MM won critical acclaim last year for Rag Doll Kung Fu, a PC title which also caught Sony's attention.
"We loved this game and we thought it was a really great embodiment of the power of the independent gaming community building really great games with their own inspiration, their own money, and sharing it widely over the network on the PC," said Harrison.
Sony has now spent around a year working with Media Molecule on LittleBigPlanet, and Healy and MM co-founder Alex Evans were on hand to demo the game last night. Healy began by telling the audience, "This game is basically all about creativity."
When the game starts, you find yourself on a blue and green planet divided into plots. Your character starts out as a small brown creature who appears to be made out of wool, nicknamed Sackboy. The first task is to find out what the character can do and how to interact with the environment. Once you've mastered the basics - LittleBigPlanet is designed to be very easy to pick up and play - you can start to create your own games.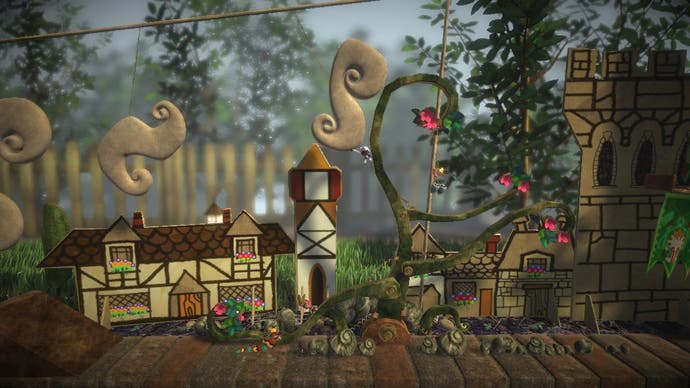 This is done by using your character to place and manipulate objects, using the Sixaxis controller and a simple cut and paste type system rather than a complex level editor. Objects are made out of materials such as wood, fabric and metal, and behave as you'd expect them to in real life.
In the demo, the gameworld appeared as a sparse backyard environment into which Evans began placing objects - a block of wood to which he attached a cog his character could run around, for example.
Then came a tree made out of fabric, followed by a giant orange to which Evans added bug eyes and Deely Bopper hair. He showed how you can also customise your character by adding Deely Boppers, while other characters appeared wearing space suits and elaborate Chinese dragon-style head dresses.