Flesh-flailing co-op platformer Struggling is the first game from Frontier Development's new publishing label
And it's out today on Switch and PC.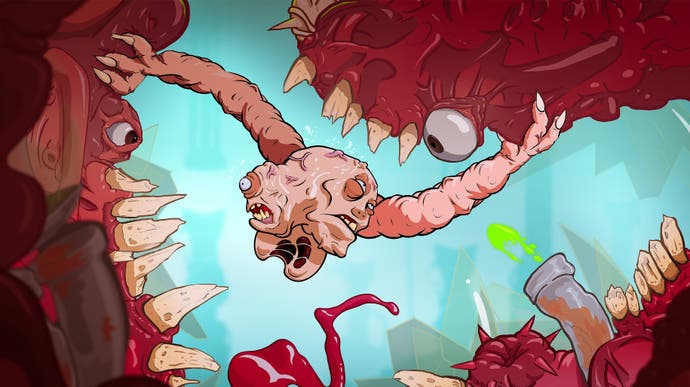 Elite Dangerous and Planet Coaster studio Frontier Developments has announced that Montreal developer Chasing Rats' raucously gory co-op platformer Struggling will be the first game to launch as part of its new Frontier Foundry publishing label - and it's out today on Switch and PC.
Struggling is a physics-based affair that charts the tribulations of Troy, an animated pile of flesh and recent lab escapee, as he embarks on an bizarre adventure across four distinct worlds.
Troy is able to use his impressively oversized, frequently windmilling arms to tackle enemies and to climb and bodily fling himself up precarious platforms as his increasingly odd story unfolds. He can also use the momentum and inertia afforded by his appendages to avoid hazards and solve puzzles, making the most of his new powers - including detachable limbs and time-slowing dodge - that are unlocked along the way. Also, there are hats!
The twist, as showcased in Chasing Rats' new trailer, is that Struggling's two-player co-op mode gives participants control of one Troy arm each, meaning that careful, and almost certainly swear-y, coordination (and possibly blind luck) are required to overcome the odds. Of course, those who'd sensibly rather not lose friends and lovers over a video game also have the opportunity to play solo, controlling both arms themselves.
Struggling, if you're up to the flesh-flailing, mountaineer-bothering challenge, releases today on Steam and Switch's eShop for £11.99.