Final Fantasy XIII
Summoning and soundbites from director Motomu Toriyama.
English voice acting and five languages' worth of subtitles have all recently been completed, explains Toriyama - localisation has been a key concern ever since the very beginning. "The development of FFXIII is on a worldwide perspective; we're not going for one market over another but developing simultaneously for all worldwide markets. The localisation process has been going on as we've been making the Japanese version.
"We've also had monitoring and testing where we have groups of testers try the game out and offer feedback that we can incorporate into the development process, and there have been some surprises there. We've been doing that for audiences in Japan and overseas, trying to look at it from a global perspective."
That international internal testing has thrown up a few surprises for the team. FFXIII's Active Time battles were designed at least partly to appeal to the more action-based sensibilities of Western gameplayers, but it's evidently hitting the mark with the Japanese market as well. "It's been a really interesting experience developing this and having people from different regions try it out, because we have certain expectations," says Toriyama with a wry smile. "We would think that the Japanese audience would have a better reaction to the characters' expressions and emotional reactions, but it's actually more the North American and European testers that are saying they really like that stuff. Similarly, we would expect the action-based battle system to appeal to overseas audiences a lot more, but Japanese testers are loving that element too, so we're having all these new discoveries during development. It's been a really fun experience."
Final Fantasy XIII's world is split into two large areas - Cocoon, the green-glowing floating city in which the last demo was set, and Pulse, everything outside of it. About 60 per cent of the game is going to take place within Cocoon, but the area in the previous demo was just one tiny part of the massive city - a unique one at that, explains Toriyama, very close to Pulse - so we shouldn't assume that we've seen everything that the setting has to offer.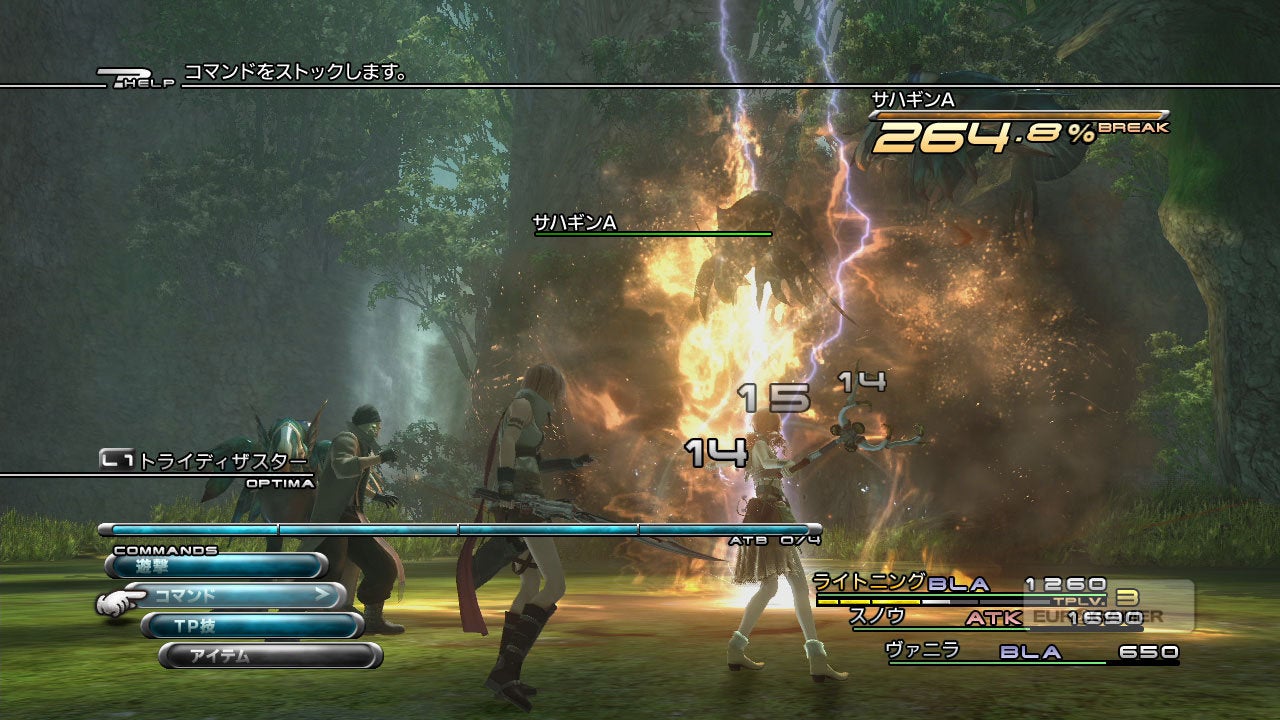 Japan's been treated to a full on-disc demo of FFXIII already, but are there any plans to do the same for Europe, particularly as Xbox Live provides the ideal platform for giving hesitant Western gamers what might be their first taste of the series? There's a hurried discussion between Toriyama and his Japanese PR man before he assures us that there are no firm plans - but that they'd very much like to do a downloadable demo near the game's release in Europe and America in spring next year.
The game's 90 per cent complete, and with the localisation efforts already finished there doesn't seem to be anything endangering that tentative early-2010 release date. We'll be seeing more of it at TGS, according to producer Yoshinori Kitase, but mere months from the Japanese release we're not sure what surprises Square-Enix can still have up its sleeve. At this point, though, FFXIII doesn't need to surprise us to impress us. It's shaping up beautifully.
Final Fantasy XIII is due out for PS3 and Xbox 360 in spring 2010.
Will you support Eurogamer?
We want to make Eurogamer better, and that means better for our readers - not for algorithms. You can help! Become a supporter of Eurogamer and you can view the site completely ad-free, as well as gaining exclusive access to articles, podcasts and conversations that will bring you closer to the team, the stories, and the games we all love. Subscriptions start at £3.99 / $4.99 per month.