Faze kicks out one member and suspends three others over alleged influencer crypto "scam"
A token gesture.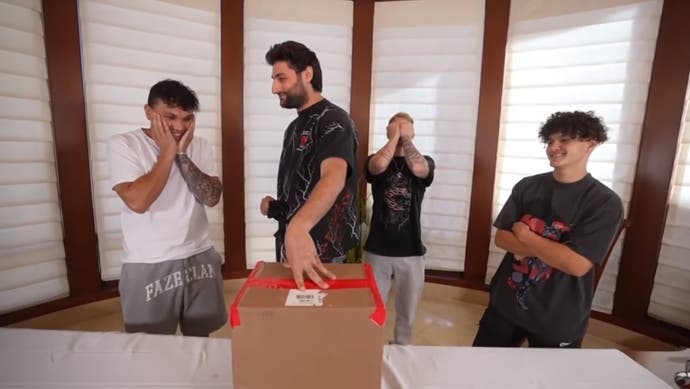 Faze Clan has kicked out one of its members and suspended three others over an alleged influencer crypto "scam".
In a statement published to Twitter, Faze said it had "removed" Frazier Kay from its clan, and suspended Jarvis Khattri, Nikan Nadim and Teeqo until further notice.
These influencers, each with millions of YouTube subscribers and social media followers, were heavily criticised for promoting a cryptocurrency token called Save the Kids whose value plummeted soon after it launched.
The Save the Kids token promised to donate a percentage of proceeds to charity, and was backed by Kay and co in videos and social media posts. Some fans said they had lost a significant amount of money as the value of the token crashed.
On 26th June, YouTuber SomeOrdinaryGamers published a video, below, that set the ball rolling on a wider backlash to the influencers' actions, and now Faze itself has acted.
Kay did issue a comment via Twitter the day after SomeOrdinaryGamers' video went live, saying "I had no ill intent promoting any crypto alt coins".
"I honestly and naively thought we all had a chance to win which just isn't the case. I didn't vet any of this with my team at FaZe and I now know I should have."
"While I'm very passionate about the crypto space, it's extremely complicated & I still have a lot to learn & I caution everyone to look closely before investing," Kay continued.
"It was so irresponsible of me to speak publicly about any coins without knowing more & knowing now that they can do more harm than good.
"I'm really struggling with the fact that I let you all down & more importantly anyone whose trust I've lost. My fans mean the world to me and I wouldn't be where I am today without you."
A more recent video from YouTuber Coffeezilla, published 1st July, accuses the influencers of being paid to promote the altcoin before dumping their investments - what's known as a "pump-and-dump".
It's all culminated in Kay's exit from Faze - and it's not looking good for Jarvis, Nikan and Teeqo either.
"Faze Clan had absolutely no involvement with our members' activity in the cryptocurrency space, and we strongly condemn their recent behaviour," Faze said.
"The trust and respect of our fans has been, and always will be, our number one priority."
Kay has yet to respond to his exit from Faze. Jarvis, Nikan and Teeqo have yet to comment at all.
Faze Clan is ostensibly an esports organisation, with members who play a raft of games professionally. But in more recent years it has evolved into a significant influencer brand, with members uploading videos to YouTube that show off million dollar houses, new cars, pranks, mystery food box taste tests and boxing.