EA pledges $1m to Jacksonville shooting victims, announces livestream
UPDATE: EA announces timings and how to watch.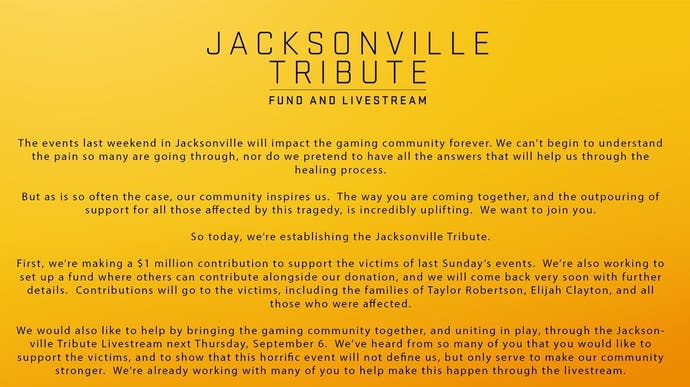 UPDATE 6/9/18: EA has released more details on how to watch the Jacksonville Tribute Stream - an initiative which aims to commemorate the victims of the Madden tournament shooting.
The stream will air later today at 5pm ET (10pm BST). It will last an hour and half, and can be watched on Twitch, Youtube, Facebook, Twitter, Mixer and ESPN3.
According to EA's post, the stream will be hosted by well-known Madden players such as Scott Cole, Rico Williams, Adrienne Lawrence and Dave Grunfeld.
EA hopes the livestream will "reach far beyond Madden" and allow people to "share in 90 minutes of doing what unites us all - playing video games".
---
ORIGINAL STORY 30/8/18: EA has announced a fund initiative to aid the families of the victims of last Sunday's shooting at a Madden tournament in Jacksonville, Florida.
The initiative, called the Jacksonville Tribute, includes a donation of $1m to support the victims of the attack. Beyond this, EA will also establish a fund to allow others to contribute to their donation - the proceeds of which will go to those injured in the shooting, along with the families of victims Taylor Robertson and Elijah Clayton.
The third part of the Jacksonville Tribute entails a livestream, which will take place next Thursday, 6th September.
"We've heard from so many of you that you would like to support the victims, and to show that this horrific event will not define us, but only serve to make our community stronger," EA stated. The publisher said the livestream is about "bringing the gaming community together, and uniting in play".
More details about the livestream are due to be released soon.
Last Sunday's shooting saw two professional Madden players lose their lives and 10 others sustain injuries after a competitor turned a gun on attendees at a Madden NFL 19 tournament. Since the tragedy occurred, professional gamers, streamers and developers have voiced support for the victims on social media. The event has also raised questions about security at esports events, and forms the latest chapter in the ongoing American gun control debate.