DS Roundup
Civilization, Race Driver: GRID, Top Spin 3, Doodle Hex and Pirates.
Top Spin 3
Developer: 2K Games
Publisher: 2K Games
Top Spin 2 on the DS was blighted by some major graphical burps, most obviously a frame-rate that left players stuttering their way through matches. For everyone who suffered through those problems, rest assured - it's all been fixed. Top Spin 3 may not be the best looking game on the DS, but it at least runs smoothly now, with mostly realistic animation for its small cast of real world tennis stars and user-created hopefuls.
There are the expected modes of play, including a quick-start option for jumping straight into a match and a more beefy tournament option, where you can define the rules and sets for a longer game. There are also mini-games, such as knocking barrels off the court or running to buttons to make a robot fall down trapdoors. They sound ridiculous, but beneath the wackiness they are teaching you valuable tennis skills.
The meat of the game is the career, however, where you get to guide your own created player up the tennis ladder. Broken down into weekly segments, you can choose to spend your time training on the mini-games, taking part in one-off events, checking your emails for bland hints from your coach and creepy encouragement from anonymous fans. And, of course, you can enter into professional tournaments and try to improve your standing in the tennis world.
It's the best tennis game on the DS, but that's not much to be proud of. The main problem is that the AI players are rock hard, and will force you into long, protracted rallies for every single point. Aiming your shots is also something of a hassle, depending more on timing than any button presses. It doesn't help that the DS d-pad often isn't up to the job of a long energetic game.
This unforgiving approach may well please dedicated tennis enthusiasts but it will only frustrate those just looking for a fun experience.
7/10
Doodle Hex
Developer: Tragnarion Studios
Publisher: Pinnacle Software
Expelliarmus Plagiaristo! Yes, we're going to magic school, the College of Runes no less, where kids learn to cast spells and use magic but if JK Rowling's lawyers ask it's got nothing to do with Harry Potter, okay?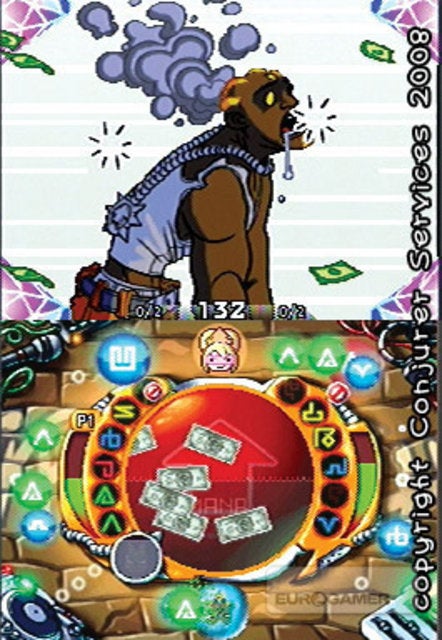 You're a new student, lured into the forbidden Doodling Club, which is more dangerous than it sounds. It's where naughty children battle using their runes, you see, and the teachers do not approve. Play takes place on a magic circle, with you at the bottom and your opponent at the top. You draw the shape of a rune on the touch-screen, and it begins to travel anti-clockwise towards your foe. Different runes have different effects, and finding the right timing and combinations to deliver the most effective attack is the key to victory.
The drawing mechanism works very well, with the game able to recognise most symbols even when sketched at speed. Perfectly drawn runes become super-powerful attacks, but you're just as able to deliver sequences of scruffier but faster spells if the mood takes you.
There are tournaments and challenges, and wireless multiplayer where you can pit your wits against a friend. It's all shamelessly aimed at the post Yu-Gi-Oh crowd, swapping cards for collectible runes, and the art style fits in perfectly with this audience.
There's just not enough to the game, and by the time you're frantically scribbling increasingly complicated symbols in order to chip away the health of some super-blocking AI opponent, the initially appealing simplicity of the concept proves a hindrance rather than a help. While there's an attempt to tack a story onto the constant doodling, it never really takes hold and you're left with the feeling that this would make an excellent combat system for an RPG, but isn't quite enough to support a standalone game by itself.
6/10
Pirates: Duels on the High Seas
Developer: Oxygen Games
Publisher: Oxygen Interactive Studios
Already released on WiiWare, to an ambivalent response, this nautical shoot-'em-up has a certain old-fashioned charm but fails to provide enough convincing reasons to stick with it to the end.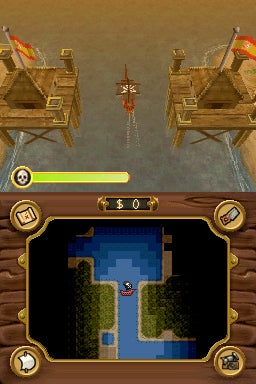 In charge of a skull and crossbones galleon, your task is to sail around a series of narrow corridor levels, taking out enemy ships with your cannons and special weapons while scooping up crates of bonus goodies and overboard crewmen who can offer short-term status boosts. It's the sort of rudimentary gameplay that proves fairly amusing over five or six levels, but the game's inability to develop its concept any further really saps the fun from things all too soon.
Control is slightly more awkward than it was on the Wii, with left and right on the d-pad rotating your ship and the shoulder buttons accelerating and reversing. Yes, this is a galleon with a reverse gear. Movement is sluggish, however, which turns what should be exciting shoot-outs into fussy fumbles to get into a better position for a broadside assault. By the time the game introduces enemies that can actually cause serious damage, the ponderous responses become an unavoidable problem rather than just a minor irritation.
Pirates is a classic example of the sort of game with no compelling reason to exist. It's certainly not terrible, but then there's absolutely nothing special or interesting about it either. It costs almost three times as much as the version on WiiWare, without offering anything of note to justify this discrepancy, and yet will fade from memory within minutes. Bland and ultimately pointless, Pirates really isn't worth your attention.
5/10
Will you support Eurogamer?
We want to make Eurogamer better, and that means better for our readers - not for algorithms. You can help! Become a supporter of Eurogamer and you can view the site completely ad-free, as well as gaining exclusive access to articles, podcasts and conversations that will bring you closer to the team, the stories, and the games we all love. Subscriptions start at £3.99 / $4.99 per month.