Door Kickers 2 surprise-launches into Steam early access
Pump up the jamb.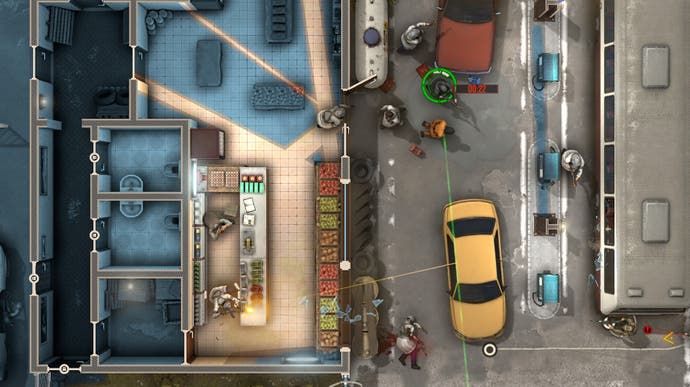 Door Kickers 2, the sequel to developer KillHouse Games' acclaimed SWAT-themed real-time tactics effort, has surprise-launched into Steam early access.
Door Kickers 2, subtitled Task Force North, was initially announced back in 2016 for a release that same year. However, the game soon slipped out of the spotlight, only re-emerging this February where a number of changes were revealed to be afoot for the sequel, including a shift from 2D to 3D and a switch in focus, with players now controlling a military squad in the Middle East, rather than the SWAT team of the original.
"True to the violent and dynamic nature of combat in the region," says Killhouse on Steam, "Door Kickers 2 models deadly threats and technologies such as booby traps, suicide bombers, RPGs and concealed insurgents - while handing you new toys such as Light Machine Guns for suppressive fire, drone reconnaissance, night vision goggles and wall breaching charges."
The original Door Kickers' top-down perspective remains, and the sequel's core tactical close-quarters combat action should be familiar to fans of the first game, with Killhouse also promising non-linear levels, multiple paths, and break-(almost)-any-wall freedom. There's also weapon customisation, a mission editor, plus solo and online co-op for 2-4 players.
Killhouse says 20 single-player missions are included in its initial early access build (15 of which support co-op), alongside 28 weapons and pieces of gear, eight enemies and NPC types, plus one playable unit with four trooper classes.
By contrast, the final release is anticipated to feature 100 single-player missions (most supporting co-op), 20 missions specifically designed for co-op play, new locations, 3-4 playable units with around eight trooper classes, over 60 weapons and pieces of usable gear, 12-16 enemies and NPCs, plus night missions, infiltration, disguises, and undercover work.
Killhouse expects Door Kickers 2 to remain in Steam early access for 12 to 16 months, and says that the game's current £16.99/$19.99 USD price tag will increase by around 20% when its Version 1.0 release eventually arrives.