Divinity: Original Sin 2 confirms split-screen, finally shows skill crafting
Plus Runecrafting! Flashier deaths!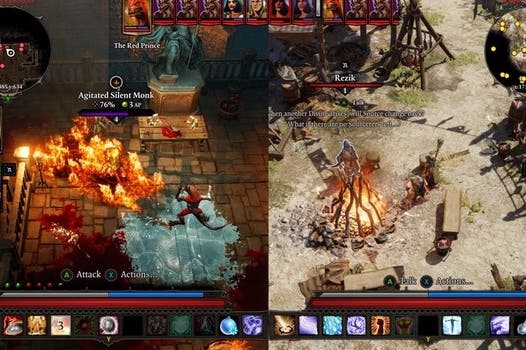 Split-screen play - either two people on one screen, or four people across two screens - has finally been confirmed for Divinity: Original Sin 2.
Split-screen is demonstrated by developer Larian in a new DOS2 update video (below), along with - for the very first time - skill crafting! This new system lets you combine skill books, one elemental and one not, to make a new skill. You can even add a Source skill to the mix for a supercharged outcome - a Source-powered outcome. Source is a new resource in DOS2 acquired from Source pools or from Source apparitions, which you can, um, sort of eat, if you're that way inclined.
Runecrafting is also introduced in the video and allows you to - as in other games - craft runes to upgrade your gear with. You can create them from scratch with Pixie Dust, anything wooden, and oil, or you can combine runes you've picked up with any other runes to create stronger versions of them.
On top of that, Larian's animators show in the video how they've gotten creative with how living things die in battle. If an electric effect kills you, for example, your character will be visibly - very visibly - electrocuted, which is a nice touch.
Patches for the currently available Early Access build of Divinity: Original Sin 2 will dry up while the studio knuckles down for the game's PC launch on 14th September. There's a good chance console versions (and Mac) will follow in the future - as they did with Divinity: Original Sin 1 - if the sequel sells well enough on computers.