Just Cause 4 has next-level physics - but does it run smoothly?
An early look at the PC version, with consoles to follow.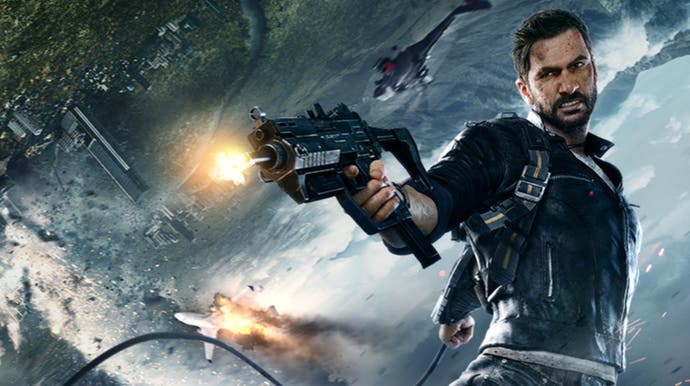 We're closing in on the launch of Avalanche's Just Cause 4 - a game that looks to push the series' signature open world and remarkable physics systems to a new level, which begs the question... what's the score with performance? Just Cause 3 is our go-to game for testing CPU limitations on consoles, while the PC version launched with severe loading time problems and obvious driver issues for Radeon cards, which took some time to resolve. Based on what we've seen of the sequel so far, we should be in for a smoother ride this time around.
Square-Enix invited Digital Foundry to its London office last week to take a look at a near-final PC build. The console versions of the game are still undergoing final performance optimisations (and we'll cover these as soon as we can) but having seen the PC build running on several hardware configurations, and having discussed the nature of the technological changes under the hood, there's genuine reason for optimism here - and the game itself is looking rather impressive.
On the face of it, the PC build of the game initially looks quite similar to its predecessor - the options menu is effectively a match for Just Cause 3 - but crucially, there are vast revisions under the hood, including a fundamental change in how the CPU is utilised. Core utilisation for physics especially was somewhat limited in JC3 (perhaps explaining why console frame-rate could drop so low when the carnage really kicked in) so the focus this time around is on spreading the load across more cores, using a fibre-based system - essential in getting the most out of the console CPUs, and with obvious benefits for PC users as we move into the many-core era.
Avalanche is confident enough in its implementation that it pushes physics much, much further than prior series entries. Rico Rodriguez has a fully configurable 'load-out' grapple system, allowing players to customise the equipment for even more spectacular effects, as you'll see in the embedded video on this page. And on top of that, there's the inclusion of weather-based physics deployed to stunning effect - sandstorms lash the environment and augment the chaos, while the inclusion of a full-on typhoon with a beautifully rendered twister can see weather literally rip apart the environments. Again, the video on this page highlights some of this remarkable destruction, as Rico works his way through an airfield, destroying targets while the tornado rips up structures and even sends multiple jumbo jets spinning around its vortex.
So just how well does the PC version hold up? I initially saw the game being played at maximum settings at 4K on a Core i9 9900K system paired with a GTX 1080 Ti. This is a comprehensive work-out for the GPU in particular, and frame-rates average out in the mid-40s - though bear in mind that both Nvidia and AMD are still working on their GPU driver updates for the game's launch, which were not available when we took a look at the game. Interestingly, Just Cause 4 is slated to include support for Nvidia's DLSS upscaling technology. Assuming that the quality level holds up and that the DLSS gains we've seen in demos so far translate across to actual gameplay, there's scope here for the RTX cards to hit a consistent 4K60 without the need to dial back quality presets.
Square-Enix also showed me the same build running on a lower-end system, which paired the Core i5 4590 with Nvidia's GTX 1060. Settings were dropped to high here, with frame-rate averages at around 57fps, with a low of 45fps. Across a sample of 40,600 frames, 4.7 per cent were dropped - not surprisingly, massive explosions and fill-rate heavy effects tend to be the problem here. I also saw the game running on an RX 570, which is expectedly a little weaker than the GTX 1060 and sees the number of dropped frames rise to 5.3 per cent of the total with a 56fps overall average and a 42fps low.
Driver updates may help, of course, but this isn't a bad turn-out bearing in mind we're some way short of Just Cause 4's recommended spec, which suggests an Intel Core i7 4770 paired with a GTX 1070. This level of hardware delivers a substantial boost over the system I saw, and should offer a big boost to performance, but at the same time, this recommended spec is not insignificant - it's Square Enix effectively telling us that running this title at the higher presets will require a fairly meaty rig.
Again, we'll be looking at how the game scales in more depth once final code and day one drivers are available, but initial impressions look positive, while graphics integrity is sound with none of the glitches, artefacts or obvious stutter encountered on PC when Just Cause 3 launched. Loading times also looked reasonable, to the point where Square-Enix felt comfortable showing the game running from a 2.5-inch laptop drive.
But what of the console versions? I'm excited about this title for several reasons: first of all, the strategies Avalanche are employing for smoother performance are sound and should mitigate the low level of CPU power the consoles have - more grunt is dedicated to processing the remarkable physics on display here. But the fact remains that I've not seen anything running on console yet. For its part, Square-Enix says, "From the very start of the project, tech performance has been an absolute priority for us. Just Cause 4 is a bigger, better game than Just Cause 3, with incredible extreme weather simulations in a fully physicalised sandbox. We believe it's a real technical achievement and we're confident that it's performance is an improvement over the previous game. Improvements in visuals, frame-rate, stability and load times have been made on all platforms."
We'll be verifying that in due course, but another reason I'm excited to see this game is that it'll be the first Just Cause release to leverage the power of the enhanced consoles - and I'll be fascinated to see how Avalanche decides to improve the experience compared to the base consoles. With a December 4th release date, there's not long to wait until Just Cause 4 ships - and we'll be back with the full cross-platform lowdown as soon as we can.