Def Jam Rapstar
B-Boy document.
4mm has consciously steered clear of creating and animating avatars to dress up, and it feels like a more credible approach to stick with the original music videos. Avatars inevitably end up as characters with big afros and comedy handle bar moustaches, and that kind of approach is just going to get cussed down by a discerning hip-hop crowd.
There's no mistaking it, this is for the male hip-hop fan. The only problem I can see with that is the game demands you provide vocals for the whole song, so even though you're performing the street talk of Biggie's "Juicy", you still have to sing the girly hook in a high pitched voice. I can't see that going down too well with the screw-faces, but to be honest it helps add some fun to the package.
One of the nicest features is the ability to go back through your saved performance. If you were tongue tied or fluffed some lyrics, you can check out where you made a balls of it. 4mm wants you to see mistakes and get better by learning from them.
All versions of the songs are radio edits, and although the game is limited by the rating the boxed product receives by the ESRB or PEGI (Konami is shooting for a Teen label), 4mm has aired some ideas about getting a dirty-themed DLC pack out in the future. You're never going to get the Geto Boys, Cage or Kool G Rap's "Talk Like Sex" to download, but that's not to say the soundtrack is going to be compromised. Another plus is to consider that 4mm Games was founded by two co-founders of Rockstar. Those were the guys that not only blessed the Grand Theft Auto soundtracks with classic hip-hop, but also made a point of putting the original soul and funk records that hip-hop so heavily sampled in-game too. And then secured legends like Chuck D to present radio stations. DJR is in good hands.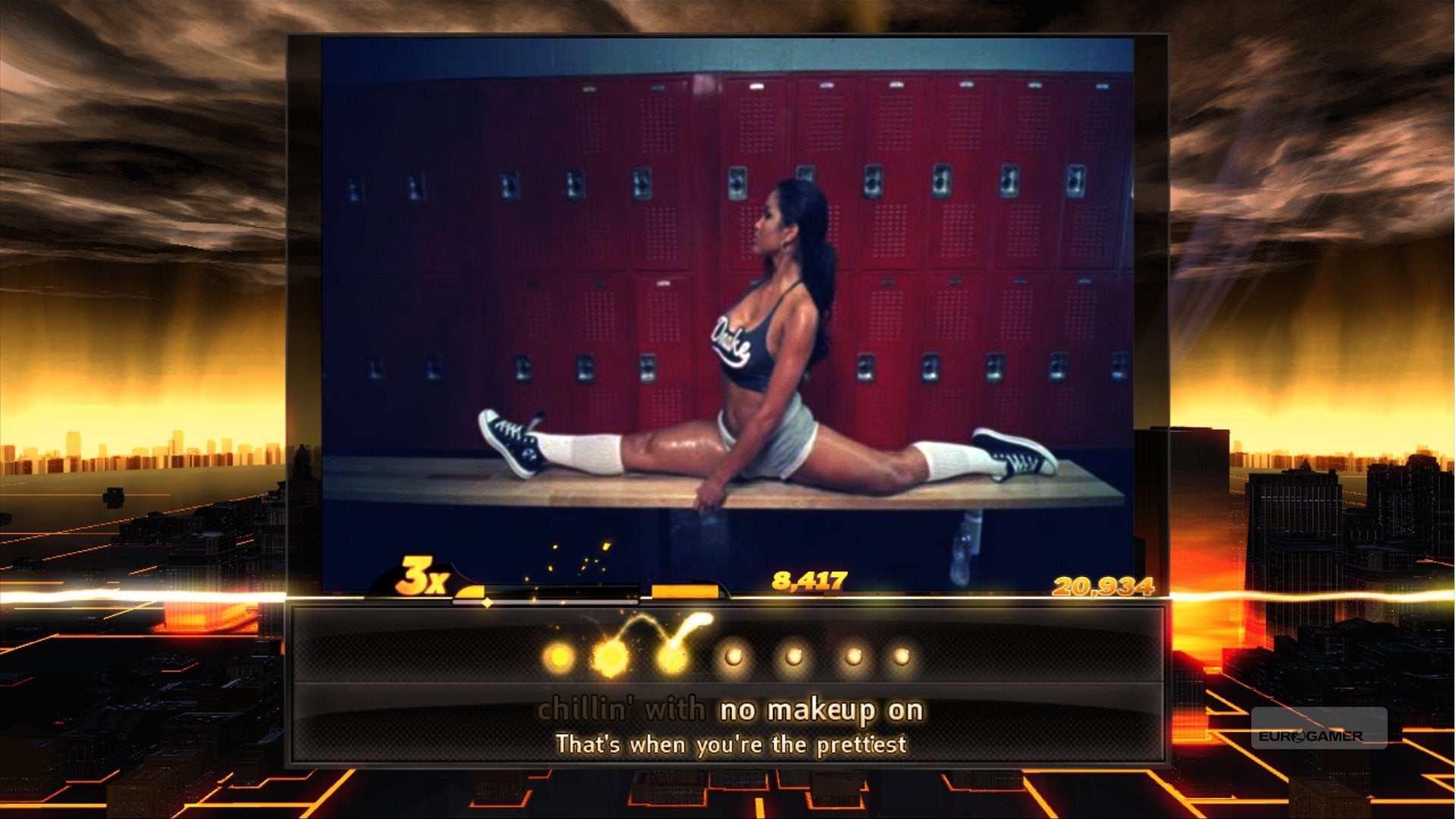 Bouncing around your living room to hip-hop is one thing, taking it online is another. There's a big emphasis on social gaming and sharing with the community here, so players are able to film their performance, edit it, add visuals and them upload to the Def Jam Rapstar site (the game is camera and microphone agnostic by the way. Two versions will ship, one with a wired mic).
Your camera will record the whole performance, and you then have to choose the best 30 seconds to play with and upload. Visually the short video can be customised with stickers and decals, which can be tweaked in terms of colour palettes, transparency, length of time on screen and positioning.
There are also animations and other visual effects to play with including infra-red filters. It's at this stage the master track vocals are removed and you can add you own audio samples, adjust levels, add reverb, slam, echo, reverse and other production quirks.
The simple example is to literally illustrate the lyrics - change colours for "red and black lumberjack with the hat to match" and whack up a picture of a C90 (ask your Dad) when you're talking about letting "the tape rock 'till the tape popped". Again, 4mm is promising more effects on day one, and although it isn't going to turn you into Hype Williams, it gives the chance to liven up your footage. No one wants to see the Pillsbury Doughboy without a little bling.
Will you support Eurogamer?
We want to make Eurogamer better, and that means better for our readers - not for algorithms. You can help! Become a supporter of Eurogamer and you can view the site completely ad-free, as well as gaining exclusive access to articles, podcasts and conversations that will bring you closer to the team, the stories, and the games we all love. Subscriptions start at £3.99 / $4.99 per month.