Def Jam Rapstar
Lyrics of Fury.
Despite the deafening racket made by the sheer weight of music games on the shelves, Def Jam Rapstar still feels unique. It's dedicated to hiphop, a massive music genre which is under-served in the games market.
While SingStar and Guitar Hero mine their respective pop and rock fields for tracks, there are well over 30 years of rap just waiting to be sucked in and channelled through the right title. 4mm Games' debut effort is an impressive showcase, putting the tunes up front with the backing of one of the longest-running and most influential record labels around.
As with all the best music games, the rules are simple: pick up that mic and belt out some tunes. Within minutes you'll be smashing through classic rap songs - old-school, pop, UK, gangster, boom-bap, dirty south, jiggy and everything in between. The sheer variety presents the player with the game's biggest challenge, because the hardest part of Def Jam Rapstar is switching rap styles successfully.
With the track selection's chronology dating from way back in the eighties all the way to the contemporary rap scene, the difference between lyrical flows and style can be jarring. Run DMC's "Run's House" is fast with some fine tongue-twisters, compared to Drake's "Best I Ever Had" with its part-singing, part-melodic rap.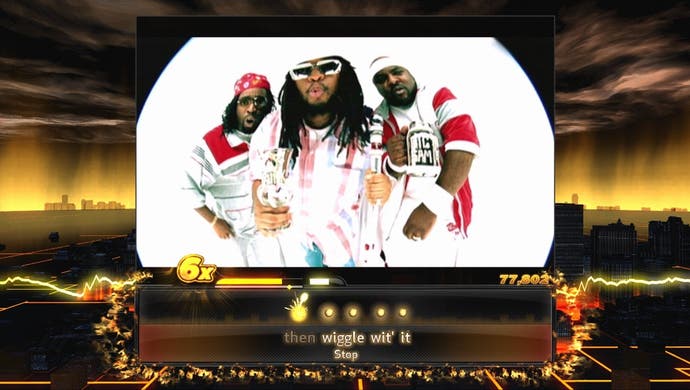 Biz Markie's deliberately out-of-tune chorus on "Just A Friend" and awkward rhymes are part of the song's charm, but they're difficult to master compared to the ferocity of LL Cool J's "Mama Said Knock You Out" or the abrupt flow of Dizzie Rascal's "Fix Up, Look Sharp".
There are some songs that really test your skills - Salt n' Pepa's "Push It" doesn't have many lyrics but the combination of rap, singing and samples flexes the mouth. Public Enemy's "Fight the Power", complete with Chuck D's conscious raps and Flava Flav's interruptions, is another tricky one for a single player to perform. And in Solo play mode, it can be even more challenging to mimic multiple rapper styles in a song like Wu-Tang's "C.R.E.A.M." or Fat Joe's "Lean Back".
4mm Games has done a commendable job of tailoring the music to fit the gameplay. This is particularly evident when it comes to the two-player modes, where you can play co-operatively or battle it out for points.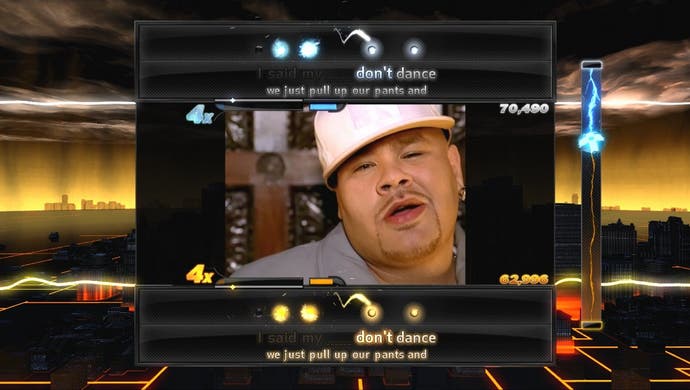 This is easy enough with a RUN DMC track - one player spits Rev Run's verse, another DMC's, and you both join in on the chorus. On other tracks where there's only one emcee, and on posse cuts, the developer has split verses and choruses or just divided up bars in a verse. This type of decision illustrates that 4mm has an excellent understanding of musical structure and the flow of rap.
There are some quirks to Def Jam Rapstar. In some instances, you don't perform the full chorus every time in a song because a verse overlaps. For example, you only sing three lines of Notorious BIG's "Juicy" chorus until the closing part of the song, when you sing all four. This feels a little odd - although admittedly, it doesn't take much effort to adapt.
The game uses the original uncut videos but you're given the option of skipping skits and intros. Again, "Best I Ever Had" and "Just A Friend" are the main offenders, but it's commendable that 4mm has included options to tackle what could be sticking points for some players.