Commodore invites you to draw on the side of your PC
Launches gaming PCs at CeBIT.
Commodore Gaming - which bought up the venerable "Commodore" brand in 2005 - has launched its range of gaming PCs at the CeBIT technology show in Germany today, and, thanks to a flexible new case-painting process, is inviting gamers to customise the exterior of their machines as well as the core components.
The range consists of four models (the entry level Cg, the Cgs, Cgx and "extreme level" Cxx), each of which is built from high quality components. For example, the Commodore Cxx uses an Intel quad-core processor (the GX6700) on an ASUS nForce 680i motherboard with 4GB of Corsair Dominator memory and a pair of NVIDIA 8800 GTX graphics cards running in SLI configuration. (Crikey.) As you'd expect from a system builder, you'll be able to customise that configuration and have it thoroughly tested prior to shipment.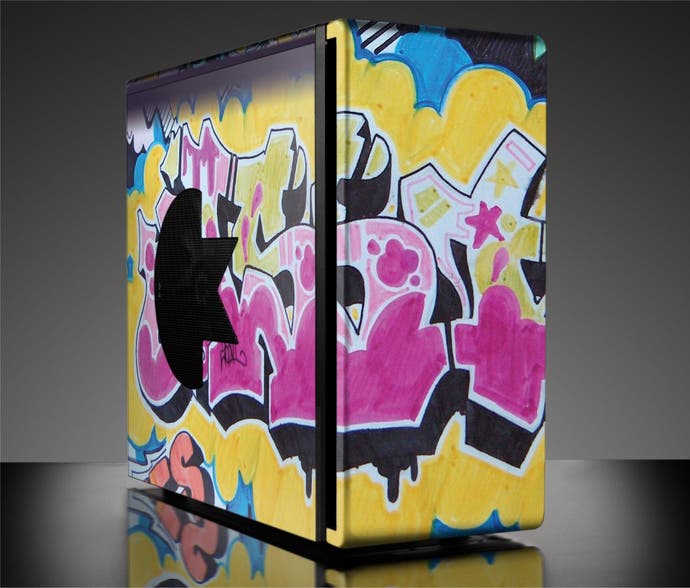 But the more interesting bit is what you can do outside the case. Commodore Gaming says you'll be able to choose from street art, photographs, PC game artwork ("such as that of GRAW 2") and other licensed images, and it's inviting "fans and artists alike" to present their own artwork for consideration. Doing so could potentially lead to a special edition machine being put together, it says, although it offers no further details of what it's looking for or where to submit it. Presumably these will follow soon.
All very swish, then, and Commodore Gaming adds that each machine will run the 64-bit version of Windows Vista, boast "Ice Cube" cooling components, and come with a pair of multicoloured LEDs that can be "independently controlled to change or enhance the mood with an ambient glow". Whatever happened to beige boxes, eh?