Balletic, banana-obsessed platform shooter My Friend Pedro is out at the end of the month
Coming to PC and Switch.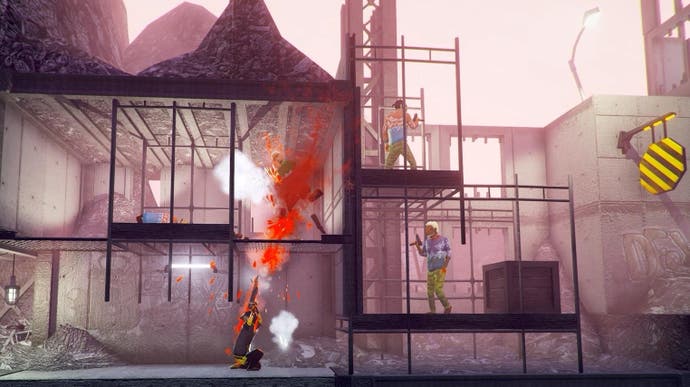 Developer DeadToast Entertainment's mesmerisingly balletic platform shooter My Friend Pedro will be flipping and pirouetting its way onto PC and Switch at the end of the month, on 20th June.
My Friend Pedro, which impressed as part of publisher Devolver Digital's E3 press conference last year, is described as "a violent ballet about friendship, imagination, and one man's struggle to obliterate anyone in his path at the behest of a sentient banana". And if that doesn't have you hammering the pre-purchase button already, then I don't know what will.
Although DeadToast promises the occasional motorcycle chase or physics puzzle, the bulk of My Friend Pedro's action plays out in time-honoured run-and-gun style, with players unleashing a ceaseless rain of bullets to clear a path through enemy packed levels.
It's the degree of agility on offer that really sets the game apart, however, with players able to spin, twist, and flip (in slow motion if desired) for added control, shooting directly at foes or ricocheting bullets around the environment for ultra-fancy kills. And there's even an automatic gif generator included, for those moments when you really impress yourself.
My Friend Pedro will cost £17.99 on Switch eShop and £15.49 on Steam when its 20th June release arrives. Those that pre-purchase will get 15% off, however, bringing that down to £15.29 and £13.17 respectively.