As Nintendo Switch sells out worldwide, third-party sellers list it for nearly double
Joy-conned.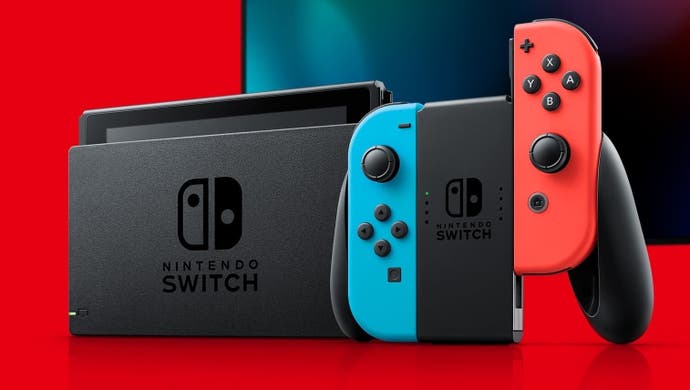 The Nintendo Switch was already experiencing some stock problems at the beginning of the year, but things have only worsened since the coronavirus outbreak forced millions to stay at home - and now it's practically impossible to find the console online. Well, without paying nearly double the original price.
A quick browse of the official Nintendo UK store, GAME, Currys PC World and Argos shows nearly every version of the console is out of stock - aside from one grey version on Argos and limited stock of the Nintendo Switch Lite. The situation appears to be similar on eBay, too, where most official retailers are out of stock, and the only remaining listings are second-hand.
According to a retailer speaking to Gamesindustry.biz, the reason the Lite has not yet sold out is because customers are "after something to play on the TV with their kids". Instead, many are apparently opting for the PS4 or Xbox One, although stock is also in short supply for these consoles.
The shortage appears to be providing a golden opportunity for resellers, many of whom are currently listing the Nintendo Switch for nearly double the price - or more. On Amazon, the lowest listed price for a standard Nintendo Switch is currently shifting between £525 and £555.53, while £479 is the lowest for the grey version of the console. The highly-popular Animal Crossing edition of the Switch, meanwhile, can be found for £689 at the very cheapest.
For context, the standard price of the Nintendo Switch on the official UK store is usually £279.99, while the Animal Crossing edition is £319.99.
It's worth noting that even before social distancing became the norm in the UK, supplies of the Nintendo Switch were inconsistent: but the coronavirus pandemic has made the situation far worse. GAME apparently stocked several Switch bundles yesterday, before supplies almost instantly sold out - and the website seemingly experienced some issues from the sheer demand. Stocks of fitness game Ring Fit Adventure have met a similar fate, having been sold out for several weeks before briefly reappearing on GAME's website last week. Emphasis on the briefly.
Eurogamer has contacted Nintendo to find out when customers can expect stocks to return to UK stores. Hopefully the answer will be similar to that provided by a spokesperson for Nintendo of America, who told Gamesindustry.biz that "more systems are on the way" for North America.