Alan Wake is coming to Xbox One and PC Game Pass next week
As part of tenth anniversary celebrations.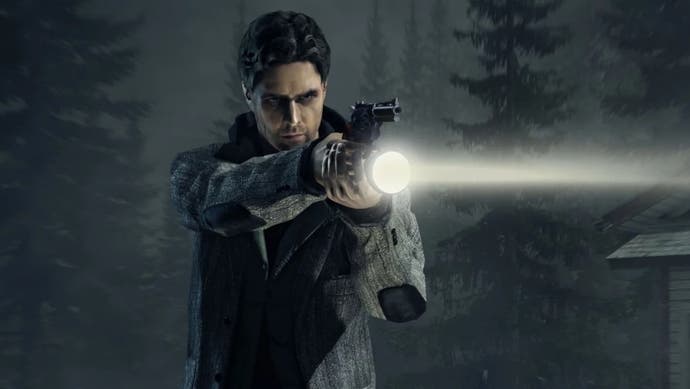 Fans of gloomy woodland backdrops and relentlessly monologuing the things you're doing while you're doing them are in for a treat! Remedy Entertainment's action-horror opus Alan Wake is heading to Xbox One and PC Game Pass next week, as part of the cult classic's 10th anniversary celebrations.
Alan Wake, which released on Xbox 360 in 2010, follows the talky, torch-wielding adventures of video gaming's greatest Alan - a best-selling author who takes a much-needed sojourn in the sleepy town of Bright Falls, Washington, in a bid to cure his writer's block.
Needless to say, dark occurrences aren't too far behind and, as Alan's fiction begins to bleed into reality, the game soon settles into a rhythm of bombastic supernatural set-pieces and wonderfully atmospheric roving. It's one part Stephen King, another part Twin Peaks, and while undoubtedly hokey, its picturesque, small-town setting is wonderfully well-realised, and I still have fond memories of my time in its pine-scented grip ten years on.
If, for some reason, you've never had the pleasure of Mr. Wake's company, or just fancy revisiting the game once it arrives on Game Pass, you'll be able to do so on both PC and Xbox One variants of Microsoft's subscription service from next Thursday, 21st May.
Alongside Alan Wake's Game Pass arrival, Remedy is celebrating the fan-favourite title's tenth anniversary (which is actually today, 14th May) with a variety of activities. There's a retrospective on its blog, and creative director Sam Lake is chatting to the original cast, including the voice of Alan Wakes himself, Matthew Porretta, on Twitch. Oh, and there's 90% off the game on Steam, GOG, and the Epic Store at present, meaning you can grab it for a little over £1.
Additionally, early teases from Remedy suggest Alan Wake may be set to play a bigger part in the studio's wonderful paranormal thriller Control (following a number of easter eggs in the base game), when its second chunk of story DLC arrives later this year.