What happens when Ikaruga's director remixes one of Sega's all-time greats?
After Burner 2, climaxed.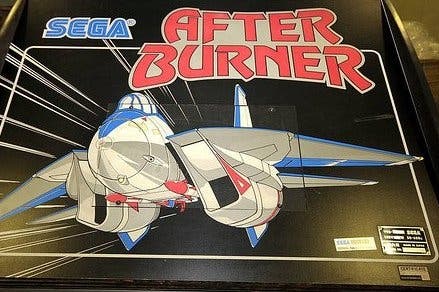 Yu Suzuki made great games during Sega's 80s heyday, though you could argue that the cabinets were even better. From the otherworldly beauty of a Space Harrier to the chunky desirability of an Out Run, they're deliciously physical manifestations of these classics: these are games you can touch.
After Burner's no different, its various cabinets all sprayed with that particularly 80s brand of testosterone, watered down with a little boyish charm. It's a vital aspect of Sega's arcade output that's often been so hard to emulate. Playing them through the dumb window of a PC or many other ports does scant justice to the wonder of the real thing.
That's until M2's recent revivals which, after an amazing run back in 2013 that took in Galaxy Force 2, Space Harrier and Super Hang On, returns with a restoration of After Burner 2 that hit the 3DS' eShop late last week. It's quite possibly the Japanese developer's best work yet.
Sega's Super Scaler games have already proven they're a perfect match for the 3DS' stereoscopic capabilities, and After Burner 2 - which used the X Board, a powerful successor to the one behind the likes of Out Run - is the most handsome of the bunch ported so far. The depth and speed come together in this port to make for a spectacle that comes close appropriating the gleeful shock people must have felt back in 1987 when first laying eyes on the machine.
All the cabinet variants are available, with the screen furnishings of each replicated down to the flashing lights on the super deluxe Double Cradle and, if you so desire, with the rocking hydraulics simulated as you play. Switch on the environmental effects and you can hear those hydraulics in action, your session soundtracked by metal rods heaving that beautiful hulk of plastic, metal and glass.
It's the details that help elevate this port. M2's engineers spent time with one of the cabinets in Sega's warehouses (you can read about that process in this brilliantly enlightening interview on Sega's blog), recording every facet of it. Every facet: the hum of CRT and idle whisper of the cooling fans, the micro-switch trigger click when you press down a button. On the title screen, in what passes for silence in an arcade, you can lose yourself in an ambience that's at once soothing and thrilling.
After Burner 2's soundtrack proper, composed by Yu Suzuki's close collaborator Hiroshi Kawaguchi, is also treated with reverence - and bolstered by some extra melodies discovered by M2 as it rifled through the original archives. The percussive keyboard stabs of the main theme remains one of the great calls to digital action, making you feel like an action hero in a handful of upbeat bars.
And what of the game itself? After Burner 2 was always one of the more frenetic arcade games of its time, and its pace hasn't dulled after all these years; the F14 Tomcat darts around with the same sense of purpose, filtering its way through impossible barrages of white-plumed missiles.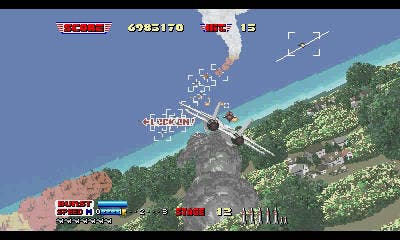 The analogue nub does a good job of emulating the original flight stick - there's still nothing as satisfying as the barrel roll that comes when you flick from one direction to the other - and the circle pad pro, should you have it, does just as good a job of replicating the throttle control. After Burner 2 might be a simple game, but that doesn't matter when you're immersed in the detail that M2's helped bring to the fore, and when you're slamming on the stick in an attempt to outrace the missile on your six.
There's something else that's really special about this restoration. A while back, Hiroshi Iuchi, the designer of such marvels as Radiant Silvergun, Ikaruga and, most recently, Gradius 5, took up employment at M2. He's working on a new shooter that's slated for the PS4, but first he helped with a bonus Special Mode in After Burner 2, unlocked after seeing the end credits for the first time.
Special Mode is a distillation of all that makes After Burner 2 great, served up even faster; it's the original approaching the speed of light. Stages are shorter, enemies come in harder, while the little navigational interludes are now full-on dogfights, with a single plane chasing you down as you play with the throttle as you attempt to outsmart it. The Climax mode of the excellent 2006 revival is borrowed with Burst Mode, a small helping of bullet time that's recharged over time.
This condensed remix is respectful of the original - as you'd expect given the care shown elsewhere - and it soon becomes the default way to play. It's where After Burner 2's capacity to thrill, to draw you in so effortlessly into a 10-year-old's fantasy, really shines, and where it's delivered in a slick, endlessly repayable slice. After Burner 2 was always something of a classic, and this restoration sees it at its very best.