We've played Roller Champions, Ubisoft's take on Rocket League
Derby day.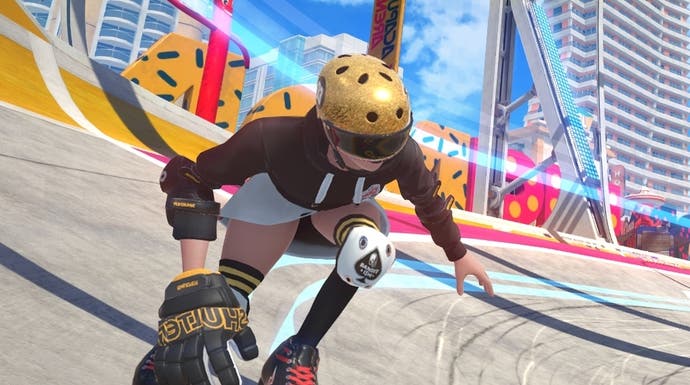 Ubisoft announced Roller Champions today during its E3 conference, a kind of Rocket League-y 3v3 game in development at Ubisoft Montreal, as well as its Winnipeg and Pune support studios.
It's coming "early 2020", with a four-day free demo from 10th June (right after the conference) to 14th June on PC via Uplay. Speaking to Naomi Barnes, Live Operations Manager at Ubisoft Montreal, we couldn't get a confirmation of platforms but were told to hang tight. The official line: "Currently we're working on PC only 'cause that's what we're developing on, but just stay tuned for closer to launch and we'll have more news for you."
It's also free-to-play, which obviously raises alarms for some and not for others. There's no word on how it'll be monetised, either, with Barnes not ruling out seasons or cosmetics when we suggested them, or anything else for that matter - "we'll let you know closer to launch!", again.
So, plenty we don't know and that Ubisoft doesn't want to tell us - but what we don't need to be told is that Roller Champions is simply very good fun. We played three pretty quick games behind closed doors and, after one pretty wobbly one to get to grips with things, the payoff is pretty immediate.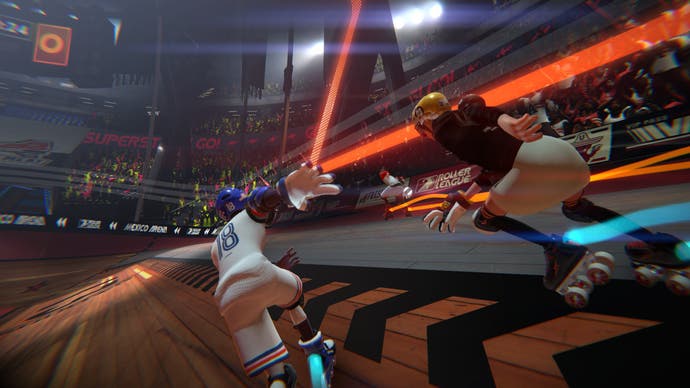 Controls are simple, as are the rules. The game's played in a looped court with sloped walls, like a velodrome, with two teams vying to carry the ball around it. In order to gain access to shooting the ball through a big (but very easy to miss) pop-out hoop, your team needs to carry it for at least one full lap. Both teams try to lap in the same direction and can tackle and barge and intercept as you pass it, and complete more laps before shooting and you'll get more points - one for one lap, three for two laps and five points, which'll instantly win you the game, if you score after completing three laps. (I may or may not have missed a shot after our team managed to do this).
Rocket League, obviously, is the inspiration, and it feels surprisingly close to it despite the clearly different pitch. Movement is about momentum as much as precision control, and there's that perpetual decision that you're always making about whether to chase the other team around the way that they're going, or to stop and double back the way you came to catch them head on, a lot like chasing a dog in circles round a table. But there's more than Rocket League there in terms of inspiration - and more than Roller Derby, despite the early leaks pitching it that way.
As Barnes put it: "Roller Derby is just one of the inspirations because you'll see a lot of influences - from racing, because you're racing around the arena, there's soccer with passing, hockey even with passing and getting it in the goal - so there's a lot of different sports. Really what the core of it is is that we were looking at spectacle versus gaming, and how do you combine those together? And when you combine those together it brings a sport so, that's what we tried creating, a sport."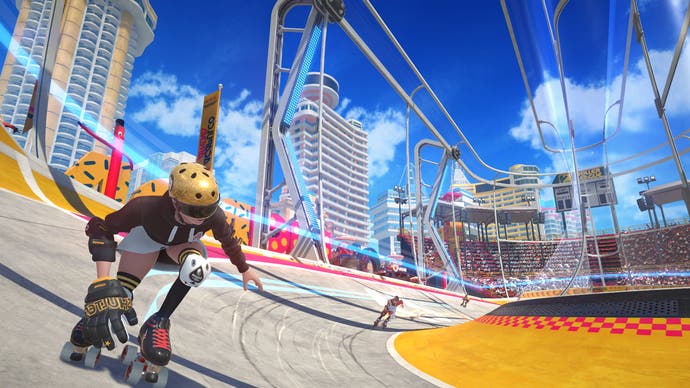 As you can probably tell, Ubisoft is keen to push Roller Champions as a "new sport", in fact, over a new game - "in play sessions back in Montreal, you can't just work... you hear them shouting at each other getting into the game. And then you have to go watch what they're doing right? So there's just as many people watching as playing, and that's why we feel it's more of a sport" - and then there's the obvious chance it could evolve into an esport, given all the talk about spectating, although Ubisoft's leaving that "to the players" to decide. "If that's what they want us to do that's the direction, but that's completely up to the players."
Early days and lots to still be decided then (although there was a bit of chatter about a progression system involving fans, almost as a kind of currency or experience earned in-game - "it's really like creating a sports champion. The more fans you get by tackling, winning goals, doing great passes and whatnot, the bigger the arena you go to. And so that's how you progress in the game"), but despite all the non-committal talk for now, what we played was still impressive. It's that quick, easy to pick up ("accessibility" was a buzzword), bubblegum stuff that made Rocket League such a hit. We had total strangers calling out plays and communicating strategies after one game together in our play session, and of the stuff I've seen at E3, it's honestly one of the demos I found hardest to tear myself away from.
That accessibility might mean the best players might find it a little easy to hit the skill cap, as there isn't quite the same flexibility and sky-high limit for creativity as there is in flipping cars around the arena in Rocket League, but then Ubisoft isn't even ruling out what we've seen being the finished lot, in terms of mechanics. "You'll have to wait and see until closer to launch - we have to keep some things secret!"
Wait and see again, then - let's hope they get a skate on.