Virtual Console Roundup
Eternal Champions, Phantasy Star II, Street Gangs and Adventure Island.
Street Gangs
Platform: NES
Wii Points: 500
In Real Money: GBP 3.50 / EUR 5 (approx)
This is the one game that I'd class as a real "must have" out of this fortnight's worth of games. The title may not be all that familiar, but that's because it got slapped with this utterly generic new name for PAL territories. Devoted retro-heads will know it better as River City Ransom.
Taking the Renegade template, and beefing it up with some basic adventure game elements, such as shops that sell power-up items in exchange for coins swiped from baddies, Technos Japan's scrolling beat-'em-up boasts charming visuals, engaging gameplay and a slyly ironic sense of humour. Yes, a girlfriend has been kidnapped. Yes, you must slug your way to her rescue through unfeasibly large numbers of enemies. Yes, there are boss fights against foes that apparently have cast iron testicles.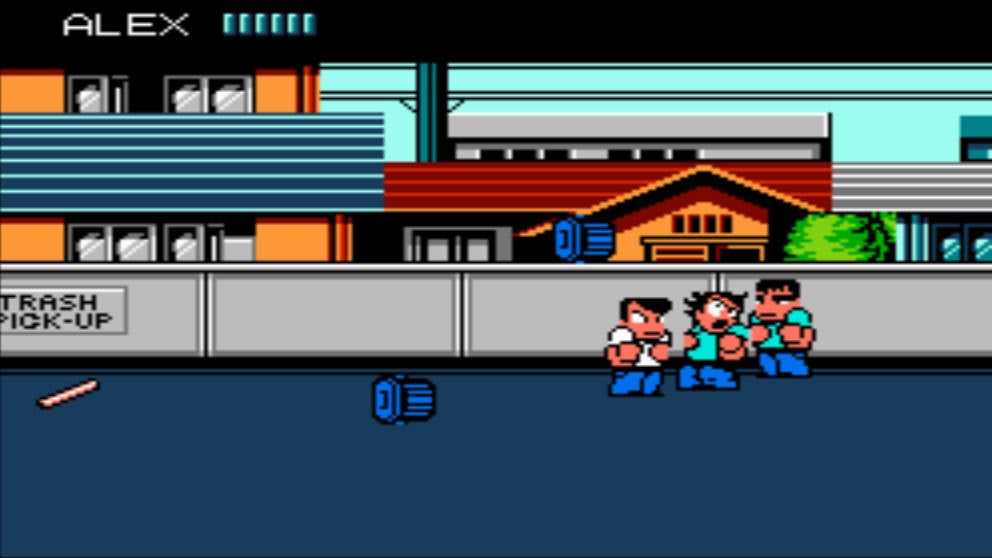 But the devil is in the details, and River City Ransom - sorry, Street Gangs - is a game for people who love games, and can laugh at games. I mean, the first gang you face is the Generic Dudes. This is a beat-'em-up with tongue firmly planted in cheek. Combat is repetitive, certainly, but the gameplay is never less than fun, while levels are broken down into digestible stages and there are some clever twists to the formula - including enemies that can be turned to fight alongside you.
It's dinky and cute and oh-so-very addictive, and River City Ransom - sorry, Street Gangs - is one of those classic NES games I was hoping would make an appearance on the Euro VC. It's here. I'm happy.
8/10
Adventure Island
Platform: NES
Wii Points: 500
In Real Money: GBP 3.50 / EUR 5 (approx)
Or Wonder Boy, by any other name. One of the many pseudo-series created by HudonSoft's attempts to milk their characters in as many markets and on as many formats as possible, Adventure Island is quite literally the first Wonder Boy game with slight graphical differences.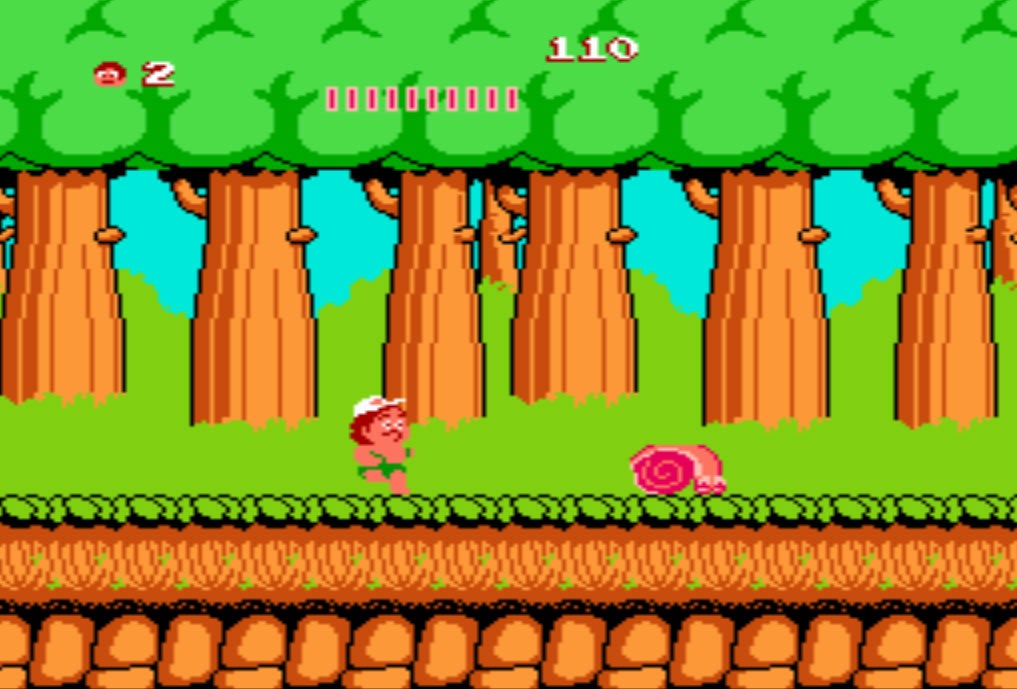 Most bizarrely, Wonder Boy has been replaced by Master Higgins, who looks like a middle-aged man in a nappy. Wikipedia informs me that it's supposedly a likeness of famous Japanese gamer and HudsonSoft executive Takahashi Meijin, but the implications of playing as a half-nude infantilised Japanese businessman have made my brain go all wrong. Onto the gameplay, swiftly.
Clearly inspired by Super Mario Bros, right down to the music, it's a simplistic run-and-jump exercise with fruit gathering and enemy clobbering your two main tasks along the way. The bright and basic graphics suggest a game better suited to the very young, but modern kids will probably find the twitchy collision detection and bland styling a massive turn-off.
Once again, there are far better examples of this sort of game already available - not least the sublime Mario games, but also the later Wonder Boy titles and various Bonk escapades. Put it this way, if you can't find a more enjoyable cute platform game than this, you're not looking hard enough.
5/10
Will you support Eurogamer?
We want to make Eurogamer better, and that means better for our readers - not for algorithms. You can help! Become a supporter of Eurogamer and you can view the site completely ad-free, as well as gaining exclusive access to articles, podcasts and conversations that will bring you closer to the team, the stories, and the games we all love. Subscriptions start at £3.99 / $4.99 per month.