Retrospective: Quake
A quirky quiescence.
There's a peculiar tension at the heart of Quake. Something's not quite right. For this reason it's a game that sits apart from id's other efforts while at the same time still being fundamental to the overall Brown Corridor heritage of the shooter genre.
It was a game that did so very much to evolve and define the FPS, and yet it does not fit so easily into the conventions that the Texan Doom-makers' other games wallow in. This tension is what makes it one of the developer's most interesting games.
Like all the shooting games whose existence has spilled from the number-fuelled mind of John Carmack, Quake's primary contribution to the history of games was technical. The 3D engine was a significant development atop what was prevalent at the time, and it introduced the minor revolution of "mouse-look" - that is free all-axes viewing using the mouse - to the majority of 1996's shooter players.
Up until that time gamers had been playing along flat axes, usually with "faked" height. But Quake made things truly three-dimensional, and this meant two things: levels which didn't have to shirk vertical complexity and, well, you could perform rocket jumps.
"It was the atmosphere and tone of the game that left its biggest impression on my imagination."
Rocket jumps were, of course, able to make Quake's tortuous, labyrinthine multiplayer maps faster to navigate, and were an unintended side-effect of the game's blast physics that became a defined skill within that multiplayer game and also with the bizarre phenomenon of speed runs.
It was the architecture of that multiplayer game that defined Quake's second contribution. Despite the richness of the world, the single-player was almost a prologue against the appeal and longevity of the multiplayer. In fact it was not Quake's 3D engine that really mattered to Quake, as powerful as it was. The technical project that had far-reaching consequences for multiplayer gaming was John Carmack's work on network code, which produced the kind of online deathmatch that still prevails today.
The Quakeworld update for the game, which introduced network code that would work feasibly over dial-up connections, was transformative: an action game that could, thanks to predicting where players were going to be, allow play at the high latencies that early modems had the contend with. Almost unimaginable now, in a world of ubiquitous broadband, but there was a time when a good chunk of gamers was unreachable in the evenings by their home phoneline, for reasons of Quaking.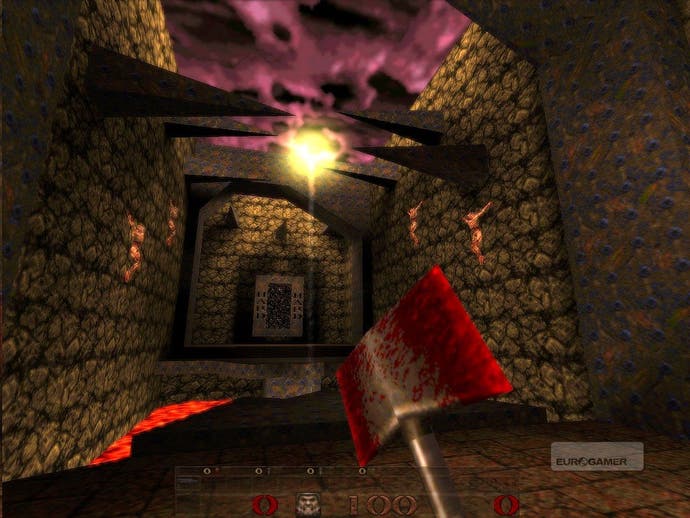 Despite being shackled with tin-can communications tech, the sheer pace and intensity of Quake would daunt most modern players: the unrealistic physics and breakneck pace make Quake's multiplayer more like a twitchy kung-fu rocketry than the rather more pedestrian combat situations that shooters since Half-Life have delivered to us.
Enthusiasm for Quake's multiplayer game was ferocious, and id were quick to sponsor it - putting up Carmack's Ferrari as a prize in a 1997 tournament, won by the first notable FPS pro, Dennis "Thresh" Fong. The Quake scene surged across a nascent internet, and it was to define the pattern of FPS games for several years to follow.
The Quake template is one that is rarer now, due to its demands on player skill, but its influences are still felt in odd corners of modern game design, where the physics bounce players from the ground, and frictionless rocketry dominates the deathmatch.
Technology, however, is not wholly where Quake's value lies. Not to me, at least. It might have been the tech that rippled down the years, but it was the atmosphere and tone of the game that left its biggest impression on my imagination.