Everybody's Golf: World Tour
More than the sum of its pars.
As you progress through Challenge, the game moves you to more difficult tees, while rival golfers improve their average, and the margins for error on shot timing are reduced, intensifying the difficulty in various ways so that concentration is key, and you can ill afford to sit back and auto-pilot your way through courses smashing boosted tee-shots with abandon. Each tier of difficulty ends on a sort of boss match against a rival unlockable character, giving you a glimpse of them, and they're all quite likeable, in contrast to some of the idiots you find in other games.
If you want a different challenge, though, you can try out the Online mode. This is built around a lobby system where you create a silly little avatar (mine's a baby-faced redhead in a tiny racecar) and move around a functional 16-bit RPG-style lobby world - a camp-site picnic ground at dusk, for example - setting up and joining one-off games for up to eight players, or booking a place in quarter-hourly tournaments. It's not quite a chat-room, because communication is very basic, through a series of pre-written phrases ("Albatross!!", "Good game!", etc), or by typing through the PS3's SMS-style text-input system. Whether you do that or plug in a USB keyboard, you're still limited to a short sentence (not even enough to type "I am warm for your form", disappointingly), but there is still something happily communal about it. This is probably because, when playing with up to seven others, your opponents appear as ghosts overlaid on your screen as you play, adding a real sense of pressure, before you taunt or commend each other on the scoreboard screen and then move to the next hole as one.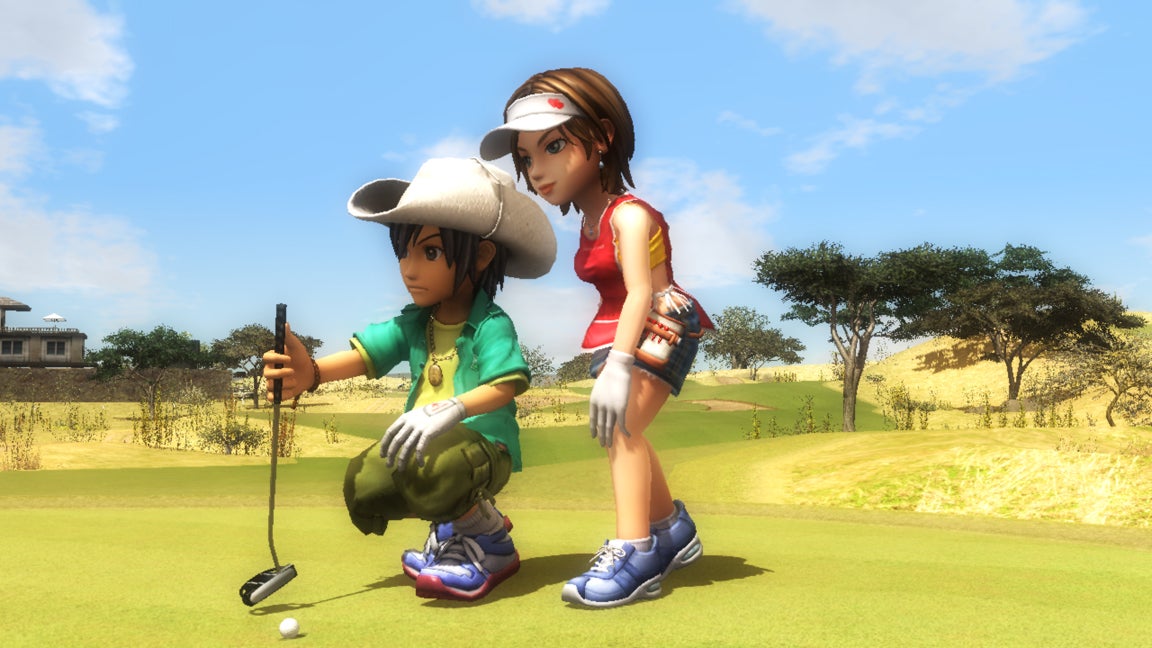 In larger tournaments, you lose that element, but with up to 50 people competing for the same prize (and there are actual in-game prizes in some cases), the sense of competition is arresting. The game's points system is a helpful motivator when you're isolated on the fairways, too - with extra points awarded for staying in the thoroughfare, making birdies and playing well, and deductions for landing in bunkers and sliding into the rough. Points are the deciding factor in the event of ties, so it pays to keep your concentration up. And even a lost game or botched finishing position helps you improve your character-loyalty stat, unlocking extra degrees of shot power. The game's rife with other silly treats, too, like post-game videos of swimming dolphins and killer whales, and random-chance unlocks of new avatar parts for the online lobby.
All of which conspires so that minutes stretch into hours, and World Tour consumes far more of them than the first impression suggests. If there's a criticism, it's that it's all a bit peaceable, and there are times when the calming music and uncomplicated scenarios send your mind wandering, only to snap you out of it again when you start to land in awkward spots or bash into trees. For all their effectiveness, the controls are oddly distributed across the Sixaxis, too, and even more bizarrely there's no option to pause and quit a game in progress. Worst, the extra outfits, clubs and balls are surprisingly pedestrian next to the characters themselves, which reduces your incentive once you've seen all six courses and won a few tournaments online.
That said, you wouldn't not buy it for those reasons, and while it might all sound a little twee and regressive in these days of analogue swing mechanics, course-builders and trophy balls, beneath its effortlessly cheerful surface Everybody's Golf: World Tour is deceptively mature and measured, and one of the best sports games on PS3.
Will you support Eurogamer?
We want to make Eurogamer better, and that means better for our readers - not for algorithms. You can help! Become a supporter of Eurogamer and you can view the site completely ad-free, as well as gaining exclusive access to articles, podcasts and conversations that will bring you closer to the team, the stories, and the games we all love. Subscriptions start at £3.99 / $4.99 per month.