Prince of Persia HD Trilogy
Be kind, rewind.
These things are easily overlooked, however, and the game is rather more easily remembered for its superb atmosphere, simple and elegant presentation and of course its marquee puzzles. Contrived they may have been, but the menagerie and the library, among many others, were and remain wonderful places to explore and conquer.
Off the back of that, we all had high hopes for Warrior Within, and it was a nice enough idea. Despite his best efforts to undo the mess he made at the start of The Sands of Time, the Prince is pursued to the ends of the earth by the monstrous Dahaka, who upholds the timeline. In his desperation, the Prince journeys to the Island of Time to try to sort this out, "you cannot change your fate" ringing in his ears.
He's not the Prince we remember though. He's angry, rude and bitter. He's forced into combat a lot more often too, and while it should more fluid and diverse than the first game's, really it's just the same system with more easy-to-forget combos and a broader range of aggravating enemies. There are long, arduous boss and mini-boss fights, not to mention enemies who leap frantically around the screen whenever you swing your sword, and most encounters are a tortuous grind.
Confusedly hopping back and forth in the timeline and referring to a useless map, you also discover that the platforming has lost its zip and panache. Checkpoints are frequently positioned right after a battle that is itself preceded by a long sequence of dull jumps, forcing you to redo everything when you inevitably perish the first two or three times. The camera is worse too, often failing to frame up relevant ledges and platforms or giving you the wrong impression about where to go next, leading to many unnecessary deaths.
The attention to detail from Sands of Time is gone. The sense of isolation is still there, but not because you're alone – because you're in a fortress full of gits. It's not a happy game.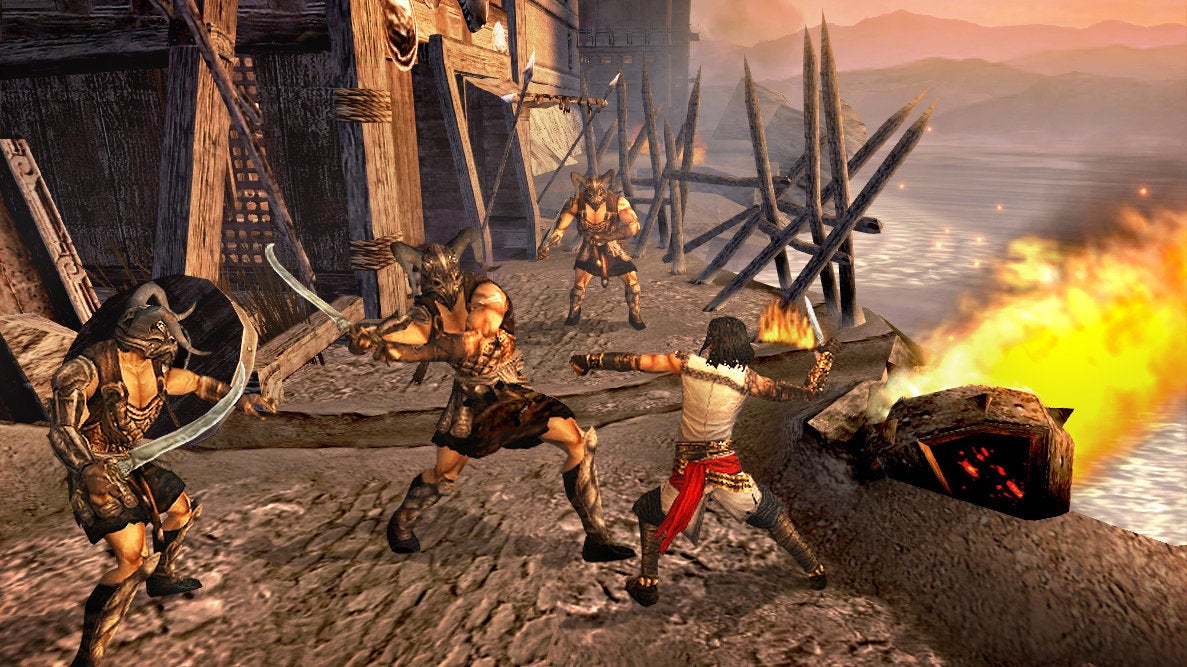 Fortunately, all was mostly forgiven with the third instalment. The Two Thrones sees the Prince heading home to Babylon with his new girlfriend, only to discover it overrun by the forces of an old enemy, who quickly makes his life miserable and releases the pesky Sands of Time again, turning everyone into angry monsters for the umpteenth time.
There's still a lot of combat, but the grind is mitigated by a new stealth kill system that allows you to manoeuvre around enemies using platforms, trapezes, switches and ledges, often saving you the tedium of having to worry about crowd control and pressing the square button a lot. Yes, it's a precursor to Assassin's Creed in many respects – just look at the Prince's new outfit.
There's a new Dark Prince angle, but this injects variety rather than the ill-advised angst and frustration of the second game, and elsewhere Two Thrones is a noticeably better effort in every respect – heavier on mischievous environmental traps and puzzles and captivating acrobatic sequences than Warrior Within, and much closer to Sands of Time in atmosphere and detail. It introduces new ways to move around the environment, teaches the Prince some manners again and takes the trilogy out on a high.
All the same, by this stage we were growing tired of Prince of Persia, and it was no real surprise that Ubisoft struggled to recapture its former glories with the subsequent 2008 reboot and this year's already-forgotten Forgotten Sands. The spirit of the Sands lives on though – most notably in Assassin's Creed – and for those gamers who weren't around eight years ago to see where that began, this is an enjoyable history lesson that survives the test of time.
Will you support Eurogamer?
We want to make Eurogamer better, and that means better for our readers - not for algorithms. You can help! Become a supporter of Eurogamer and you can view the site completely ad-free, as well as gaining exclusive access to articles, podcasts and conversations that will bring you closer to the team, the stories, and the games we all love. Subscriptions start at £3.99 / $4.99 per month.