Need for Speed: SHIFT
Short shift.
It also helps that SHIFT is quite a spectacle. In a genre hardly shy of technical belles, SHIFT is never less than totally convincing, with superb, crisply-lit car models, subtle effects and solid recreations of a good variety of testing, technically interesting tracks (some fictional and some, like the ubiquitous Nordschleife Nurburgring, going under licence-dodging pseudonyms). It can't match Forza or GT's 60 frames a second, though. Audio is less distinguished, turning all the sound effects up to a brutal 11 and smothering menus in the whooshes and metallic crashes that we should have laid to rest with our copies of Tekken 3.
SHIFT's car catalogue is far from the biggest or the most diverse, sticking mostly to contemporary road cars, but Ferrari excepted, it has all the important, current high-end hardware. All of it can be upgraded in a fairly self-explanatory and linear fashion; some can be modified into works racing or drift models. The rating system for your car's power often seems out of whack, however, and as ever in games of this sort, the difficulty curve can be something of a lottery. Slightly Mad has tried to mitigate this by having opponents scale to your current car to some extent, but that just devalues the upgrades - and it doesn't stop some cars, Tier 3's Nissan GT-R SpecV for example, from destroying all comers.
For all its variable difficulty and tricky handling, SHIFT is not a punishing game to make your way through. The star system's varied goals mean you will still make progress on a bad day, and it's geared so that you only need to complete a third to a half of the events in any given tier, and low-tier events can be used to unlock high-tier ones. It's not an engrossing structure in itself, but it's pleasantly free-form; you're mostly free to pick and choose your favourites from its reasonably diverse suite of event styles, the main ones being open racing, single-model races, time trials on busy tracks, really quite difficult drift competitions, and duels.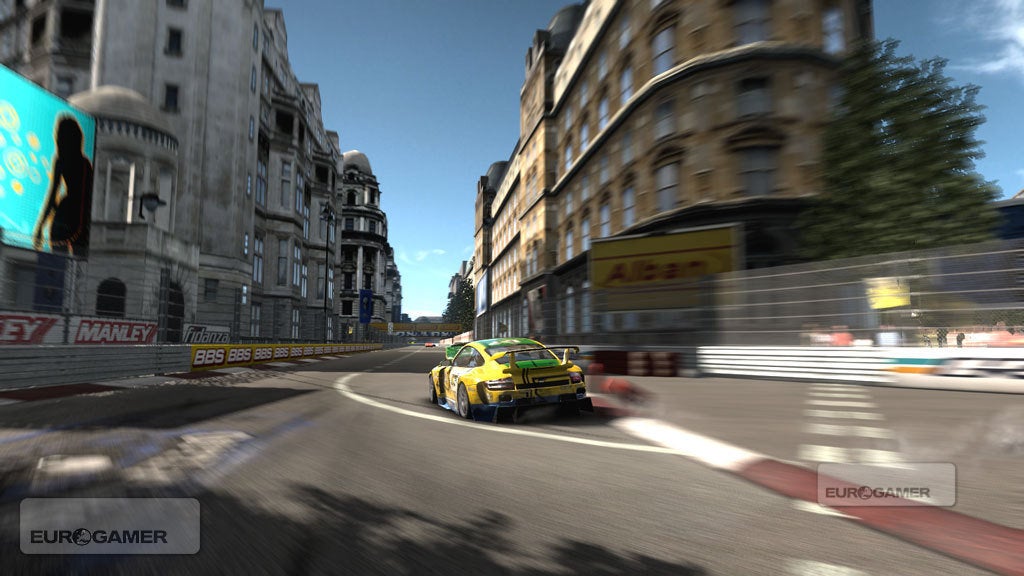 These one-on-ones in set pairings of cars are best-of-three point-to-points, with one car leading, one car chasing - and, if it comes to it, a side-by-side rolling start in the third round. Duels are novel and fun, and offer the best entertainment in multiplayer too, where they're organised into knock-out championships. Otherwise, SHIFT online offers a standard selection of basic events in ranked and unranked modes behind EA's needless secondary account system. In line with the deplorable trend for the modern racing game, there's no split-screen play.
SHIFT is a solid basis to start building a motor sport series on. It's got all the features you expect, it looks fantastic, and the track action is exciting, if fraught. If the skittish handling and overbearing, messy advancement can be reined in, Need for Speed could have a future in its newly serious and somewhat crowded surroundings. But with the infinitely more comprehensive Forza Motorsport 3 and Gran Turismo 5 looming in the very near distance, it's hard to see the point in this second-stringer this time around, for console players at least. And given Need for Speed's recent, confused history, you shouldn't count on it wearing the same face next year.
Will you support Eurogamer?
We want to make Eurogamer better, and that means better for our readers - not for algorithms. You can help! Become a supporter of Eurogamer and you can view the site completely ad-free, as well as gaining exclusive access to articles, podcasts and conversations that will bring you closer to the team, the stories, and the games we all love. Subscriptions start at £3.99 / $4.99 per month.