Independent Games Festival Roundup
The race for the prize.
Having played most of the Seumas McNally Grand Finalists for the Independent Games Festival next month, I really don't envy the judges. Entirely smitten by what I played of World of Goo, I presumed it was a shoe-in. Then Walker let me have a crack of the code of Crayon Physics Deluxe which is plain magical, and technically an enormous leap on from what I'd played in the freely available early prototypes. Finally, with Jim acting as a facilitator, I found myself introducing Audiosurf to my MP3 library. They may be getting married. It's technically and conceptually a tour de force. Any one would be a worthy winner.
And they're not even the complete list, just the ones whose creators decided that - Yes! - responding to e-mails is a goods thing to do. In Hammerfall's case, this is particularly odd, as there's code freely available online. It's a Russian entrant, and a startling-looking (it's understandably nominated for the Excellence in Visual Arts too) physics-lead combat-heavy action game.
You're positioned as the pilot of a steampunk-fantasy flying machine, to which are attached a variety of weapons. Controlled completely by the mouse, the weapon swings depending on your direction and its own momentum. Much of the game is about keeping whatever implement of hurtage you're equipped with spinning in a way which collides with anyone trying to get close enough, as well as darting in and out appropriately. It's actually what you'd imagine fighting with a flail would be like, the art being timing and rhythm.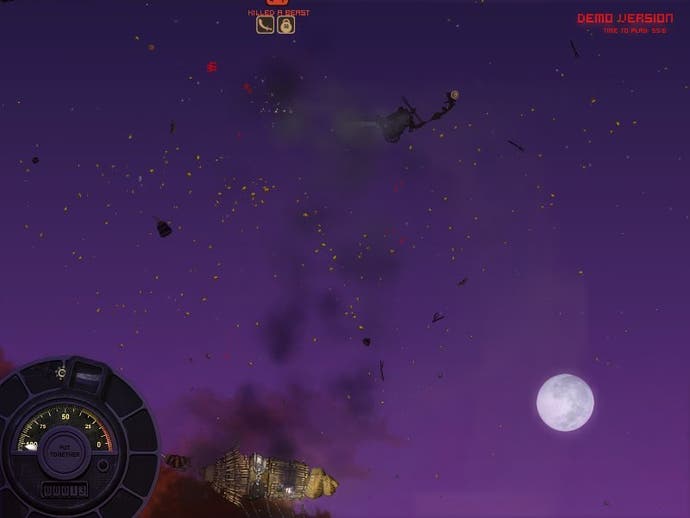 Much like the other finalists, its based on a relatively simple mechanic, which you can easily see spinning out into a full game - perhaps the reservation being is that it's both a less immediately compelling mechanic than its competitors and - at least in what's released - lacks the really intricate understanding of design of World of Goo or the sense of wonder of Crayon Physics Deluxe. Interesting, but I'd put this as the outsider in the competition.
Which leaves Noitu Love 2: Devolution as the dark horse. It's a sequel to the freely available Noitu Love, which mixes a hyper-cute graphics style (the creator is a veteran GBA developer) with scrolling action and punching.
For 2, however, all we really have to go on is the publicly available video which displays the first impressive boss fight. You may wonder whether this is a beauty over essentials, until you realise that the game's doing some quietly innovative things. It's actually fully mouse-driven, and by watching the cursor you can see that it's actually going to play quite unlike anything on a standard controller.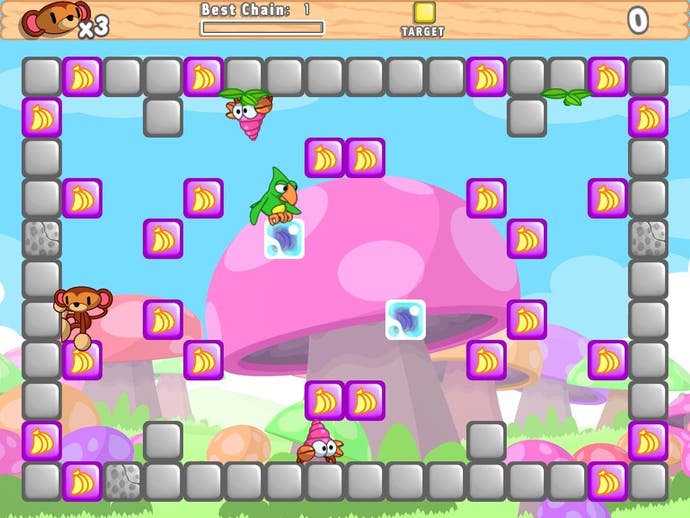 There's more to the IGF than the Grand Prize, of course, and even the most cursory scan down the shortlist reveals fascinating looking games in the more specialised awards too.
For example, take Excellence in Audio. Alongside Audiosurf, we have a game like OokiBloks. I've actually been playing the latter, since the developers Studio Work 3 let me have a look at the early code. It's an incredibly slick single-screen platform/puzzle game "thing" which brought to mind Parasol Stars and Bubble Bobble even before the developers mentioned them. As seen in the video, its appearance in the category is due to how its interlinking all your successes and failures into the perky post-Betty-Boo soundtrack. Which is neat.