Final Fantasy XIII
Experience.
The character advancement is another. This is done by spending Combat Points earned from each battle in an absurdly over-produced and nonsensical 3D talent tree called the Crystarium. This unwieldy beast allows you to buy skills and stat boosts whenever you like and on a set path for each character with some very limited branching.
A less flashy presentation allowing you to see more of the tree would have been much more useful, as it's actually rather limited and the stat distribution is rather odd. It's also strange to have to remember to go into the menu and level up. But the freedom and more organic character progression make a nice change, and the options you do have - creating a jack of all trades or master of some - tie in beautifully with the battle system's structure.
Which brings me to Final Fantasy XIII's star attraction, and the one area where its pacing is thrilling and perfect. Its all-new version of the series' Active Time Battle (ATB) system has been controversial, and initially seems worryingly basic. It takes a few hours to reveal its true colours; in the end it turns out to be radical, ingenious, elegant and exciting to use. That's thanks to a great suite of character classes, the system of chaining attacks and 'staggering' enemies, and something called Paradigm Shift.
On the face of it, you only have control of one character, the party leader; you can select role-specific abilities for the leader to use each turn according to how many slots they use in that character's ATB bar, which grows as you progress through the game. In actuality, you'll rarely be doing even that. Much of the time, you'll pick a role for your leader and use the "auto-battle" command, letting the game do the rest. This effectively relegates them to the same level as the AI party members (which is very smart, provided you use Libra to study your enemies' strengths and weaknesses first).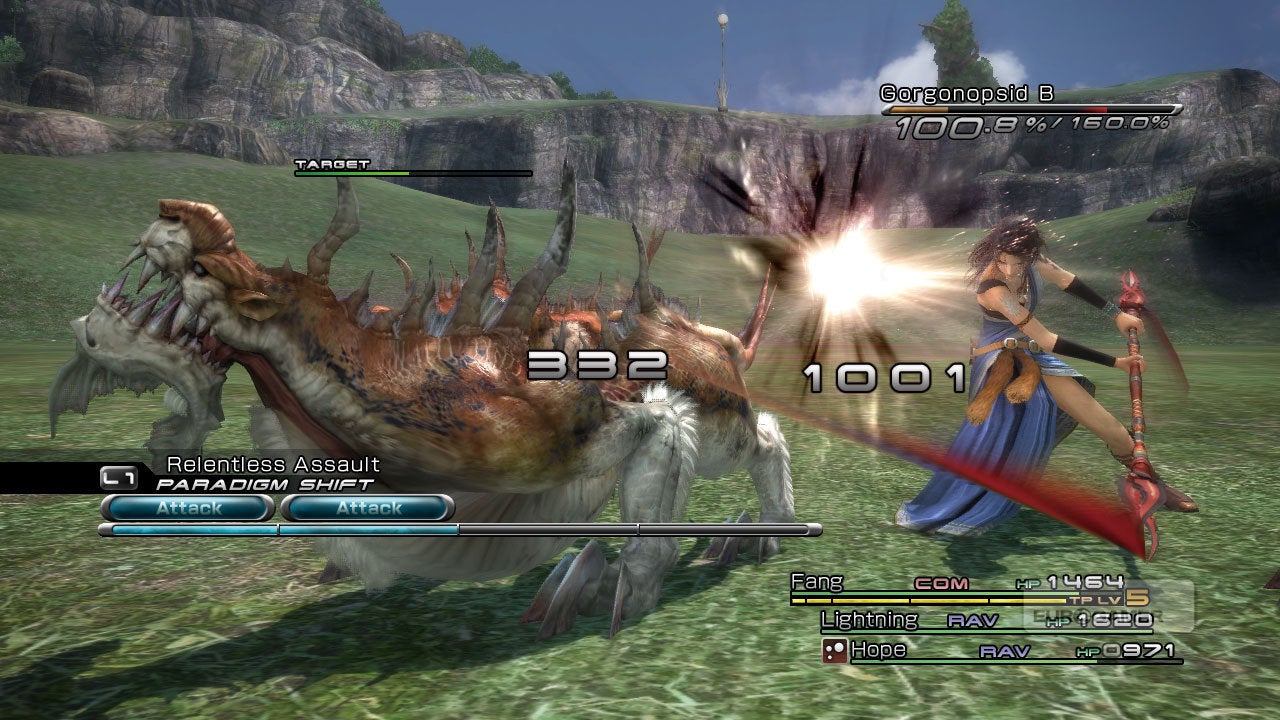 Why would you do that? Because the fun is all in setting up Paradigms - permutations of two or three of the six roles - and swapping between these instantly and frequently to suit the situation. It actually represents similar thinking to Final Fantasy XII's wonderful Gambit system - in that it allows you to automate the behaviour of your party and wield several characters as one, in real time, without turns - only instead of being based on back-end tinkering, it's about direct input and quick responses on the fly.
The roles are Medic, Ravager (magic damage), Commando (physical damage), Sentinel (protection or "tanking"), Synergist (buffs) and Saboteur (debuffs). They all interact with each other and the enemy designs, and combinations of enemies, in interesting ways. Also, every enemy has a Chain gauge which can be filled by balancing magic and physical damage, increasing in effectiveness all the time and when filled, 'staggering' the enemy for huge damage multipliers. It's essential (not to mention immensely gratifying) to use Stagger to get through fights efficiently, but it's always an edge-of-seat challenge to balance it with switching your party between different utilities.
To be fair, Paradigm Shift and Stagger are actually more interesting in combination with groups of moderately tough enemies than in the thoughtful but rather gruelling boss fights. Nor do they sit that well with XIII's other battlefield innovation, Gestalt Mode, a sort of QTE affair that allows you to pull off showboating attacks in tandem with the visually astonishing Eidolon summons (which look like Transformers designed by Gaudi). Gestalt is amusing but doesn't quite offer the massive-damage pay-off to match a well-executed Paradigm strategy.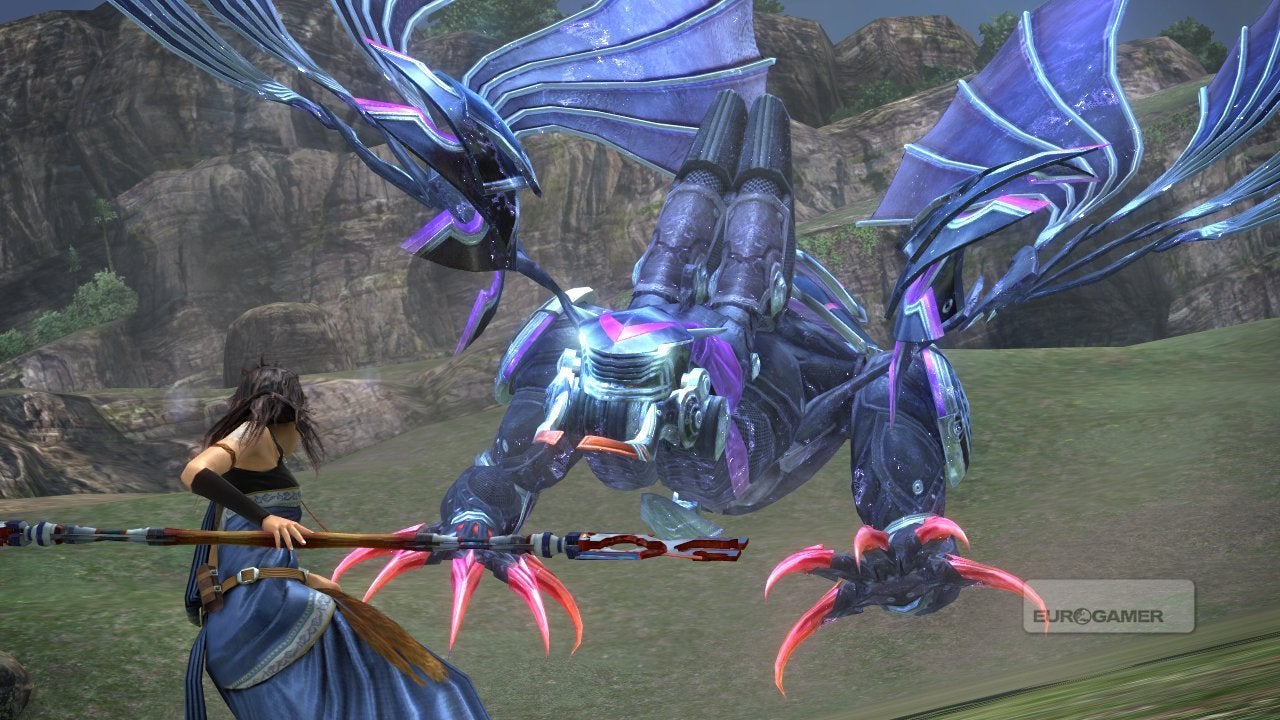 Still, Final Fantasy XIII's is a superb system overall, easily making up what depth it has lost in speed, tactical cunning and moment-to-moment engagement. Some have bemoaned the apparent retreat from XII's daring reinvention - I did myself, at first - but in its way XIII is just as big a step for the party RPG, albeit a simpler and perhaps more palatable one.
Palatable is very much the word for Final Fantasy XIII. The Final Fantasy series, with its lengthy cinematics, stubborn style and carefully prescribed limitations, can never hope to please everyone. So it's strange to see it try, and no surprise that the result is not a total success. It's cautious, narrow, far too slow to get going, and is stripped down to such a bare naked form that even some FF traditionalists might find it off-putting.
What's left, though, is faultlessly accomplished, gorgeous to behold and, in the long run, thoroughly enjoyable. For better or worse, it's another new beginning, and that's one Final Fantasy tradition that should never be changed.
Will you support Eurogamer?
We want to make Eurogamer better, and that means better for our readers - not for algorithms. You can help! Become a supporter of Eurogamer and you can view the site completely ad-free, as well as gaining exclusive access to articles, podcasts and conversations that will bring you closer to the team, the stories, and the games we all love. Subscriptions start at £3.99 / $4.99 per month.