TrackMania Nations ESWC
France hosts the World Cup again.
Counter-Strike. Quake. Starcraft. Sending Rupert fictional expense sheets and then filming him as he opens his email client. Electronic sports are more popular than ever - but they're not for everyone, and everyone's always five million times better than you by the time you get into them anyway.
Which is why TrackMania Nations ESWC is rather interesting, as developer Nadeo's not just creating something for use in the Electronic Sports World Cup, but giving it to everyone for free too. At the same time. And since it's a variation on existing games rather than the same thing, you stand a better chance of getting into it than you do of surviving the FURY OF MY RAILGUN. PEONS.
Around 15 months ago, the folks who run the ESWC approached Nadeo asking if they could include TrackMania in the competition, which also includes the likes of Quake IV, Gran Turismo 4 and Pro Evolution Soccer 5. "We were not ready and I think it was a little too early on their side," says Nadeo's Florent Castelnerac.
Understandable really. Nadeo was busy finishing work on TrackMania Sunrise - later to become one of our PC games of 2005 - and didn't have time to help out. "They wanted a free limited edition of original. I came back one year later with a proposal of a free game that we would design for eSport. It's done!"
Much better plan. So, fresh from releasing free Sunrise expansion Extreme to an adoring community, the French developer is on the verge of releasing Nations - again, for free - "on the 27th of January if everything goes right".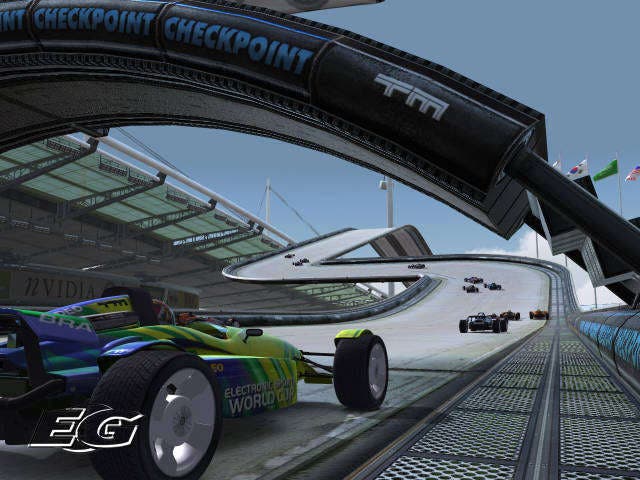 Nations isn't as full a game as Sunrise, but it is its own game, says Castelnerac. "TrackMania Original and TrackMania Sunrise are two different TM. Many play one or the other, one does not replace the other," he says. "It is the same with Nations. Original is fun, Sunrise is feeling and Nations is sport. It is not an extension, it is a full game with the best quality we ever made, with limited content, but that's not the point here."
Indeed, the actual point is to provide a bed of competition for the ESWC, which plans to allot $40,000 of its total $400,000 prize purse to a Nations tournament, offering a sole winner some $13,000. With this in mind, Nations is limited to race mode - the platform, puzzle and stunt modes are left aside for now - and includes 100 training tracks to pick through offline, online multiplayer a la both of its predecessors, and a full editing suite for making your own tracks. Use of the edit mode isn't limited or based on your progress in single-player; it's there from the start.
Are there any restrictions at all? "The only limitation is that if you have one of our TM games, you can register. Once you are registered, you can customize your identity like car paintings and avatar."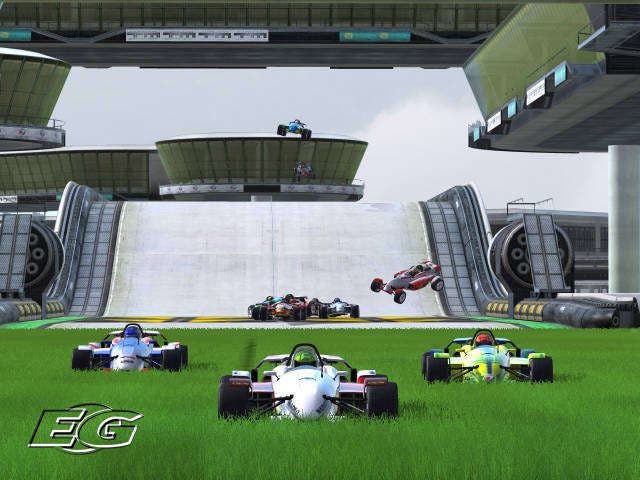 Technologically the game's a close cousin of Sunrise, but the track design is distinct. Each track is set against the backdrop of a huge, grassy stadium with ESWC and NVIDIA logos abounds. Nadeo's also hoping to include some dynamic ads to bring in a few extra pennies - something that's easy to forgive from a company that churns out so much free entertainment.
Under the game's bonnet, Nadeo's undertaken a few logical changes. "We have done the dedicated server on Linux," Castelnerac points out. The ladder rules have also been adjusted to make things a bit easier to begin with. And when you select your nation after installation - something that skins your car up in your national flag - it also sets the game up to deliver notifications when TrackMania qualifying events are taking place in your country.
But of course, for plenty of people it's just going to be an excuse to play some more TrackMania - some new courses designed for a new style of car, clearly inspired by Formula 1-style track cars. The car's low suspension means it's quite prone to flipping, like Sunrise's sports car, but it also grips the track very well. I wouldn't say it's as fast as the Sunrise sports car, but it's more technical. "The gameplay is designed for competition and to allow keyboard players to also go as far as possible," says Castelnerac. Which is just as well, since I've lost my USB gamepad widget.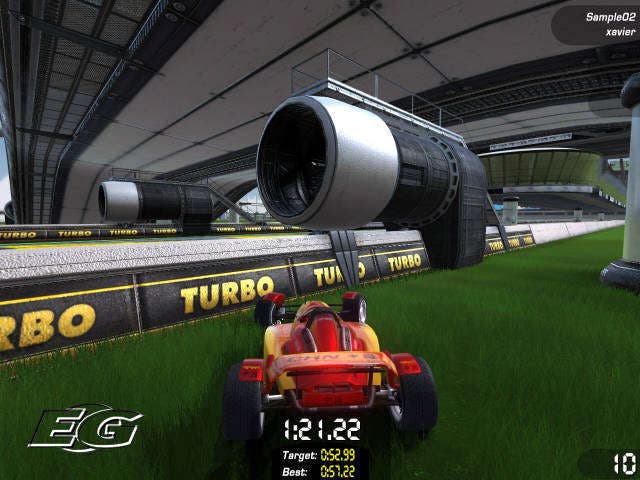 The training tracks are inevitably compulsive medal-collecting fun. As you get further past the opening, really basic efforts, Nadeo tests your mettle a bit more with steep inclines, sweeping turns that defy boost pads placed before them, road angled to the left that argue with road angling right just over the brow of a hill, gigantic half-pipes and loops, jumps and boost pads. Getting those gold medals is a question of speed and positional sense. And, as ever, the instant-reset button awaits your failure.
There's nothing in our preview build likely to hold up the average TrackMania veteran for that long, but then that's not the point. The real fun's going to be racing online against likeminded TrackManiacs - something you should be able to do this weekend. Might as well give it a go. Who knows? You might win the World Cup.
TrackMania Nations ESWC is a free PC game due out on January 27th.