Elder Scrolls Online reveal in May - report
MMO set a millennium prior to Skyrim.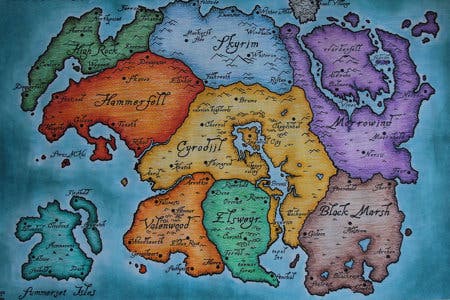 Bethesda will unveil its heavily rumoured Elder Scrolls MMO in May, according to a new report.
Elder Scrolls Online, as it is apparently known, is set a millennium prior to the events of Skyrim, an "industry source" told Tom's Guide.
It is speculated that this means the unannounced game is set during the Second Era of Elder Scrolls lore, hundreds of years before any game in the fantasy role-playing series. It will, apparently, feature three playable factions, each represented by an animal: lion, dragon and bird of prey (either a phoenix or an eagle).
The Elder Scrolls MMO is then expected to be shown at the E3 expo in June, and again in more detail at Quakecon, alongside Doom 4.
It is in production at ZeniMax Online Studios, which has been after staff with MMO knowledge for some time now.
Indeed, rumblings of an Elder Scrolls MMO have been felt since 2007, when Bethesda registered the website address elderscrollsonline.com. Then, Bethesda marketing chap Pete Hines said the company was only snapping up URLs to prevent others from getting there first.
Then, in 2010, legal papers submitted in the now settled court case between Bethesda and Interplay revealed the company was working on a "World of Warcraft type MMO".
Apparently development on the MMO had been ongoing since 2006 and involved "close to a hundred people" and a budget of "tens of millions of dollars".
In 2007, Bethesda's parent company ZeniMax hired Mythic Entertainment co-founder Matt Firor to lead development of an MMO. His experience on Dark Ages of Camelot, a traditional fantasy game, closely fits the Elder Scrolls bill.