Formula One '06
The same winning formula.
There are always things you can rely on in life. Michael Schumacher on the winner's podium, and an annual Formula One game from Sony. But although interest in F1 videogames continues to tumble from their peak ten years ago (when, incredibly, Psygnosis' F1 game was the biggest all format seller in the UK in the entire year), the quality of these often overlooked games remains as high as ever.
Sony ticks all the right boxes as usual, with its long-term license deal ensuring that, once again, it's the only game where you can find all the current F1 drivers, teams and tracks featured - with only the very latest team changes not included. That means you can always justify your purchase with the excuse that it's the final time you'll get to be Michael Schumacher before he retires.
Following on from last year's solid debut PSP offering, both tracks and cars are well recreated on the small screen, with crisp details and fantastic replays, though Sony still hasn't quite managed to fine-tuned the visuals to the PS2 standard, with noticeable pop-up on some of the stands and scenery around the circuit. At times it still looks a bit rough around the edges in places, but due to the sheer speed, you won't particularly care. Even with 22 cars leaving the grid, the game motors along, and the only pause is in the moment just before you're about to plough into someone - perhaps an intentional break to give you time to swear loudly and brace for impact? This can happen a lot when you're braking hard to try and use all the downforce available in a modern F1 car, particularly against tougher opponents.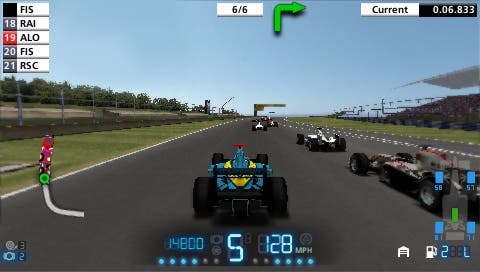 When you do make a mistake, it can prove costly, with front and rear wing damage affecting grip and speed, and a knock to the steering leaving your front wheels wobbling all over the shop. That's on top of the realistic way the car bobbles along the Tarmac, particularly on the long straights as your driver constantly corrects the steering to keep you in a straight line. There are five different views of your car on offer, and both the in-car views are the best option on a PSP-sized screen. Particularly good is the 'slightly above driver's head' cam, as it's the same view you'll have seen on race coverage for the last few years, and doesn't leave you hypnotised by the wheel twitching away in front of you.
Luckily, if you do find the going too tough, or too easy, there are an almost overwhelming number of ways to change the difficulty level. For starters, there's the choice of a best line indicator, corner indicators, or learning the circuit yourself, although it has to be said that both the corner indicators and warning flags for a slippery surface are set to appear a little too late to be much use, as it's not much help learning there's a 90 degree right hander coming up when you're already halfway round it. By the same token, being warned of a slippery surface when you're already sliding off the track might be realistic marshalling, but doesn't stop the frustration. And although you can benefit from braking aids, the steering one appears to have been modelled on a drunken trolley dash.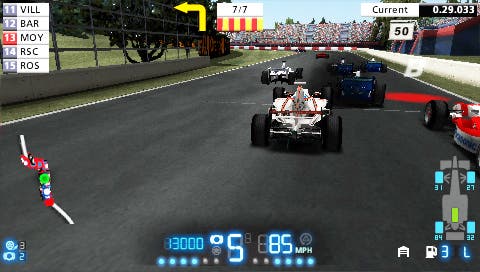 These settings apply in three of the game modes on offer. Quick Race allows you to become one of the Formula One elite, with a full choice of cars and tracks available from the start. With more time on your hands, there's the exhausting option of a Full Race Weekend, including practice and qualifying, and a World Championship. In addition to these modes, you can also set the fastest times in the Time Trial mode (which removes any circuit guides, but does allow you to use any unlocked bonus cars), and Career mode, which lets you work your way up from unknown test drive to world champion over the course of five seasons of racing. During your career, you can win classic F1 cars for use in Time Trials, should you want to get nostalgic.
On the whole, career mode is well realised, utilising the concept of emails from your sport agent, wanted ads, and news updates to let you know what's going on. The first step is to apply to a team and take part in a test to prove you're good enough to become their second team driver, meaning a spell with the likes of Super Aguri and MF1. Assuming you qualify, there's a rigorous season of racing ahead that's interspersed with testing duties and keeping an eye open for opportunities to move to a better outfit when you've amassed enough race and test experience.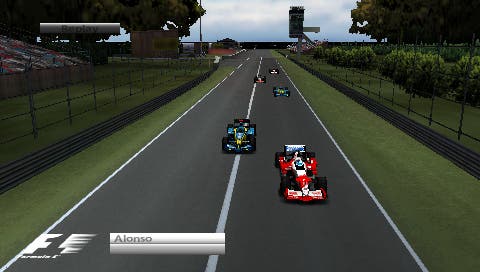 Set-up for the full race weekends and championships isn't just a manner of guessing how much camber or toe-in to set, which is fortunate. Instead, you get the chance to run two practice sessions, with your computer engineer setting the car with different fuel loads and settings and noting how you perform. At the end of it all, the same cheery chap will have made all the necessary adjustments for you to be ready to race, and becoming one of the few race game mechanics to actually earn his keep.
Adding to the race atmosphere is commentary from TV commentators Martin Brundle and James Allen. Although the speech can be a little sparse and repetitive at times, it adds a lot to the authenticity, especially when combined with updates from your engineer about yellow flags and pit stops. On the other hand, Sony didn't quite manage to iron out a few glitches in the audio - with the engineer often earnestly suggesting something irrelevant, or failing to point out that your fuel is running out, for example.
The one major annoyance is that Sony has failed to deliver on its promise of cross platform network play between the PSP and PS2 versions. Its absence is a bit of a puzzle, given that it was promised by Sony in all of its press literature, and, having checked, there definitely isn't any means of taking this game online. Maybe next year, eh?
Despite the odd niggle, Formula One '06 offers depth and accessibility to any racing game fan, and has made the leap to handheld pretty much intact. If you want a fast, absorbing take on the sport, you can't go far wrong.