Doom Eternal, Forza Motorsport 7 lead October's Game Pass additions
Plus word on Games With Gold too.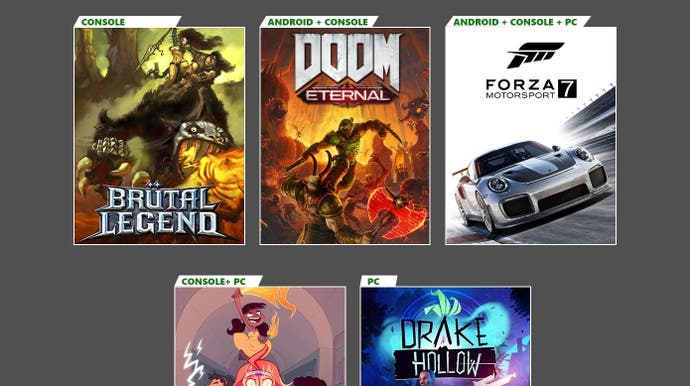 As we wobble precariously on the brink of October, let us look ahead to pleasant things to come in the form of Microsoft's latest batch of Game Pass additions on Xbox One, PC, and now, thanks to the magic of clouds, Android. And while we're here, I'll do October's Games with Gold - featuring the likes of Costume Quest and Maid of Sker - too, okay?
October (specifically 1st October) starts with a bang and a hop on Game Pass, bringing Doom Eternal to Xbox One and Android - which should delight fans of shooting things messily and also jumping. "The game is fundamentally the 2016 reboot again with new props," said Eurogamer contributor Edwin in his review earlier this year, "and its dogged commitment to Doom's narrative universe is as baffling as the firefights are exhilarating".
Meanwhile, 1st October also sees the arrival of Drake Hollow on Game Pass for PC. This one, if you're unfamiliar, is the darkly whimsical cooperative village-building action mash-up from The Flame in the Flood developer The Molasses Flood.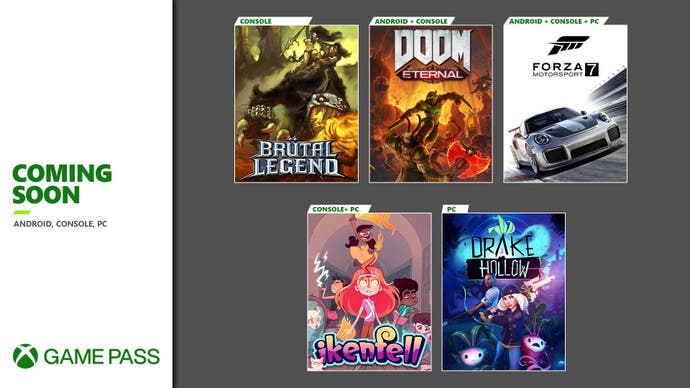 Moving on! Double Fine's cult classic action-strategy-comedy thing Brütal Legend, which sees Jack Black rampaging across a mysterious fantasy world infused with heavy metal music iconography, comes to Xbox One on 8th October. Additionally, colourful turn based-tactical RPG Ikenfell comes to Xbox One and PC on the same day.
Rounding off October's currently announced Game Pass additions, 8th October also sees the arrival of Turn 10 Studios' acclaimed racer Forza Motorsport 7 for Android, Xbox One, and PC, a game that Eurogamer's Oli Welsh called "a dazzling, expansive and engaging" in his Recommended review back in 2017.
As for Games with Gold on Xbox One, it's a particularly - appropriately - spooky month. Slayaway Camp, which offers up an unexpected but remarkably effective blend of Sokoban-style puzzler and 80s slasher movie aesthetic is available from 1st-31st October; fondly remembered Zelda-like third-person action romp Sphinx and the Cursed Mummy is available from 1st-15th October; Double Fine's Hallowe'en-themed RPG-lite adventure Costume Quest is claimable from 16th-30th October, and finally, Welsh-folklore-inspired stealth horror Maid of Sker can be snagged from 16th October-15th November.
And in summary:
Xbox Game Pass
1st October
Doom Eternal (Xbox One, Android)
Drake Hollow (PC)
8th October
Brütal Legend (Xbox One)
Ikenfell (Xbox One, PC)
Forza Motorsport 7 (Xbox One, PC, Android)
Xbox Games With Gold
Slayaway Camp, 1st-31st October
Sphinx and the Cursed Mummy, 1st-15th October
Costume Quest, 16th-30th October
Maid of Sker, 16th October-15th November