DF Direct Weekly talks Flight Simulator, RX 6600 XT and PS5 NVMe support
Plus: when cross-gen is over, will we back to 1080p30 gaming?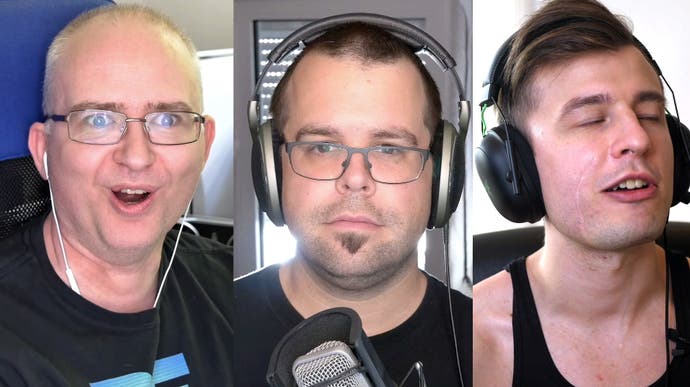 DF Direct Weekly once again returns - and you know the score: a triumvirate of Digital Foundry team members sit down to discuss the major news events of the week, to share insights on their current projects and what's going on in the DF Supporter Program, finishing up by taking a look at a bunch of submitted questions from our backers. And this time there's a slight twist, in that news of the PS5 firmware beta that adds NVMe SSD support broke cover just as we were concluding our filming session last Thursday. Want to see the Direct sooner? Well, supporters get to watch it on Saturday every week without fail.
In this week's show, the team share their impressions of Microsoft Flight Simulator on Xbox Series consoles, with Alex Battaglia revealing some of his behind-the-scene thoughts on our recent Asobo Studio Flight Simulator interview - and there are some frankly amazing anecdotes and observations in that if you've not watched it yet. In addition to last week's coverage, we've since received PC-equivalent settings from Asobo and we discuss those in the Direct too. John walks us through his reactions to The Ascent, while the team share their thoughts on the recent reveal of the Radeon RX 6600 XT - note that I mention a $349 price-point in there, but it's actually $379... a situation that has not gone down well online.
Beyond that, we talk about our recent DF Retro content - including the Super Star Wars Trilogy video that went live yesterday, the new F-Zero mega episode currently exclusive on the Supporter Program, plus a DF Retro Play taking a look at more N64 futuristic racers, captured via the N64 Digital hardware mod. We're extremely proud of our retro videos right now, content that simply wouldn't be possible without backer support.
If you're looking to skip ahead to specific parts of the show, enjoy these curated time-codes.
The show concludes with a bunch of interesting supporter questions - including the last remaining 'holy grails' in rendering tech we'd like to see in gaming, the chances of an improved push towards improved physics in the current generation, and how ray tracing will evolve compared to consoles bearing in mind that PC already has a significant advantage. There are also a couple of questions concerning DLSS vs FSR comparisons and this is a tricky one to address.
On the one hand, both technologies are designed to increase performance but on the other hand, they are not really comparable on a technological level - AMD's solution is effectively a refined version of the resolution scalers many PC games already have (and a better comparison point for FSR vs native rendering) while techniques like temporal super-sampling, checkerboarding and DLSS are a whole different ball game, and the main driving force for the industry since PS4 Pro and the arrival of 4K displays.
As for the PS5 SSD firmware? We only talk about it in the vaguest terms here really as the news 'dropped' during filming - but I can confirm that we do have beta access and #FriendAndColleague Tom Morgan is looking at it now. We're looking to cover off the basics first, which is to say: how easy is the install process, how are loading and transfer times affected and of course, how well does the storage-heavy Ratchet and Clank work? We actually bought a Samsung 980 Pro NVMe drive at the tail-end of last year to test this feature and we can finally put it to use! If you're interested in more in-depth testing, do let us know what you'd like us to cover!