DF Direct Weekly: Digital Foundry hacked, PS5 hacked twice
Plus: one year on, has the Series S experiment paid off?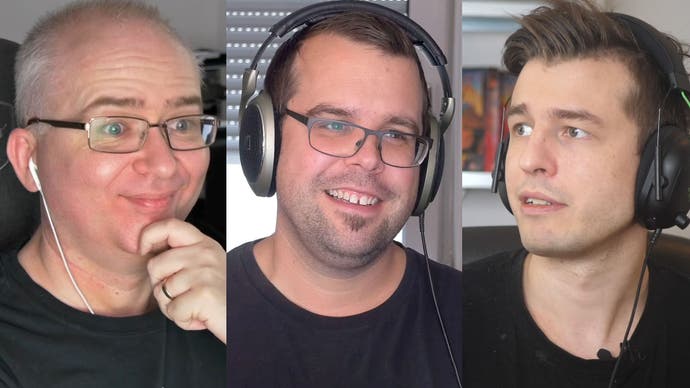 This wasn't exactly the best week in Digital Foundry history - last week, one of our staff members received a succession of emails to make the blood run cold. Two-factor authentication disabled, passwords changed, backup security codes re-issued. And then? The Digital Foundry YouTube channel gets an instant brand makeover (we're Space-X now) and we're live-streaming some kind of Russian crypto-scam video to over a thousand people. Figuring out what actually happened, locking out the intruder and deleting the 'Space-X' video didn't take long and eager to get the show back on the road, we rolled out our Forza Horizon 5 PC analysis. Only to discover that about five hours later, YouTube decided to delete the channel - presumably some kind of delayed reaction to the takeover (we never found out why exactly). For reasons unknown, it took a further 18 hours to get the channel restored and we're still not clear on how Google's 2FA was defeated. Obviously it was a stressful couple of days, but looking back it's the complete void of information surrounding the episode that is the most frustrating thing of all.
But we're not the only ones being hacked - recently, we've also seen two specific hacks for PlayStation 5, arriving around a year after the console launched, which is unusually early. Two 'legit' hackers are involved, both with proven track records. The fail0verflow team and 'TheFloW' saw PS5 compromised in two entirely different ways. The former appear to have decrypted the secure bootloader on PS5, acquiring root keys that allow them to decrypt and crucially to encrypt PS5 system software files. It is far from a complete hack but from the looks of it, it does seem like the keys to the kingdom have been acquired. The latter hack is an actual application of exploits unknown: it sees the debug settings menu from development hardware running on a retail PlayStation 5.
Should we be worried about a deluge of PS5 piracy in the wake of this work? In the here and now, I don't think so. Hacks are typically disclosed some time after they've been patched and Sony has a 'bounty' system in place that encourages hackers to come forward in order to better secure the system. The end result is that if and when pirated software does appear, it typically only works on consoles running relatively ancient system software updates - and very few people keep their consoles on older firmwares. The hackers themselves are typically not interested in piracy, while there are few opportunities for companies to monetise these hacks, further containing their spread. PlayStation 4 was similarly compromised and while piracy did exist, it was not the disaster it could have been for Sony. Perhaps the most worrying thing here for the platform holder is that PS5 was hacked so quickly and so comprehensively relative to PS4.
Beyond that, the discussion moves on. We chat about the latest Halo Infinite campaign reveal via IGN along with Steam Deck's two-month delay. We're also beyond delighted by the news that the UWP trappings of the Windows Store are set to be removed, finally allowing for us to see and mod files in a much more easy manner. There's still a long way to go in my opinion as the Windows Store is easily the most unreliable download/launching system I've ever used - with an exceptionally high failure rate, even today. There's also a matter of trust and respect to be earned here: I'm reminded of the time I had to totally reinstall Windows simply to get Forza Horizon 3 to correctly download on PC - it's the kind of abject failure that put me off the store and its wares for a long, long time. Fingers crossed that Microsoft can finally get its act together.
Content chat? The team shares its impressions in putting together our Grand Theft Auto Definitive Edition coverage - which is still ongoing - before we wax lyrical once again about our community on the DF Supporter Program, that delivered the Forza Horizon 5 PC ray tracing mod we covered last week. Questions from the community this week are also great too, kicking off with what do we think of the Xbox Series S experiment. Where the current-gen consoles stand after a year in the market is something we'll come back to in a much longer discussion but it's often worth remembering that Series S simply isn't designed for our audience, it's about a cost-effective way to play the latest games in that respect it works. We also know that it's been a successful release for Microsoft and the X/S split is far more even than you may think. That said, we can't help but feel that memory allocation and bandwidth have been and will continue to be challenging for developers and perhaps the spec was cut back just a little too far.
We also talk a little about measuring CPU performance and the future of CPU architectures in games machines: first of all, is benchmarking at 1080p the right way to determine how capable a processor is? It's a tricky one. Elements of the data may well be limited by the GPU or driver limits and perhaps benching at 720p is the way forward. However, our strategy of benching at 1080p, 1440p and 2160p using the most powerful graphics card around is all about giving a balanced picture of how a CPU operates with varying degrees of GPU influence. It's our preferred way to test, but we're glad that the 720p data is out there too - the strength of the PC hardware press continues to be its diversity and overall accuracy. We were also asked if Apple's recent successes in hardware design may see ARM processors at the heart of the next generation in console hardware. It'll be in the next Switch for sure, but we don't foresee any direct challenge to x86 going forward. Backwards compatibility and a more unified development effort between consoles and PC has been a boon that we don't see Microsoft and Sony backing away from. However, Intel's Alder Lake architecture demonstrates that the kind of innovations seen in the mobile space will feed back to x86, which may be a game-changer.
As always, we had a lot of fun putting this week's Direct together, even after some pretty grim days. If you want to get involved - and if you want early access to the show - please do consider joining our community on the DF Supporter Program!