Newcomer Shadow offers GTX 1080 gaming power via the cloud
Low latency PC gaming you can take anywhere. Digital Foundry investigates.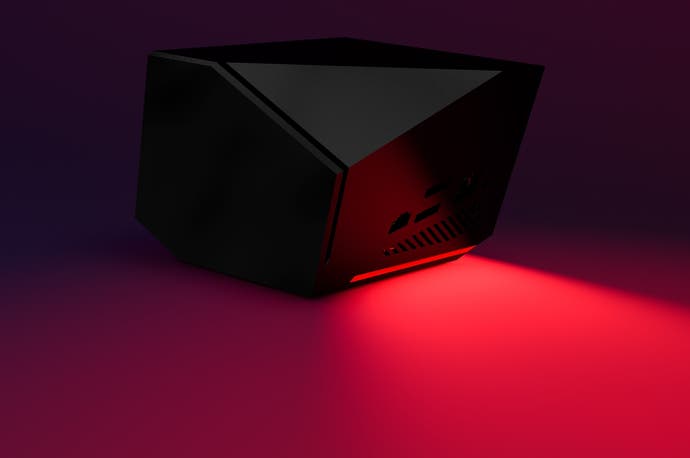 Is this the answer to the current graphics card shortage and the sky-high cost of RAM? Or perhaps a genuine alternative to the way we own and upgrade our gaming PC hardware? Today, after a successful rollout in its home territory, French company Blade revealed that its Shadow cloud gaming system is coming to the UK, offering what it says is the equivalent of a £1,500 PC at prices starting at £27 per month for unlimited usage.
If you're a long-term Digital Foundry reader, perhaps you caught the phrase 'cloud gaming system' and conjured up images of laggy gaming and poor image quality. After all, historically, we didn't care much for concept trailblazer OnLive, rubbished the claims made by its founders, but still appreciated the ambition and recognised scenarios where it did have something to offer. Subsequent systems based on the same concept - like Nvidia's GeForce Now - were received a little more warmly as performance improved, but based on the demo we saw, Shadow could potentially move things on to the next level.
First up, this isn't a new gaming platform being sold to you - you're essentially hiring a PC in the cloud. Log in to Shadow and you get the standard Windows 10 PC desktop to do with as you will. From our perspective, that means installing Steam, Origin, uPlay and GOG in turn and downloading our games, but the truth is you can install any app you want on Shadow and interact with the system just as you would with a standard PC. And the specs of this cloud hardware? You get eight threads from a Xeon server equivalent to performance from a Core i7 processor, 12GB of memory, 256GB of solid-state storage and GPU power on par with GTX 1080 (indeed, the demo we saw IDed GTX 1080 in the device manager).
You can log in to Shadow via Windows, OSX, or Android, and can seamlessly swap between devices at will. Blade has also created its own small form-factor 'Shadow Box' based on an AMD APU and as long as your internet connection can handle the bit-rates required, the system can stream 1080p at 144fps or 4K at 60fps. 500 Shadow Box units will be given away to the first subscribers and after those have gone, the box can be hired per month at £7.95 or bought outright for £109.95. The service itself costs £26.95 per month for a year contract, £32.95 per month for a three month contract and £39.99 per month with no contract. There are no time-limits on usage or the kind of per-hour charges we've seen elsewhere on other cloud systems.
The Shadow website talks about zero latency, which is - of course - impossible. Latency in a cloud gaming system is essentially defined by the time taken for your inputs to be sent across to the server, for the game logic to parse them, and then for the output frame to be generated, encoded, transmitted back to the user and then decoded and presented on-screen. Blade acknowledges this and during our session even pulled out its own camera-based latency measurement tool - dubbed 'Betty' - that is pressed onto the screen. A USB button beams over input, and a bespoke tool installed on the cloud PC changes the colour of window on-screen from black to white and back again once input is received. The time taken from the button press to the colour changing is a more than acceptable method of measuring lag, reminiscent of similar systems used to measure display latency on flat panel screens.
On an entry-level 1080p 60Hz AOC screen with Shadow working over an internet shared with scores of staff in hired offices in Shoreditch, complete end-to-end latency (including the display lag and programming logic in the app) came in at 106ms using the Betty device. Of course, a good proportion of that lag will be down to the display and the app code, but it's still a strong result overall - one that I look forward to re-testing on my own connection and displays when review hardware arrives. The real test here will be to use the Betty device on both a local system and then Shadow, connected to the same display, and to compare the difference in the respective latency measurements to give a more complete view of Shadow's overhead.
Image quality is the next concern common to cloud gaming systems and while Shadow could only be tested at its lower quality levels owing to the limited networking in place at the media briefing, it still looked good - but it's the 4K60 and higher-end 1080p streaming options I'm looking forward to checking out.
Assessing these kinds of gaming systems 'on the spot' is never ideal, but I came out of my briefing with the Blade staff optimistic about the performance and impressed by the staff. Even in a less than ideal networking environment, the system was more than playable - in fact, even mouse-pointer tests (a good way to test latency) worked really well. After dealing with cloud gaming systems where the providers weren't happy to share latency metrics or talk in-depth about their technology, the transparency of the Blade staff was a breath of fresh air.
In particular, the way that CEO Emmanuel Freund was fully in command of the technical detail and actually delighted in the challenge of addressing every question I put to him gives me real reason for optimism. Blade believes it's made the required breakthroughs to make a cloud system work, and while the jury's still out for us until we can go hands-on and conduct our own cloud vs local comparisons, Freund says that its system has been tested successfully in double-blind 'taste' tests with pro players on key titles such as Overwatch, CS:GO and Street Fighter.
If the bar is indeed set this high, the system should be more than good enough for the vast majority of players and bearing in mind the high-end components included in the Blade servers (with the company telling me that next-gen Nvidia GPUs will be fitted in time), the pricing isn't exhorbitant. Blade itself didn't want its pricing structure compared with the current, massive skew in graphics and memory pricing, but clearly, the timing of the firm's expansion to new territories and the current state of the component market can only help their cause.
Shadow pre-sales are available now and we'll be carrying out extensive benchmarks, image quality and latency tests when the review package arrives.