City of Heroes gets crafty
New features added.
NCsoft has announced it will be adding crafting to City of Heroes / Villains by introducing a new Invention System, which will allow players to equip user-created items to enhance a character's super powers.
"We tried to think of new, exciting things that enhancements could bring to the game," said lead designer Matt Miller.
"We determined that adding mini-powers to your existing ones had a lot of potential, as the sky would nearly be the limit on what we could accomplish with these new enhancements."
Each new item will be created from recipes and ingredients that will be mugged from your enemies. Different types of Invention Salvage will be stripped from different types of enemy, so magical foes will produce magical salvage, and science-based opponents will drop science-themed loot.
Meanwhile, there's now an option to create Invention Sets: groups of enhancements that all slot into a single power, and which increase in potency as you add more items to the set. All of your super-power boosters will permanently bolster your spandex hero's powers, and some will add new bonuses such as extra health or faster endurance recovery.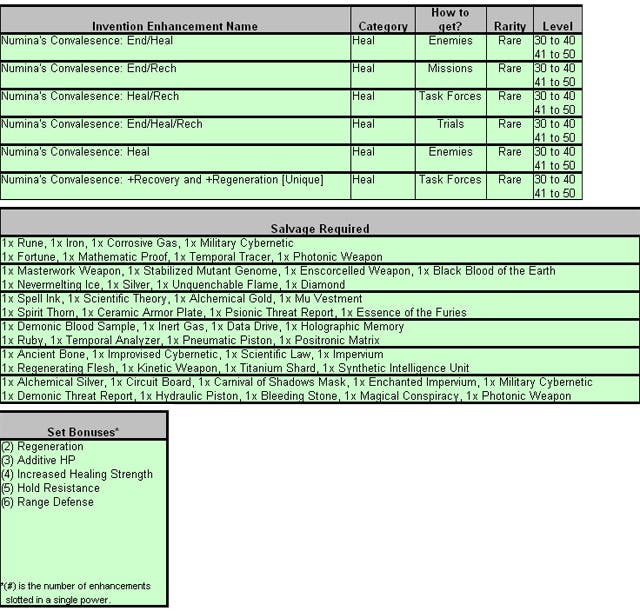 "These bonuses are powerful, they are always active, independent of the power they are slotted into, and encompass your entire character giving them things like Defenses or Resistances, or an overall boost to their Damage," Miller added.
The better the invention, the harder it will be to come by, and unique enhancements are only usable once per set.
NCsoft hopes this will give you a myriad of possibilities to slot and build your character, making personal decisions for your character and playstyle.
The new addition will be tested behind closed doors for now, opening for public scrutiny when NCsoft deems it ready.
Miller continued: "We are proud of this new system and not only do we hope that our existing players will love it, but we also think this is a compelling reason for new players to get in and check it out!"